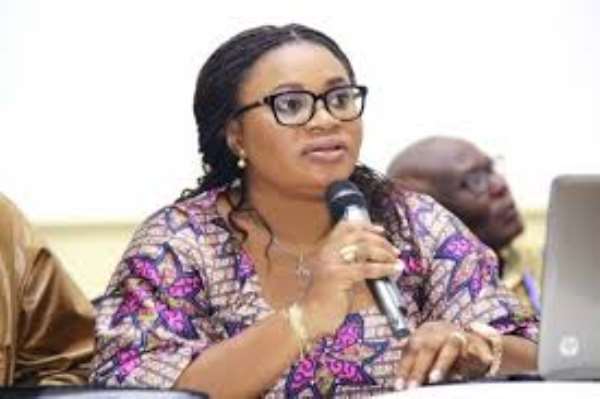 I had a chance to watch Mrs. Charlotte Kesson-Smith Osei's interview with Mr. Samson Lardy Ayenini, on general electoral matters, this morning and came away with three things – Mrs. Osei is unquestionably brilliant and knows quite a bit about her job as Chairperson of the Electoral Commission (EC) that makes her immediate predecessor, Dr. Kwadwo Afari-Gyan, seem pedestrian and a scandalous administrative misfit, even as the former Legon political scientist embarrassingly demonstrated the same before the Atuguba-presided Supreme Court panel that adjudicated the 2012 Presidential-Election Petition.
Indeed, one wonders why it took so unbearably long to shove this churlish pretender out of the way. Maybe it is about time we began talking about term limits for the key operatives of the EC. Yes, she is brilliant; but Mrs. Osei also confirmed for me my characterization of her as being smartly or savvily disingenuous.
She has called New Patriotic Party (NPP) leaders like Dr. Mahamudu Bawumia, the party's 2016 Vice-Presidential Candidate, and his associates "elitist," because these leaders have rightfully demanded a stringent and credible method for determining one's citizenship in order to be declared eligible to vote.
Years ago, as I vividly recall, a National Identification Card (NID) program was established, with Prof. Ernest Dumor named as either its National Chairman or Coordinator. Well, when she appeared on Newsfile, the flagship current affairs program on MyJoyOnline.com / Joy-Fm TV, one had expected the EC Chairperson to have forcefully spoken to the imperative need of making the National Identification Card program ubiquitous and efficient.
Instead, it seemed that she preferred to cavalierly impugn the motives of the likes of Dr. Bawumia and other well-meaning and levelheaded advocates of a credible citizenship verification system, than pressure the Mahama-led National Democratic Congress (NDC) to adequately fund the program in order to make it more efficient and accessible for many progressive reasons, including electoral register credibility and national security.
And I find this stance to be extremely disturbing, particularly since until she was transferred to the EC from the National Commission for Civic Education (NCCE), the functionally closest institution to the Electoral Commission, in terms of crucial matters verging on civic responsibility and the nation's fledgling democratic political culture, it was precisely this duty of promoting civic responsibility and electoral credibility that she was charged with.
On the preceding count, therefore, this professionally trained administrator did not come off to me as more than passably competent, even if she also clearly appears to be a laudable improvement on the performance of the administrative dead-wood that was Dr. Afari-Gyan.
For starters, she repeated her patently untenable assertion that all Ghanaian citizens, except Mr. Abu Ramadan, the former New Patriotic Party Member of Parliament for Bawku-Central, who spent quite a considerable time in the slammer – at least longer than Mr. Tsatsu Tsikata did at the Nsawam Medium-Security Prison for criminally causing financial loss to the state – had a right to use their National Health Insurance Authority-issued Health Insurance Card to both prove and establish the authenticity of their citizenship.
What also annoyed me quite a bit was the EC Chair's cavalier attitude in her claim to be eagerly looking forward to duking it out with Mr. Ramadan, whose mother is reported to have been born and raised in Ghana, in court.
Ultimately, I still found Mrs. Osei to be delectably lambent-witted. One wonders why she is not President of Ghana, instead of the hopelessly bumbling, terrorist-courting and politically reckless Mr. John Dramani Mahama.
I also felt ashamed and sorry for those pressuring her to resign because she is alleged to have contravened the Constitution by drawing salaries from two public establishments at the same time. Well, as it turns out, the so-called General Reinsurance Company, or some such corporate entity, on whose Board of Directors Mrs. Osei sat, is actually a privately owned and operated firm.
I couldn't help but admire the cryptic manner in which the EC Chair responded to her detractors, by simply alerting Mr. Ayenini, her fellow member of the bar, to the fact that good lawyers generally tend to appreciate the Constitution and the legal system in ways that ought to make those demanding her job think twice before presuming to so facilely and quixotically take her on.
On the whole, you couldn't call her "an ugly black woman with good sense," as Dr. W. E. B. Dubois had the inglorious misfortune to characterize Mr. Marcus Mosiah Garvey, the legendary Jamaican-born global African liberation fighter. Garvey had described American mulattoes as treacherous white ally pretenders to "Negritude." In short, Charlotte Kesson-Smith Osei may not be very pretty, but she is smashingly attractive, nevertheless.
*Visit my blog at: kwameokoampaahoofe.wordpress.com Ghanaffairs