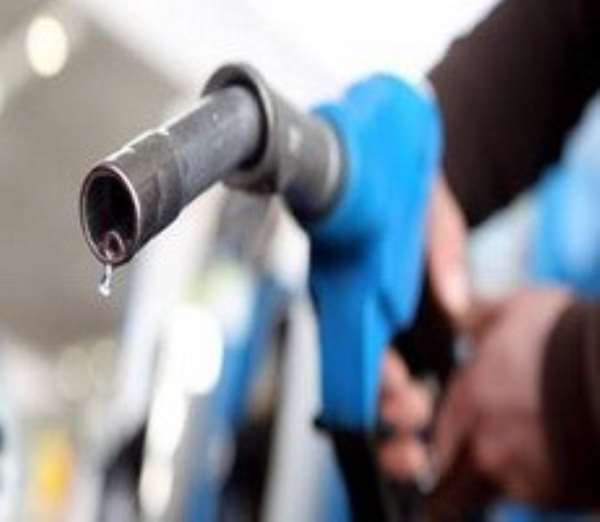 "Now there arose a new king over Egypt, who did not know Joseph. And he said to his people, "behold, the people of Israel are too many and too mighty for us. Come, let us deal shrewdly with them, lest they multiply, and, if war befalls us, they join our enemies and fight against us and escape from the land. Therefore, they set task masters over them to afflict them with heavy burdens; and they built for Pharaoh Store cities, Pithom and Raamses. SO THEY MADE THE PEOPLE OF ISRAEL SERVE WITH RIGOUR, AND MADE THEIR LIVES BITTER WITH HARD SERVICE, in mortar and brick, and in all kinds of work in the field; in all their work they made them serve with rigor." (Exodus chapter 1 verses 8 to 11 and continues form 13 to 14)
Under the Better Ghana Agenda, Ghanaians are serving with rigor and their lives are bitter with hard service, heavy taxes, compassionate-footsoldier terrorists and corruption under the Pharaoh of our time called John Dramani Mahama.
"Although the Central Business District was choked with people from all walks of life, traders still complained of low patronage of their wares. " I came to town at dawn and as of now i have not made profit from the items i have brought out to sell yet. People only ask of the price but hardly buy the items," she said. "This year I have regretted selling. No one seems to be interested in it anymore."These are comments made by traders at the Accra Business District. (Daily Graphic Wednesday December 23, 2015)
From the above statement, one can state emphatically that, Ghanaians could not celebrate the Christmas due to the economic hardship. Upon all these economic hardships, Ghanaians were faced with 67% and 59% increment in electricity and water bills coupled with an increment in fuel prices (27%).
Let's look at what the NDC said in their 2008 and 2012 manifestoes with regard to taxes;
Prepare and present to parliament, legislation on various tax and tariff measures designed to provide relief for Ghanaians. (NDC 2008 manifesto page 16)
The new NDC government will not introduce ANY NEW TAXES. Instead, we shall seek to improve tax revenue by introducing reforms in the tax administration, shifting from reliance on direct taxes to indirect taxes and enhancing tax incentives (NDC 2008 manifesto page 45)
Through the above measures, reduce the cost of electricity production and thus enable lower electricity tariffs to be charged. (NDC 2008 manifesto page 94)
Providing further tax incentives for investments in strategic business (NDC 2012 manifesto page 32)
Providing tax incentives to make long-term saving products more attractive and to encourage the growth of a local pool of funds for increased domestic investment. (NDC 2012 manifesto page 33)
Contrary to the promises made by the Pharaoh of our time, John Dramani Mahama and his NDC, new taxes have been introduced and increased. Under Pharaoh John Dramani Mahama, electricity, water and fuel have been increased to about 154%. The increment of electricity was justified by Pharaoh John Dramani Mahama when he said "If you need better supply of electricity, then you must pay more". Immediately after this statement the Pharaoh of our time John Dramani Mahama through the Finance Minister introduced these draconian taxes; 20% on fees, allowance paid to board members, trustees and resident directors or managers. A Special 10% is being charged on fees paid to lecturers, examiners, invigilators, part time teachers and endorsement fees. Meanwhile, wages of workers have not been increased.
Next to join the fray of justifying the intake of high taxes by the NDC government is James Klutse who is the NDC MP for Ketu South and the chairman of the Finance Committee. "If we don't want government to collect these taxes to do development then let's not demand development project from government. Government is looking for more avenues to raise more revenue to meet government expenditure and one of the areas to raise revenue is to expand the tax net and raise more revenue."
No Ghanaian is against the collecting of taxes for developmental projects which would improve the living conditions of the ordinary Ghanaian. The ordinary Ghanaian would complain when taxes collected are used for the following; rebranding of 116 buses at a cost of GHC 3.6 billion, $20,000 for directions to a market in Brazil, GHC50 million cedis to Woyome, $100 million to Gyeeda, $30 million for Sada, $22 million to Waterville, reckless spending of $4.5 billion by Pharaoh Mahama within six monthes to the 2012 elections, $20 million to build NDC party office, 100 million cedis for chinchinga,1million YEA cedis for a ministers travel abroad.
To Hon. James Klutse (the NDC MP for Ketu South) NDC government under the auspices of Pharaoh Mahama is looking for more avenues to raise more revenue to meet government expenditure. But to the ordinary Ghanaian, the avenue to raise more revenue to meet government expenditure is not always raising revenue but also includes; retrieving the $50 million payed to Woyome (which he promised to pay by the end of 2015), $100 million to Gyeeda, $100 million to CP, $30 million to Sada, 3.6 million to Smartty, putting an end to the unprecedented corruption, inflating of government projects and the reckless spending.
On the 5th of January, 2016, the Daily Graphic reported that Kotoka Airport Customs Division exceeds its revenue target. Despite this, the NDC government under the Pharaoh of our time John Mahama has borrowed more than $35 billion than any other government; revenue from gold export is more than $25 billion, revenue from cocoa is over $14.5 billion and revenue from oil export over $13.7 billion. These moneys received under Pharaoh Mahama does not commensurate with the developmental projects in the country. According to the minority's response to the 2015 Budget, developmental projects by this government sum up to $3.87 billion. Meanwhile, the government had borrowed $27billion as of that time.So how does this government account to Ghanaians the difference between $27billion and $3.87 billion? So what at all are they using these moneys for? Taxes here, there and everywhere, yet this does not reflect in the pockets of the ordinary Ghanaian worker. Perhaps it is working only in the pockets of Pharaoh Mahama, his families and friends!!!!!. This is because when Pharaoh Mahama became a President (after the mysterious death of Mills) in 2012, he increased his salary from GHC7,000 to GhC12,000 and back dated it from 2009. Meanwhile, teacher and nursing training college allowances have been taken off by Pharaoh Mahama.
The NDC in opposition (from 2001 to2008) played politics with prices of petroleum products. President Mills, John Mahama (now President) the Ahwoi brothers and the CJA toured the country with black boards explaining to Ghanaians how petrol could be sold at GhC1.5 per gallon and now that Ghana has become an oil producing country, an NDC government will sell fuel at GHC1 per gallon. Let's look at statements made by some of the NDC bigwigs;
The minority spokesperson of finance and member of parliament for the Nabdam Constituency, Hon. Moses Asaga has stated that the fuel prices hike by the government from 30, 500 to 32,000 was unjustified and urged the government to revert it to its previous price. According to him there was no justification in the increase, since the price was loaded with a lot of government taxes. The government should be in a position to revert the price to the previous price. The increase has already triggered increase in lorry fares. This increase is very serious and must be condemned. (The Ghanaian Chronicle October 5, 2005)
The above statement was made by Moses Asaga now the CEO of National Petroleum Authority, when fuel was increased from 30,500 to 32,000 (old currency), Moses Asaga then minority spokesperson on finance stated that the hike of fuel was unjustified and must be condemned. "The Chief Executive Officer of the National Petroleum Authority, Moses Asaga says Ghanaians can afford the 28pesewas (9%) increment on petrol prices." (Citifm online.com, May 15, 2015) Hmmm!!! This is wickedness. If an increment of 15pesewas in 2005 was unjustified, very serious, increased lorry fares and must be condemned, why then do you (Moses Asaga and his NDC under Pharaoh Mahama) say that 28pesewas is affordable? In 2005, crude oil per barrel was $35.04 and a gallon was sold for Ghc3.69 but under the Better Ghana Agenda, crude oil per barrel in 2016 is sold at $28 and a gallon of petrol is sold at almost GHC15.
MILLS CALL FOR FURTHER REDUCTION IN PETROLEUM PRICES(gna November 11 Friday 2008)the flag bearer of the National Democratic Congress Professor John Evans Atta Mills has called on the government to listen to the genuine complains of the people and implement policies to reduce their suffering. Professor Mills said yet when the world market price of the product fell to almost half of the highest price that it rose to, the prices of petroleum products in the country had not been adjusted to correspond to the current market price making LIFE UNBEARABLE to ORDINARY citizens.He was speaking at a mini rally at Amanase in the Ayensuoano Constituency.
FUEL DECREASES ACT OF DESPERATION-ATTA MILLS(December 13, 2008,xfm 95.1 news center)it is clear that consumers in the world outside of Ghana have benifited from a drop in the crude oil prices. In South Africa for example, the retail price of fuel has been reduced by 50 percent since August 2008 based on a more than 60 percent decrease in crude oil prices. In Ghana however, it took a commitment from the NDC to right the wrongs of the NPP government to compel it to announce a price drop in a ploy to win votes for the run-off election. We are proud that through this act, we have not only exposed the negligence of the NPP government towards the people of Ghana, but has infact forced their hand to do what they should have done from August this year.
GOVERNMENT PLAYING POLITICS WITH PRICES-JJ (xfm 95.1 news center,December 12,2008)Former President Rawlings has questioned the sincerity of the NPP government over the welfare of Ghanaians following its consistent failure to reduce the price of petroleum after three months of steep price falls of crude oil. President Rawlings said a research initiated by his office shows millions of dollars have been lost to Ghanaians and the Ghana economy since 2008.He sited the example of South Africa where the price of fuel has been reduced by 50% since August 2008. It is very clear that something is drastically wrong in Ghana and that the ruling NPP government do not have the interest of Ghanaians or Ghana in mind. A normal Ghanaian car owner spending approximately 430cedis per month on fuel should have saved at least 218cedis over the period.This is a scandalous state of affairs in a country where a huge percentage of the population do not even earn much per month he said.
The late President Mills in 2008 under the I CARE for you mantra said "I will reduce drastically, the price of petroleum products". Abraham Lincoln said, if you want to test a man, give him power. Immediately Ghanaians gave President Mills the power to rule, by the end of 2009, the price of petrol had been increased from GHC3.69 to GHC8 (216.802%)Again when Pharaoh John Mahama became a President, this was what he said "Ghana won't develop if fuel prices go down"(peacefmonline.com,7-1-15 ) So if President Mahama knew a reduction in petroleum prices would lead to UNDER DEVELOPMENT,why then did he and Prof Mills asked the erstwhile NPP government to reduce petroleum prices in 2008 and Prof.Mills further promising to reduce the prices of petroleum products drastically?So did the reduction IN 2008 LEAD TO UNDER DEVELOPMENT?If a reduction today will lead to UNDER DEVELOPMENT,THEN A REDUCTION YESTERDAY( 2008) WOULD HAVE ALSO LED TO UNDER DEVELOPMENT..If a reduction in 2008 would relief Ghanaians of their hardships, then a reduction in 2016 would further reduce the hardships of Ghanaians..This means Prof.Mills and Pharaoh Mahama were ANTI DEVELOPMENT…..
The Table Below Shows The Increment Of Petroleum Products From The PNP, PNDC, NDC(1), NPP, NDC(2)
GOVERNMENT

ITEM

YEAR

AMOUNT SOLD BEFORE

AMOUNT SOLD AFTER

PERCENTAGE INCREMENT

PNP

Gas oil

Before March 1983

8.5 cedis

0

PNDC (and NDC 1)

Gas oil

1983

To

2000

8.5 cedis

1,359 cedis(1983)

5,963 cedis(2000)

15,988%

70,053%

PNP

Petrol

Before March 1983

12.30 cedis

0

PNDC and NDC 1

Petrol

1983 to 2000

12.30 cedis

6,400 cedis

52,032%

NPP

Petrol

2000 t0 2008

6,400 cedis

53,339 cedis (1st December 2008)

3.69 cedis (31st December 2008)

833%

0.058%

PNP

Kerosene

Before March 1983

5 cedis

0

PNDC and NDC 1

Kerosene

1983 to 2000

5 cedis

1,125 cedis(1983)

5,963 cedis (2000)

22,500%

119,260%

NPP

Kerosene

2000 to 2008

5,963 cedis

53,339

894.5%

PNP

Diesel

Before March 1983

8.50 cedis

0

PNDC and NDC

Diesel

1983 to 2000

8.50 cedis

5,963

3,892%

NPP

Diesel

2000 to 2008

5,963

56,430

40,000

946.33%

670.8%
Source: New statesman Wednesday May 21, 2008.
(NOTE: the above figures are in the old currency)
| | | | | | |
| --- | --- | --- | --- | --- | --- |
| NPP | Petrol | 2008 | 3.69 cedis | - | 0% |
| NDC | Petrol | 2009 | 3.69 cedis | 15 | 406.504% |
| NPP | Diesel | 2008 | 4.00 cedis | | 0% |
| NDC | Diesel | 2009 | 4.00 cedis | 15 | 375% |
| NPP | Kerosene | 2008 | 5.33 | | 0% |
| NDC | Kerosene | 2009 | 5.33 | 20 | 375.23% |
Prices Of Crude Oil Per Barrel From 1985 To 2016
YEAR

COST PER BARREL

POLITICAL PARTY

1985

$26.92

PNDC

1993

$16.75

NDC

1998

$11.91

NDC

1999

$16.56

NDC

2000

$27.39

NDC

2005

$50.04

NPP

2006

$58.30

NPP

2007

$64.20

NPP

2008

$100 (in may)

$147 and $35(december)

NPP

2016

$28

NDC
NOTE: Between 1982 and 2000 the average nominal crude oil prices per barrel was $20
Between 2001 and 2008 the average nominal crude oil prices per barrel was $50
Under NPP in 2008, the price of a litre of kerosene (largely used in the rural areas) was 70pesewas representing 31% of the daily minimum wage which the NDC said it was too high..
Before the 2015 budget, under the NDC, the same litre of kerosene had increased to 3.23pesewas representing 53.8% of the daily minimum wage
"CALL ON NPA TO FURTHER REDUCE PRICES OF PETROLEUM PRODUCTS" (myjoyonline.com, August 14, 2008. 00:00gm). As a matter of fact, petrol should not sell for more than GhC 2.8 per gallon as compared with the quoted prices of GHC3.69 per gallon while diesel should sell about 2.65 per gallon and not GhC 4.0 per gallon. By Hon. Dr. Kwame Ampofo, NDC spokesperson on Energy". Hmmm!!! Under Pharaoh Mahama with his transforming Ghana and changing lives, petrol, and diesel which could have been sold to us for GhC 3.69 and Ghc 2.65 are now sold at GHC 15 and GHc 15 respectively. Indeed the lives of Ghanaians have been changed and transformed.
When Ghanaians legitimately reminded the NDC of their drastic reduction of petroleum products in 2008 and does not understand why petrol and diesel should be sold at Ghc 15 and Ghc 15 respectively now that the price of crude oil per barrel sells at $28 whereas in 2008, when the price of crude oil per barrel was $147, petrol and diesel were sold at GHC5.30 and GHC5.00 respectively, this is what some leading members in the NDC told Ghanaians;
"Ghana won't develop if fuel prices go down says President Mahama"(peacefmonline.com7-1-2015)
"IF YOU HAVE A V8, WHEN YOU BUY PETROL IT MEANS YOU ARE PAYING MORE TAX. IF YOU SIT IN A TROTRO IT MEANS YOU ARE PAYING LEES TAX. THIS IS BECAUSE 15 OF YOU WILL BE SITTING IN THE TROTRO "GOD HAS BLESSED US WITH A REDUCTION IN OIL PRICES SO THAT GOVERNMENT CAN ADD TAXES ON THE PRICE OF FUEL SO WE CAN PAY THE DEBT…I DON'T SEE ANYTHING WRONG WITH WHAT WE HAVE DONE.THE ONLY WAY YOU CAN GET EVERY BODY TO CONTRIBUTE IS DIRECT TAXES" .( by Pharaoh Mahama in addressing the media at the flagstaff house on 12-1-2016) Pharaoh Mahama, if using V8 means paying more taxes ,then why won't you instruct all your ministers to board TROTRO to their various ministries in order to save cost????? Again, all the presidential and ministerial convoys which are made of fleet of V8s should immediately be changed to TROTRO since it is less expensive.HMM!!!! apart from Pharaoh Mahama being the luckiest President, God has also blessed him with a reduction in oil prices and he(PHARAOH MAHAMA) has also blessed Ghanaians with COMPASSIONATE-FOOT-SOLDIERS-TERRORISTS….Talk they say is CHEAP. Note;the state owns the power distribution company(ECG) in excess of GHc1.2billion which constitute about 62% of the total debt owned ECG..
"In UK, not everyone has a car. Many use public transport. Even if we charge 30% on fuel and you can't pay just park your car and use 'trotro'. Once you want to use your private car, then you have to pay." By James Klutse NDC MP for Ketu South and the chairman of the Finance committee in parliament.
"If you think you can't afford the real cost of fuel, then I think one of the ways of demonstrating as an opposition to the increment is to ride bicycles to work." By Eric Ametor Quarmyne, NDC communicator and a Consultant for National Health Insurance Authority.
I am not surprised at these statements made by these NDC bigwigs because when Ghanaians complained that there is severe economic hardship in the country, what Pharaoh John Mahama said was "GHANAIANS HAVE SHORT MEMORIES".
Why is the Pharaoh of our time not using the Automatic Price Adjustment Formula? Why has the NDC increased fuel products now that the Exchange rate is stable and the price of crude oil per barrel is $28?Why is petrol and diesel not sold at ghc 2.8pesewas and ghc2.6pesewas respectively as Pharaoh Mahama and his NDC promised Ghanaians in 2008 ??
"Talk time tax passed by parliament. To the minority (then NDC) the talk tax would worsen the plight of the vast majority of the people leading to deterioration in their living standards. The talk tax was reduces from 8% to 6%." (Daily Graphic, March 20, 2008) So if talk time tax which had an increment of 6% and to the minority (then NDC) would lead to deterioration in the living conditions or standards of Ghanaians, what will be the living standards of Ghanaians today now that utility, water, petroleum products and motor insurance have been increased by 154% and 500% respectively? Collecting more taxes than is absolute necessary is legalized robbery. I rest my case. BUT INCOMPETENT JOHN MAHAMA MUST GO IN 2016.STILL THE BATTLE IS THE LORD'S………….
BY PAPARAZY ANDREWS ASAMOAH.
FORMER-UG TESCON PRESIDENT
AYAWASO WEST WUOGON.
MENSAH SABAH HALL "B".
POLLING STATION CHAIRMAN.
(0249195426).