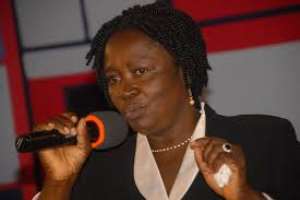 Education Minister Prof. Jane Naana Opoku Agyeman
Education has always proven to be that very important tool for development in any country.
In Ghana, however, although the government has taken steps to ensure the realization of this, there is still a lot of work to be done as the Ghanaian educational sector is fraught with several challenges especially in the rural areas. This situation has resulted in a huge gap between urban and rural children in terms of quality education.
The Ministry of Education, Science and Sports in its preliminary education sector performance report for 2008 stated that in the 2007 Basic Certificate Examination results for girls especially those in the most deprived districts and regions of the country was significantly lower than that of other students in urban areas.
Ghana's constitution specifically stipulates that "The state shall provide educational facilities at all levels in all the regions of Ghana, and shall, to the greatest extent possible make these facilities available to all citizens", however this has been and still is a mere rhetoric other than reality, especially where the rural child is concerned.
Findings by The Voice GH, a non-governmental organization in Ghana through its "Help a Child Read Project" in some rural communities in the Upper West Region emphasized the fact that there was enormous challenges with education in rural Ghana. In some schools, students learnt under trees and in the event of rain, the teachers and students were left to the mercy of the weather. One can imagine the consequence of this thanks to the virtually non-existent infrastructure they have.
As typical in most farming communities in Ghana, most of the children worked on their parents farms during weekdays after school and sometimes during times they are expected to be in class. For most final year students at the basic level, that was the reason for their non-performance during the Basic Certificate Examination.
In villages such as Monupele and Danko, students travelled several miles to school, crossing streams and several hurdles only to meet classrooms without teachers. How disheartening.
That notwithstanding, children in rural areas write the same final exam with their counterparts in urban centres who are largely able to access to quality education.
Annual assessments of pupils' performance by the Ministry of Education suggest that schoolchildren are reading well below the expected level.
Many pupils in rural Ghana drop out of school before reaching Primary 6, and of the number than progress to that level or beyond, that have difficulties in reading and understanding of basic arithmetic.
Undoubtedly, most parent are increasingly becoming reluctant to send their children to school because in the end they are not impacted in anyway that makes them better than before their enrollment.
It is obvious that education in the rural areas suffer poor planning and defective policy implementation especially at the basic level hence the present situation characterized by low enrolment and consistent abysmal performances. This situation can only be addressed in the corrective measures stated above.
ADELAIDE YIRIYELLEH
THE VOICE GH
[email protected]