Mahama's gitmo decision illegal- Akufo-Addo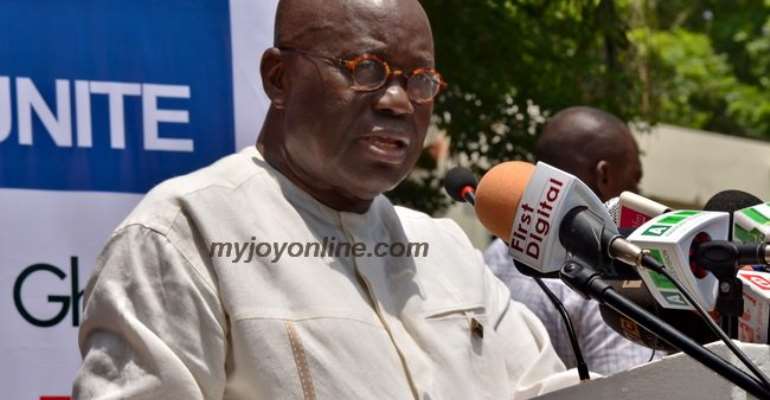 The New Patriotic Party flagbearer Nana Akufo-addo has described as illegal the president's decision to admit to Gitmo detainees who are linked with terrorism.
Quoting Section 35 of the Anti-Terrorism Act, 2008, Act 762, Akufo-Addo said the law prohibits the transaction in which the president entered into with the government of the US.
"Lawlessness at the highest level of the state cannot produce good governance," he said during a tribute in honour of the late Alhaji Alhassan Bin Salih in Wa, Tuesday.
The presence in Ghana of two suspected terrorists of Yemeni descent who were kept in Guatanamo Bay for 14 years by the US has caused a lot of uproar in the country.
Sections of Ghanaians believe the decision is a risky gamble of Ghana's national security given the increase in acts of terrorism in West Africa.
But the president and his spokespersons have defended the decision. President John Mahama at a press conference said he would not take any decision that will put the Ghanaians in danger.
He said the decision was taken in consultation with relevant stakeholders and national security.
However the NPP flagbearer who had been quiet on the issue, broke his silence Tuesday accusing the president of flouting his own laws with impunity just so he would satisfy the Americans.
"It is a sad example of his belief that he is answerable to no one, not even to the laws of the Republic, like s.35 of the Anti-Terrorism Act (Act 760), which, as President, he is sworn to uphold."
"Since he claims that only Presidents Rawlings and Kufuor have the right to criticize him, I would have wished that he had found it worthy to consult both of our two former national leaders before he took this grave decision that has consequences for us all.
"If he had done so, Ghanaian people may well have been spared the disquieting anxiety, in this time of justifiably heightened fear of global terrorism, that we are being led by a President who, ostensibly in the name of compassion, prefers to ignore laws designed to defend the most sensitive area of all, our nation's security."
Nana Akufo-Addo appealed to Ghanaians to desist from making religious comments on the matter.