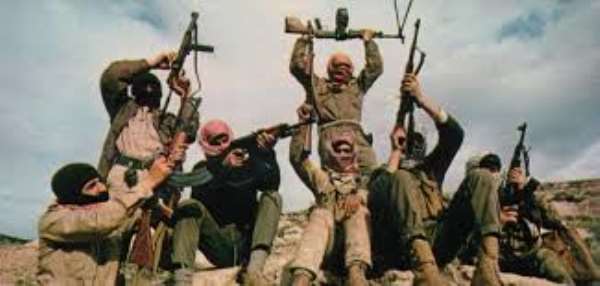 THE attack on the Burkinana Faso capital, Ouagadougou, on Friday 16 January 2016, had a 'Ghana connection': the restaurant which bore the brunt of the attack, the Capuccino Café, is situated on the AvenueKwame Nkrumah!
Shouting "Allah Akbar" [God is great] , at least three 3 gunmen armed with Kalashnikov rifles, burst into the restaurant around 7:30 pm (local time). They first opened fire on the terrace of the Cappuccino Café, a bar and restaurant frequented by the Burkinabe middle class and expatriates. Epsecially at weekends – like that Friday evening.
"They burst in on everyone, without distinction," said Martin, a young man who was injured in the shooting. He said the attackers penetrated inside the facility, where they continued to empty their magazines on clients and servers alike.
After about half an hour, the assailants took refuge in a nearby hotel called the Splendid Hotel. There, too, they continued to fire on innocent people who came in their sights. 126 hostages were however, freed there by a comnbined unit of Burkinabe, US and French special forces.
Altogether, the terrorists killed 29 people. The majority of these were slain at the Cappuccino.
Two days after the attack, the windows of the Cappuncino, riddled with bullet holes and the walls blackened by smok, bear testimony to the ferocity of the attack. So do the charred carcasses of several mtoto vehicles outside the Café.
Horrific accounts of the ruthlessness of the attackers have emerged from survivors. In the Cappuccino Café, diners said they pretended to be dead for almost an hour, as the terrorists picked over them, killing anyone still alive, before setting the Café alight and shooting at those who tried to escape from the acrid smoke that billowed from the fire.
"Yes – we had to play dead," confirmed one dazed and tear-faced Burkinabe woman, who was interviewed at a nearby hospital. "They shook people by the foot to see if they were alive or not, and if they were alive, they shot them."
Al Qaeda in the Islamic Maghreb (AQIM) has claimed responsibility for the attack. In a statement, ÀQIM said the assault was "revenge against France and the disbelieving West". It was designed to "punish the cross-worshippers for their crimes against our people in Central Africa, Mali and other lands of the Muslims".
According to Jeune Afrique, the incident was "the first jihadist attack in the Burkinabe capital."
Eventually, the assault was foiled by Burkinabe elite troops, assisted by elements of US Special Forces, and a special unit of French Gendarmerie and Special Forces.
Three of the terrorists were killed after they had taken refuge at a nearby location called Taxi-Brousse. A fourth assailant, who had escaped to a neighboring hotel called Yibi that was empty for renovations, was also killed. One survivor was quoted as saying that "'the atackers were like children – they recoiled every time they fired a burst from their Kalashnikovs!"
The question everyone in Ouagadougous is asking is this: did the jihadist commando comprise only the four individuals known to have been killed?
Investigators are yet to establish whether other terrorists have "gone through the cracks."
Therfore, the possibility that there could be another attack cannot be dismissed..
Now, why would AQUIM consider Burkina Faso a "target" for what it calls its "revenge"?
The U.S., which is waging a campaign, in association with France, to drive AQIM out of the Sahara, maintains what it describes as "excellent relations" with Burkina Faso. An official U.S. Website acknowledges that US "interests in Burkina Faso" include "countering terrorism and strengthening border security".
The website adds that the US and Burkina Faso engage in a number of military training and exchange programs, including in counterterrorism and humanitarian assistance. Burkina Faso "is contributing to the support of U.S. efforts in the Sahel. Burkina Faso is a partner in the Africa Contingency Operations Training and Assistance program for peacekeeping, and is a member of the Trans-Sahara Counterterrorism Partnership (TSCTP)", adds the website)
The US further operates an "Antiterrorism Assistance" (ATA) programme that is "the primary provider of U.S. government antiterrorism training and equipment to law-enforcement agencies of partner nations throughout the world. It has delivered counterterrorism training to more than 90,000 law enforcement personnel from 154 countries."
"ATA helps these countries deal effectively with security challenges within their borders, defend against threats to national and regional stability, and deter terrorist operations across borders and regions. From prevention to response to post-incident actions, ATA builds capacity in a wide spectrum of counterterrorism skills, offering courses, seminars, and consultations on more than 80 topics. ATA has active partnerships with 53 countries," according to the website.
Another US programme, the "Regional Strategic Initiative" (RSI) seeks to deny "terrorists safe havens, [and] plays a major role in undermining their capacity to operate effectively". Physical safe havens, according to the US, "usually straddle national borders or exist in regions where ineffective governance allows their presence. Examples include the Pakistan/Afghanistan border, Yemen, the Trans-Sahara region, and Somalia."
To effectively counter safe havens, [the US increasinglyoperates in a regional context, with the goal of shrinking the space in which terrorists operate.
"Examples of RSI programmes approved and funded include the Resident Legal Advisor programs in Malaysia, Mauritania, and Mali/Niger; ... anti-kidnapping for ransom workshops for countries of the Trans-Sahara Counterterrorism Partnership (TSCP). ...Established in 2005, the TSCTP is a U.S. government-funded and implemented multi-faceted, multi-year effort designed to counter violent extremism.
"The core goals are to enhance the indigenous capacities of governments in the pan-Sahel (Mauritania, Mali, Chad, Niger, Nigeria, Senegal, and Burkina Faso) to confront the challenge posed by terrorist organizations in the trans-Sahara; and to facilitate cooperation between those countries and U.S. partners in the Maghreb (Morocco, Algeria, and Tunisia).
" TSCTP focuses on containing and marginalizing terrorist organizations by strengthening individual country and regional counterterrorism capabilities, enhancing and institutionalizing cooperation among the region's security and intelligence organizations, promoting democratic governance, and discrediting terrorist ideology.
"TSCTP has been successful in slowly building capacity and cooperation, despite political setbacks over the years caused by coups d'états, ethnic rebellions, and extra-constitutional actions that have interrupted work and progress with select partner countries. U.S. training and equipment have assisted Mauritania in its efforts to monitor its border with Mali and sustain professional units during operations against AQIM, Similarly, training and equipment have supported Niger's efforts to protect its borders and interdict terrorists attempting transit through its territory. Several TSCTP programs have worked to counter the pull of violent extremism on youth, including educational and training courses in Algeria and Morocco, and extensive youth employment and outreach programs, community development, and media activities in Niger and Chad".
Prticipation in such US anti-terrorism programmes as those described above would, of course, without doubt, brand Burkina Faso, in AQIM's eyes, as AQIM's "enemy". A question which that raises, and which must be of interest to Ghana, in view of Ghana's acceptance of the two ex-Guantanamo detainees for resettlement, is this: is Burkina Faso caught in a chiclken-and-egg situation, in which, because it is surrounded by countries experiencing AQIM terrorism (Niger, Mali, for example) it seeks safety from the US and France? Or does it make itself a target for AQIM because AQIM sees it as co-operating militarily with the US and France, in an anti-jihadist campaign?
It is not an easy question to answer, but if I were in charge of foreign policy in Ghana, I know what I would do. I would make sure that AQIM has absolutely no grounds to consider my country its 'enemy". Indeed, I would go to extra lengths to make sure I never fall on to the radar screen of AQIM.
For there is a Ghanaian proverb which quotes the tortoise as saying: "Running away [from potential danger] is nothing to be ashamed of."
Another proverb says: "If your fire your gun at me, I [am so spiritually strong that] I shall survive the bullets. But suppose you miss me as a target altogether?"
And with that, I can only resort to another proverb, nmely: "A word to the wise is enough!"