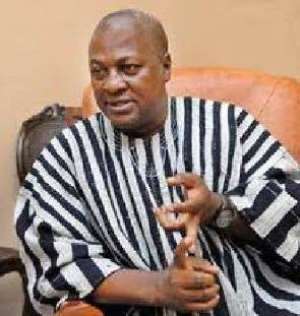 The above is a serious question to ask in the wake of the latest increase in fuel prices.
The late Atta-Mills once said "if people vote for you and you don't do what they want they will kick you out" - Well by that statement it seems that the NDC is making a rod for its back!!!
The late Atta-Mills and his successor were voted to power mainly on a message of ' a better Ghana' and what that would bring to the country. One of the key electoral promises of the NDC was to decrease fuel prices so that the ordinary Ghanaian would be better off.
This latest fuel prices increase by the NDC will take the price of petrol from around GHS6.00 to nearly GHS18.00 gallon – meaning that since the NDC came to power the price of petrol HAS QUADRUPLED!!!
This means that Ghanaians are paying more for petrol than even advanced countries like the United States, France, South Korea and the UK where they have a much higher income per capita than Ghana.
This is totally unacceptable in the light of the ordinary Ghanaian having to fork out for increased food, utility, school fees and transportation costs and the unbearable DUMSO NIGHTMARE and at a time especially when many Ghanaians have not seen any marked increase in their salaries as compared to the spiraling rate of inflation which is now heading for 20% and the rapid depreciation of the CEDI
However, what is at the root of this petrol increase and this is the thrust of my article is that the NDC administration has been deceived and manipulated by the IMF and World Bank.
Some time ago in another article I informed Ghanaians of the fact that a delegation from the IMF/World Bank came to Ghana to assess the country's economic performance with a view to bailing out Ghana with a paltry US$1 billion over three years.
One of the recommendations made by the team was that Ghanaians were under taxed and that government needed to tax more in order to generate more revenue and this has manifested itself in the petroleum taxes levy.
The result of this fuel price increase is that the NDC has succumbed to this advice that was being exerted on it by the IMF/World Bank.
So this points to a very important question - are the NDC in power to serve the interests of the ordinary Ghanaian or are they in the business of government to serve the whims and dictates of the corrupt IMF/World Bank.
In previous articles that I have written, I have warned Ghanaians about the role the IMF/World Bank have played in crippling Afrikan economies with their very dubious economic and fiscal policies and my warning has come to pass with another rise in fuel costs, increased food prices, increased transportation costs, increased school fees and increased water and electricity tariffs.
Recently the IMF/World Bank itself admitted that some of its policies targeted specifically at Afrikan countries were flawed.
To buttress this point, which is still relevant in the light of the economic condition Ghana is in right now, is a quotation from an ex-minister in the last NPP regime, Kwamena Bartels. Mr. Bartels made this quotation in May 2001. "After 20 years of implementing structural adjustment programmes, our economy has remained weak and vulnerable and not sufficiently transformed to sustain accelerated growth and development. Poverty has become widespread, unemployment very high, manufacturing and agriculture in decline, and our external and domestic debts much too heavy a burden to bear".
In addition to this the IMF has received heavy criticism for its handling of various financial crises in middle-income countries: Mexico (1965), Russia (1998), Brazil (1998), Turkey (1998) and Argentina (2001).
But perhaps the most famous is the Asian financial crises of the late 1990s, occurring during Michel Camdessus' tenure as head of the IMF (more recently he has sat on former British Prime Minister Tony Blair's Commission for Africa).
There is no reason whatsoever for the IMF/World Bank to dictate to a sovereign government like Ghana on what is or what is not in the interest of Ghana.
However, the IMF/World Bank are able to exert this pressure on our government is because as I have stated in many articles that it is the IMF/World Bank that control the economy of Ghana and NOT as many people think the ministry of Finance and Economic Planning.
The one thing – again what many Ghanaians are not aware of is that under the late Atta Mills, Ghana went to the IMF/World Bank to borrow money from them to part pay some of the huge Tema Oil Refinery (TOR) debt that stood at over 1 billion Ghana cedis. So is the TOR debt paid? Is the money owed to the Bulk oil companies been paid!!
Why are Ghanaians having to pay disproportionately high rates for fuel especially as the world market price for crude oil is at a more than 10 year low ebb. - -- - - These are questions Ghanaians but in particular our weak and clueless media personnel should be asking policy makers.
It appears that one of the conditions that were attached to this loan that Ghana got from the IMF/World Bank was that it should no longer subsidies fuel/energy costs.
Previously Ghana was offsetting the extra cost of fuel as a result of the increase in world prices by using some of its revenue to buy fuel and not passing on the cost to the consumer.
This practice has therefore been put to an end by the IMF/World Bank which in their perceived 'wisdom' view the practice of subsidizing fuel giving the consumer a break, as not a prudent strategy hence NDC officials and their cronies at the NPA coming out with these flimsy excuses for raising duty on fuel.
There is no reason justification whatsoever for the NDC to raise fuel prices, especially with Ghana being an oil producer, the downward trend of World crude prices but more importantly as the country is grappling with the serious affects of the DUMSO NIGHTMARE!!!
The assertion that the world crude oil price is the reason for the increase is a crass one because when in December 2008 oil hit a record price of US$147 there was not this huge increase and shows that the government has no effective energy/fuel strategy.
Again we are told that the BOG has put measures in place to stabilize the cedi against the US Dollar so why this unnecessary increase?
This is why I stated in earlier article that if Ghana had enough gold reserves, it could be used for many things, one of which is to use it to barter for oil to supplement its own until it produces huge quantities of oil.
So with the IMF/World Bank actually dictating government policy, can the Mahama administration actually deliver a Better Ghana especially in the areas that are supposed to be pro-poor?
My rationale is no – for the simple reason that if the current government is being influenced to implement policies that have been imposed by the IMF/World Bank then how on earth are they going to put in place policies that will bring REAL meaning to the slogan I CARE FOR YOU!!.
As my respected elder Dr. K B Asante said and I am paraphrasing "we are where we are because we have followed policies from the IMF/World Bank".
The I CARE FOR YOU agenda that the country desperately needs WILL NEVER be realized if successive governments continue to allow themselves to be hoodwinked by the IMF/World Bank who as I mentioned earlier have a track record of crippling Afrikan economies.
To further highlight this point, again I refer to historic precedent, this is why as a historian it is good to point to point to history to give examples to make your point.
The classic book How Europe Under Developed Afrika by the late great Dr. Walter Rodney gives an insight as to how the European capitalist system carefully and systematically looted Afrika of its vast rich natural resources as a result of enslavement and latterly colonialism and this colonialism continues today with agents of western capitalism namely the IMF/World Bank/G8/European Union creating policies that all amount to the same thing, the looting of Afrika's vast mineral resources for the benefit of the West and Afrikan elite, while the masses of Afrikan people live impoverished lives.
So if governments of Ghana choose to allow themselves to go down this road, Ghana WILL NEVER develop. Much is being said about the oil and how Ghana stands to gain from the oil find which now seem to be hollow as Ghana has not really benefitted so far from oil production.
Again the experience in gold mining should inform the wise amongst us of this. Again through pressure by the IMF/World Bank Ghana's Minerals and Mining Act, 2006 (Act 703) has ensured that powerful western multi-national mining companies are able to operate freely in Ghana and disregard the human rights of impoverished rural mining communities who have seen their communities decimated by mining activities. Add to this a recent study by the ACEP stated that Ghana only got US$1.7 billion in taxes and revenue from Gold mining out of a total of US$23 Billion worth of Gold produced in Ghana between 2002 and 2013.
Titled 'Golden Days for Newmont', the report said Newmont from 2003 to 2012 paid less than US$500million in taxes to the government of Ghana despite reporting annual revenues of $931 million in 2012, $919 million in 2011 and about $2.5 billion in three years.
"While Ghana's economic performance is declining over the years, the mining sector grew by 11.7% in 2013 (EITI, 2014)," the study indicated.
Again one only has to go to Wassa, Abore, Krofrom, Tontohkrom, Mansunkwanta, Obuasi and Asankuadwa to witness the devastating effect that mining has had on those communities, this despite the protestations from mining companies who say they are complying with environmental laws and other laws, and that they have built schools and hospitals - schools and hospitals are NO substitute when peoples livelihood has been taken away from them i.e. their land used to grow food and other crops now used for mining activities.
If the above quotations from Dr. K B Asante and Kwamena Bartels are credible and I have no reason to believe otherwise the only way the I CARE FOR YOU MANTRA can be realized is for the country to stop accessing money from the IMF/World Bank and hence refusing to adopt their draconian policies and go it alone and make prudent hardnosed decisions that are in the interest of Ghana and NOT western agencies and their multi-national cohorts and now Chinese and Indian influence.
If China, Malaysia and Singapore to mention but three have all prospered and prospered significantly without the dictates of the IMF/World Bank, then I can see no reason whatsoever why Ghana can't follow suit.
The REALIZATION OF A BETTER GHANA is as Osagyefo Dr. Kwame Nkrumah of blessed memory said being capable of managing your own affairs without colonial interference.
If we are really moving forward as a nation we need to rid ourselves of the chains of economic slavery that the IMF/World Bank have us in and start to take radical steps and be the MASTERS of OUR OWN DESTINY and the first things that needs to be done is to leave the IMF/World Bank and gain total control of our natural resources if we want to see future generations prosper.