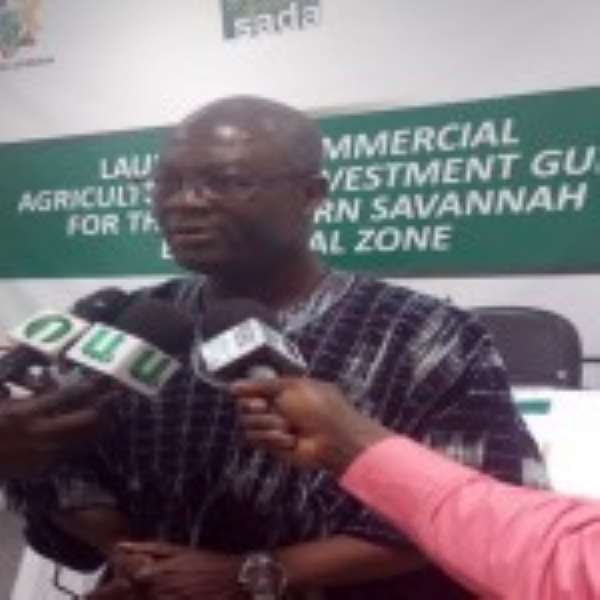 Charles Abugri speaking to the press
The Savannah Accelerated Development Authority (SADA) has come out with a commercial agriculture and investment guide for the Northern Savannah Ecological Zone of Ghana.
The guide, which was launched in Accra yesterday, provides information on business environment indicators in Ghana.
It covers an inventory of natural resources for large-scale agriculture, including information on climate, soil and hydrographic network and a land suitability assessment under rain-fed and irrigated conditions for 25 different crops.
It also contains five proposed large irrigation schemes and 23 potential dam sites that could be developed for hydro power, irrigation, flood control and fisheries.
Against a background of selected national socio-economic data, the guide proceeds to highlight findings relating to SADA Zone.
Charles Abugri, Chief Executive of SADA, in an interaction with the press, said the commercial agriculture guide had become necessary due to the lack of intimate knowledge about the zone and limited literature devoted exclusively to showcasing Ghana's Northern Savannah Ecological Zone.
He said the guide presents information on the resources available in the SADA Zone for large-scale agriculture, including hydrography, soil and climate, adding that major crops experimented include maize, Soyabean, sorghum, pearl Millet, bunded rice, cotton, citrus, pineapple, sugar cane, cassava, groundnut and mango, among others.
"Within all the districts, the guide shows the effect of game-changing irrigation schemes on soil properties, providing a glance of how a similar transformation as occurred in the Brazilian Savannah could be possible in the Ghanaian savannah," Mr. Abugri said.
He said institutions and individuals who are keen on exploring the renewable energy potential within the SADA Zone will also find it useful.
"In the same vein entities engaged in real estate and renewable energy will find useful information on the potential that the Northern Savannah Ecological Zone offers within these sectors, Mr. Abugri said.
He revealed that Queiroz Galvao from Brazil, with the technical leadership of the Soil Research Institute, assisted SADA in the development.
Sully Adam, Board Chairman of SADA, said the guide is one of the tools intended to inspire, motivate and attract a renewed interest in commercial agriculture in the SADA Zone.
"Such a guide should inspire, motivate and trigger national commitment to irrigation. However once irrigation technologies are introduced, there must be accompanying mechanization systems to support it," he said.
He therefore welcomed development partners to contribute to the provision of warehousing facilities.
By Cephas Larbi
[email protected]