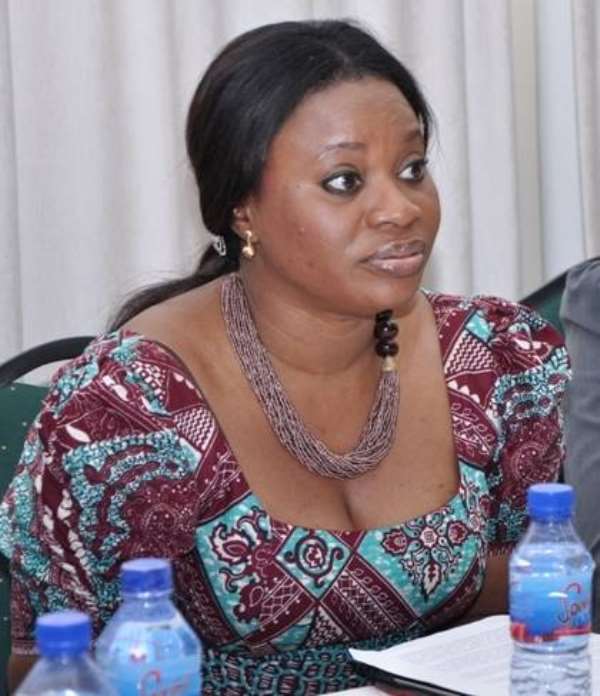 The above exposure becomes absolutely meaningless without a befitting standing ovation to Dr Ephraim Amu of blessed memory, for his patriotic and prophetic National Anthem, which is demonstrated particularly in the following chorus,
"Whether this country will progress
Whether this country will not progress
If this country fails to achieve its desired progress, depends on the behaviour, conduct, irresponsible, greedy, unpatriotic behaviour of the citizenry"
What a prophecy!!!!
Mrs Charlotte-Osei, Electoral Commissioner, Mr Asiedu Nketiah, NDC General Secretary and Mr John Dramani Mahama, current president of Ghana, are classical examples of what Dr Ephraim Amu's prophecy sought to expose. The EC has now openly, irresponsibly, unpatriotically. obstinately and arrogantly confirmed she would not change the controversial and protested voter's register. Judging from her activities, ever-since appointed, it is openly proven NDC is definitely favoured to win the 2016 elections at all cost, under her supervision, irrespective of any obviously potential consequences.
Without any doubt, Ghana's Constitution clearly gives the president the mandate to appoint a new Electoral Commissioner when the position becomes vacant. However, considering the experiences of the 2012 elections, vis-a-vis the conduct of the Ex Electoral Commissioner, Dr Kwadwo Afari Djan resulting in an Appeal Court Case, Ghanaians thought the President would responsibly and objectively consider the relevance of all stakeholders to discuss, select and appoint the new EC. Unfortunately, this did not happen as his only ambition has ever been to retain power, at all cost. Therefore, the appointment of Mrs Charlotte Osei came as no surprise considering how the entire processes ensued.
"Dangerously" and irresponsibly, the new EC has been given only one mandate to fulfil, which is to manipulate the electoral processes, before and during the elections, to retain Mr John Dramani Mahama and NDC in power, irrespective of the damning consequences on Ghana and its citizens. In spite of the many available evidence that elections have caused irresponsible and avoidable conflicts in many countries, particularly in Africa, the EC is still adamant. Despite Ghana's president successfully intervening in neighbouring Togo and sister country Nigeria to change their voter's register, he appears does not care about more seriously bloated voter's register in his own country. President John Mahama should tell Ghanaians whether he is inconsistent or simply does not respect Ghanaians. From the very day the EC was "purposefully appointed", all her activities have clearly proven that the 2016 elections are a foregone conclusion: NDC should by all means be retained in power. As a result, all the hue and cry that associated the EC's "purposeful appointment" was not given any proper attention. Various protestation and cautioning by the opposition parties, civil societies and meaningfully and objectively religious organisations did not receive any attention of the President. NPP, supported with clear evidence of fraudulent voter's register, began complaining about the adulteration and has been calling for a new credible one.
A concerned citizen, equipped with recommendations by the Supreme Court Ruling, has threatened to send the Electoral Commission to court but this is meaningless to the EC as she is determined to rig the elections to favour NDC. Meaningful civil societies have responsibly and realistically added their voice but the EC does not seem to care, as she is only interested to pursue her master's agenda. As a lady with tendering care, it is doubtful if she does have it, one would have thought she would demonstrate some level of neutrality but Mrs Charlotte Osei is still proving that she is just interested in the EC position without any respect for the ethics of her profession and reputable background.
It is quite surprising indeed that competence, reputation and integrity are nothing relevant to the EC, but only meeting her master's will. Interestingly, when NPP complained to the EC with evidence of smuggled names onto the voter's register, one would have thought a proper investigation would be conducted to determine the reality of the complaint. However, the EC immediately assembled a panel of 5 reputable statesmen.
The composition of the committee was a bit doubtful due to political party connotations. Though the outcome of the committee was reasonably predictable, considering the calibre of members, Ghanaians held their brief expecting a miracle. The committee's findings and recommendations are yet to be made public, however, the EC's inconsistencies in her hurriedly decision clearly confirms her predetermined electoral results favouring Mr John Dramani Mahama and NDC.
The EC's closing comments during the second day of the committee's sitting did not only make mockery of the dignity of the cherished panels but equally confirmed her characteristics of arrogance, unpatriotic, obstinacy, recalcitrance and determined attitude to rig the election. Meaningful and patriotic Ghanaians are therefore called upon to responsibly and patriotically call the EC, Mrs Charlotte Osei, to question. The voter's register needs, requires and deserves to be changed to avoid any potentially but unexpected outcomes after the elections.
The Peace Coordinating Council is needed most now, but not after any incidents have started to roar their ugly heads in Ghana due to negligence and promptness. The EC must respect the wish of Ghanaians but not Asiedu Nketiah, Mr John Dramani Mahama and NDC. Failure to listen to wise counselling to change the electoral register is not only tantamount to plunging Ghana into a potentially electoral chaos, but also openly disrespecting, confirming effrontery to Dr Ephraim Amu's visionary and patriotic prophecy.
"Whether Ghana will destroy before, during and after the 2016 elections
Whether Ghana will not destroy before, during and after the 2016 elections
If Ghana does not achieve, realise, obtain, maintain the required, expected peace, before, during and after the 2016 elections, all depends on EC, Mrs Charlotte Osei, Mr Asiedu Nketiah, NDC general Secretary and Mr John Dramani Mahama, Current President of Ghana"
Rise Up Patriotic Ghanaians
Rise Up Meaningful Civil Society
Rise Up True Political Parties
Rise Up True Journalism
The Patriotic Citizen, UK
Collins Oppong-Kyekyeku Kantinka: 07749494785