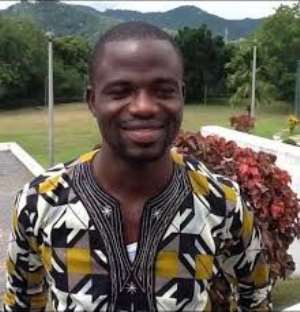 Manaseh Azure Awuni
It is pathetic, disturbing and very dangerous when the faith of Ghana is left in the hands of journalists who don't know the difference between data and information. Such journalists will not add anything to the economy beyond soiling the name of innocent and hardworking people who are doing all they can to get Ghana on sound tracks.
Most of them produce nothing but jealousy and envy riddled articles which add nothing to the nation beyond fabricating stories on their pursuit of fame. Such journalist are reckless and more national security threats than the imported accused terrorist we are all crying about now. Unfortunately for Ghana, one such journalist is in the person of Manaseh Azure Awuni. This is just a conclusion, please read on for the premises on which I got this conclusion.
Azure, it is a good thing that you are trying to expose corruption – at least it is good for you to be known like Anas Armeyaw Anas. You want to also get the opportunity to deliver speeches at national conferences and be interviewed by international media organizations. And even more importantly, you want to save national resources from selfish thieves.
That is a great job that only someone who has the urge to contribute to the progress of the nation will do. As a nation which is not so blessed with positive social culture, it is good to know that we have some people among us who will do everything to protect national resources like Anas Armeyaw Anas and Martin Amidu. I must however caution you that in trying to rise to fame through fighting corruption, you must do that with truth and clean heart; for any theory that is premised on lies will collapse from the most basic scrutiny.
Before I continue further with Azure, let me say that I am somehow disappointed in Haruna Iddrisu for giving audience to Azure and his masters. The saying that monkeys play by sizes is very true that, when a baby monkey goes for a fight with a father monkey, then there should be arrangements for a monkey funeral. From what I have read from Azure, and how I know Haruna Iddrisu, I can only compare a debate between the two to a debate between a university professor and a kindergartener; while the professor will be quoting philosophers and presenting modules, the kindergartener will be talking about biscuits and what his mom will be cooking for the night. At the end nobody benefits; the listeners will be bored, the professor's time, energy and knowledge will be wasted just as the resources that would be used to organize such debates.
An SSS 1 student who is serious can debunk every Azure theory. They are half-cooked, partial lies and generally come in the form of raw data that can be obtained by anybody who cares – nothing tangible, just a desperate desire to be famous.
Sometimes I want to compare Azure to a pampered child who complains of being insulted even at the cry of a bird. Such a child feels the world belongs to him. Nobody else deserves any good but him; and when others are acknowledged for their hard work, his parents must console him for no fault of the winners, but his own laziness. But upon further analysis, Azure does not fit into this pampered child category. He would have, if he was intelligent and or capable of presenting something of substance. Unfortunately he is none of that. He is just a guy who wrote a full article to explain why he did not get a first class during his bachelors; a guy who wrote another article to explain why he did not win the Journalist of the year award after someone deserving (Mabel Aku Banasseh) had taken it.
Sorry, I don't want to release all my bullets on this guy. Let us touch on the issue at hand. I really can't tell where exactly I was when I saw the so-called exposé showing internal correspondence between the ministry of Employment and one of its agencies. To be frank, I am not going to go into the quotation of laws with heads and tails. I am not a friend of history and legal terms. I just don't like memorizing things. As such I am going to be concentrating on the logic and applying my audit knowledge in breaking down what Azure presented to the public as evidence of wrong doing.
To begin with, I want you to forget about my audit background and just consider this basic scenario. Imagine that I am someone policing your wife for you – not for anything but largely because you believe all women in your area are cheating; doing everything I can to submit all relevant pink sheets to show that she is cheating. Then all the evidence I presented to you was a picture of your wife entering or standing in front of one of the houses in your community. As a reasonable person, will that be enough for you to call your wife names? If you will send your wife packing or call her names because of this blank-means-zero evidence, then trust me, you are the Inspector General of Idiots! Azure's evidence is not different from this scenario; let's read on!
Tackling the infant logic Azure is feeding us with; you went to a ministry and with the help of someone, obtained internal correspondence between the ministry and one of its agencies that contains various sums of money; then by your extreme laziness, run to the public with those correspondences that you have discovered fraud or misdoings. Will any serious and deep – thinking person believe this story? As someone who wants the truth, you should have obtained all necessary evidence supporting the use of the monies involved. It is an aggravated ignorance to just tell me that a minister spent close to one million Ghana cedis on a foreign trip; as such we should panic. This is childish, mad love for fame at the highest level and fatal dose of jealousy and pull – him down journalism. Basic questions such as how many people were involved? How many days did they spend? And what expenditure was incurred would have been enough to tell you that you have no evidence beyond receipts for authorized expenses.
The second biggest problem I have with "journaliar" Azure is how he titled the article at www.myjoyonline.com which stated that; "Haruna Iddrisu spends ₵900,000 YEA money on one international conference." And even went further to say in the body of the article that…. Joy News' Manasseh Azure has revealed Employment Minister Haruna Iddrisu made "financial demands" on an employment agency under the ministry to finance his foreign travels." Read this and tell me if Azure was not out to destroy somebody without even an iota of "insane evidence" – because as a matter of fact, we all know he has never presented anything sane of his own. Why is it not the Ministry but Haruna? Did you say his foreign travels? Are you kidding me? Did he go there for a family vacation or a honeymoon? Why will you not leave his personality and handle the issue at the ministerial level? Why do you want to rise to fame through the concoction of stories that will be rejected by even the Mad Men Union of Ghana? Hmmm…., and when I thought this was over, I just saw another article entitled "I'm yet to refund YEA money - Haruna Iddrisu admits." Is it the ministry is yet to refund the money or Haruna is yet to refund it? I do not need to explain further; you can see the desperate attempt by a hired platform with its journaliars doing all they can to destroy someone they believe is defying all odds to remain clean in an environment where thievery if the order of the day.
Anas did not get international recognition through this illogical submissions, he presented facts and sometimes video evidence. Trust me no serious international organization will even read your submission if all you have is what you presented. Indeed foreign firms will run from your ilk: you are not a corruption fighter Azure – you are a fame chaser who steals incomplete documents and submits them as evidence; you are nothing but an office rat – you steal documents but lack the requisite knowledge to convert them to something meaningful than chewing them.
Mabel Aku Banaseh is not rising to fame because of lies and witch hunting; the reason she won the GJA journalist of the year award that you thought you should have won was because she wrote objectively; she wrote on the subject matters rather than personalities. No wonder she is able to write a book that is gaining recognition everywhere. That is how a promising journalist behaves.
As an auditor, what is presented might not even make it to my audit workpapers. I will need a budget and schedule of expenditure, and perhaps sample evidence (invoices) to show that whatever is presented in the schedule of expenditure was actually incurred. Corruption cannot be fought on hate and jealousy; such traits are the weapons of the evil, the mechanisms of a loser; and largely, the strategies of a directionless fully grown man who is pushed by a class of rich men to help destroy others for their selfish interest.
I really don't know what exactly Azure wants to achieve by publishing correspondence from a ministry to one of its agencies requesting money. Is it against policies for the ministry to request money from its agencies? Where did you indicate that in your publication? Was the amount used for expenditure that is not sanctioned? If so where is that presented in your article? So why at all are you making noise for nothing? You just want us to see letters from a ministry requesting money from an agency?
Back to the "evidence," one of the childish submissions centered on the amount that was to be reimbursed by the ministry to its agency after payment had been received from the ministry of finance. On audit stand point, the first thing we would have done is to look at the internal controls to make sure that there are policies and provisions that allow the ministry to borrow from the agency. This obviously is true, so all is well for the first step. Our next step would have been to verify that the amount is not aging more than it should be outstanding – there is no such policy mentioning when such borrowings should be paid back. While this can be a weakness in internal controls, it will not even be a control failure because the control does not even exist as per what I know now – there is no wrong doing whatsoever. We would have just recommended that a policy be established giving timelines to pay such monies back.
Finally, we would have inquired from the ministry of finance to confirm that they actually owe such amount to the Ministry of employment. Indeed we would have sent a blank confirmation so they fill it with the amount outstanding. Azure, can you present your audit confirmation letter for this procedure? So where is the crime? Did Haruna receive the money from the Finance Ministry through his personal account but refused to pay it to the agency? What then is this noise for? Did you even make any attempt to verify from the Ministry of Finance as to whether they owe the Ministry of Employment such monies? What kind of journalist and corruption fighter are you?
Now let me make it clear here that what Azure presented in that pool of ignorance called a revelation is not even worth a discovery and will not merit an investigation by an auditor or fraud examiner. He did nothing special; he just published letters from the ministry which makes no sense. In almost all ministries you will find such correspondence; they are not confidential documents that are locked in the minister's house. The lowest ranked worker at the ministry can also get access to them. So everybody could lay his hands on such documents.
Having said this, let me make it clear to you that Azure is more a danger to Ghana than the people he tries to pull down in the name of misdoings. In this era of Sakawa, you are considered an agent of crime if you jump to the internet with letters bearing the signatures of big men in government; you are promoting fraud than fighting it.
But I am going to pardon Azure for this ignorance: seasoned journalists who know what they are doing would have analyzed the letters without publishing them – but as we all know, Mba Azure lacks analytical skills, and so as normal of him, he submitted the raw data thinking he is giving information.
Another way a journalist with even the lowest IQ would have handled this, is to blacken out the signatures because they will be considered sensitive information when made public. Unfortunately this momoni journalist cannot think beyond contacting people to give him copies of internal correspondence.
Azure, I have an advice for you; please go back to school and learn more; wait, I heard that you are done with your masters. Honorable witches of West Africa! I am not very sure you need more schooling then; perhaps you should shed away the title of a journalist and go for mentoring from the noble Anas. There, you will learn what journalism is.
Advice number 2: select your targets intelligently – In my language, there is a saying that if you kill an evil animal, then you must seek protection from its ghost – I hope you are ready to handle the person you woke up, good luck boy!! I am 100% sure that the likes of you are getting prominence attacking government because the likes of Haruna Iddrisu are no more party communicators. It is clear that you are going round looking for instances to help you gain fame; but in the cause of doing that please do not concoct lies that you cannot defend – and even more important, do not go for people who know their stuff like Haruna Iddrisu. It is only a fool who will have difficulty identifying people who can beat him. Note this is a proverb; I am not calling Azure a fool!!
I heard people questioning why we are all defending him (Haruna); sorry we are not. He does not even need our defense. He knows exactly what he is doing. He is analytically keen, philosophically outstanding and when it comes to knowing what to say at what time and to whom, his par is yet to be created in the current generational politicians. The truth is, that guy (Haruna) is fire and people who don't even like him know that!
My final advice, please get close to people in the know. Seek advice on certain issues you make public before you do so. I don't even know the number this current incident will take on your list of erroneous articles that you published ignorantly thinking you are in possession of detailed evidence. Do you remember the other time you published details of audit workpapers claiming they were audit reports? That was big shame right? A journalist should be multidisciplinary or make friends in other disciplines. You make economic pronouncements when you can barely define economics; you comment on audit related issues when your knowledge about audit is even weaker than a child's knowledge as to how babies are made.
I understand your desperation sir! But please wait for the right time to shine. A journalist informs; and to inform you must have information in hand. What you have is data that needs to be processed to information. Since you have successfully demonstrated to all that you lack the knowledge to convert data to information, please seek help!
To conclude I think as Ghanaians we need to be very careful about how we fight corruption. It is good to expose the rot, but when we do, we should try not to make people look horrible when they are not. We don't need to publish mere letters as evidence of misdoings. That is not the best to do. I think we will push away hardworking people when we go in the Azure direction. I love people who fight corruption genuinely, but never the style that is employed by Azure and his pay masters.
Perhaps in future, Azure will grow from a journaliar to a journalist; for now he is not! He is only a desperate young man who is pushed everywhere like a funeral veil for the benefit of his maters. He lacks basic knowledge of journalism. He is weaker in analysis, logically pathetic and a novice in evidence gathering. God bless our motherland Ghana.
Abubakari Sadiq Iddrisu Assurance/Audit Staff, Ernst and Young LLP, NY. Certified Public Accountant, NY. Member, American Institute of Certified Public Accountants.
MBA Public Accounting, Iona College, NY. B.A Economics, Lehman College, NY. [email protected] https://www.facebook.com/prince.n.sadiq