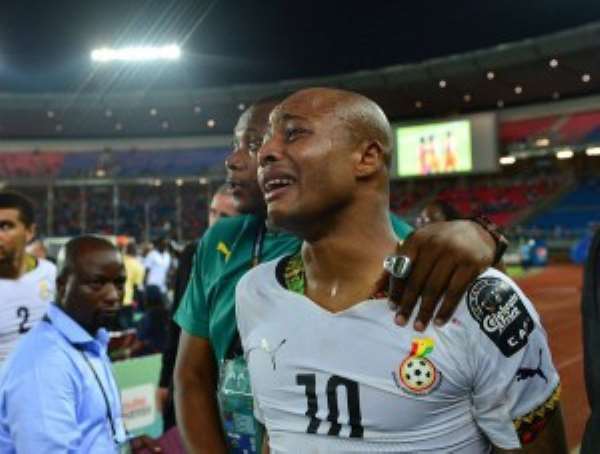 Ghana's deputy captain Andre Ayew has questioned the criteria used in selecting the Africa Player of the Year after missing out on the coveted award to Gabonese Pierre-Emerick Aubamenyang.
In an interview with French newspaper L'Equipe the Swansea City midfielder called on CAF to hold their flagship competition on the continent, the African Cup of Nations, in high esteem.
The 26-year old argued that he should have won the award or better still Ivory Coast's Yaya Toure for getting to the finals of the Afcon in 2015.
The troubled Ghana vice-captain expressed worry as to why the Confederation of Africa Football did not give much recognition to the 2015 Afcon which saw the Black Stars losing the trophy to Ivory Coast on penalties.
Ayew said in the interview with L'Equipe:
'They need to explain the criteria that they use to choose the winner of this trophy. I think that playing the final game of the African cup of nations should be considered. I played this game and so did Yaya. I thought that the winner will be one of us
'Aubameyang is a friend of mine. He made a great performance this year. He scored a lot of important goals but Yaya and me, we don't have the same position that's why we have less goals compared to him.
'However, I think that the Africans should consider their competitions before choosing the winner. To be honest, I think that the winner should have been me or Yaya'.
By: Sheikh Tophic Sienu @desheikh1 on twitter