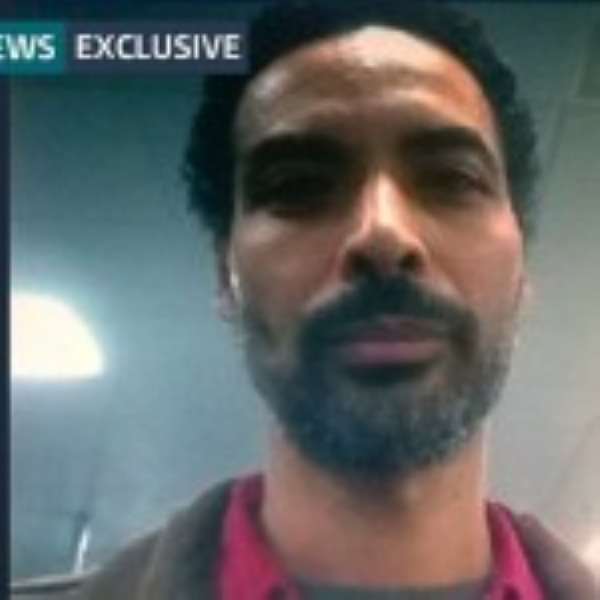 The on-the-run boyfriend of murdered EastEnders actress Sian Blake was captured on camera as he arrived in Ghana three days after he was questioned by police following her disappearance.
Arthur Simpson-Kent, 48, was caught on camera on December 19, after probably flying to the country of his birth in West Africa via Glasgow and Amsterdam.
Miss Blake and her two sons with Mr Simpson-Kent—Zachary, eight, and Amon, four—were last seen on December 13, and Mr Simpson-Kent was quizzed by officers at the family's home in Erith, Kent, on December 16.
Their decomposing bodies were found buried in the back garden of the bungalow on Tuesday, 20 days after they were reported missing.
Officers are still searching for Mr Simpson-Kent, 48, who was last seen on December 16, three days after Miss Blake was reported missing.
He is thought to have arrived in Ghana on a KLM flight and a time stamp on the photograph showed 9:01pm. There is a daily flight from Amsterdam to Accra, which is scheduled to land at 8pm local time.
Hairdresser Mr Simpson-Kent was classified as a 'high-risk missing person' when police could not get hold of him following their conversation with him on December 16.
A neighbour who spotted the interview said: "The police were standing outside for almost ten minutes talking to Arthur outside.
"He was very animated and waving his arms and it looked to me like he didn't want them to come into the house. I just thought it was quite strange because if police turned up at my door with something serious I would have invited them in.
"Eventually they did go into the house but I'm not sure how long they were there as I had to leave."
Yesterday, Miss Blake's sister Ava, 51, said Mr Simpson-Kent was a triple killer and should be 'brought back to justice'.
She also said that Miss Blake was planning on leaving Mr Simpson-Kent and described him as controlling.
Speaking at Scotland Yard's headquarters, a tearful Ava Blake said: "Unfortunately, I believe Arthur was responsible. I want him to face justice and explain why. It's my nephews more than anything.  My brother is angry; my cousins are angry. They are angry about Sian, but the boys have devastated us. We have lost a generation. We can never replace them.
"I want him to be brought back to justice. He'll have to answer to the courts of this country and to God eventually. I don't know what is going through his mind."
The actress, who played home-wrecker Frankie Pierre in the BBC soap in the mid-1990s, and her sons were last seen during a visit to relatives in Leyton, East London, on December 13.
Three days later, after an organisation raised the alarm, police spoke to Mr Simpson-Kent at the family home. After the visit, Miss Blake and the two boys were officially registered as missing.
Her silver-beige Renault Scenic was found in Calvert Avenue in Bethnal Green, East London, on January 3. It is not known who parked it there.
Scotland Yard has refused to confirm reports that Mr Simpson-Kent has fled to Africa, but a spokesman said: "Whether or not he is in the country is one line of inquiry."
Ava Blake broke down in tears as she paid tribute to her sister.
"I have lost my sister and my nephews. I'm not going to see them grow up," she said.
"I'm going to miss Sian. She was my sister and someone I loved. I was proud of her as an actress. I just wanted the best for her and my nephews. We always had hope because of certain things we were told by police. That hope was always there," she added.
Scotland Yard referred its handling of the case to the Independent Police Complaints Commission, who will focus on the way in which officers handled the early part of the investigation.
Other members of Miss Blake's grieving family have demanded answers as to why police did not find the bodies when they searched the bungalow on December 18.
They also expressed their anger that it took Scotland Yard more than two weeks to issue a missing person's appeal for the actress – who was seriously ill with motor neurone disease – and the two youngsters.

The Arthur Kent family
The Arthur Kent family
The case was taken over by homicide detectives on Monday, before the three unidentified bodies were found the next day at the Erith address.
But Ava said she did not have any criticism of the police investigation.
Asked whether she believed police did everything they could, Miss Blake replied: "Yes, I do."
Miss Blake said her sister had planned to leave Mr Simpson-Kent over the Christmas period.
She said: "In the last year, I have to admit, my sister was not the vivacious, happy person she once was. She was a lot quieter. She had asked to come back home and we said yes, so we really tried to plan on getting her to move back home.
"She said she would come back—sort of Christmas week—and after Christmas they would arrange about selling the property she lived in. In our opinion, the relationship had already come to an end but she hadn't quite made that break or that decision to leave Arthur.
"She may not have told him. She also wanted to do it in a way that caused the minimum amount of discomfort to him as well. She didn't want to throw him out on the street but give him time to find somewhere else to live. That was the only point she was wavering on."
Miss Blake had motor neurone disease – a fatal, rapidly progressing illness which affects the brain and spinal cord – and was reportedly looking 'very frail' before she vanished.
Previously an unknown actress, her big break came when she was introduced as soul singer Frankie in EastEnders in June 1996 by series producer Jane Harris.
CREDIT: Daily Mail, UK.