Senior Management Team (SMT) of Vodafone Ghana has embarked on a weeklong customer appreciation and engagement activities to enable loyal customers share in the success of the Vodafone brand in Ghana.
As part of the appreciation package christened '5 Days of Care', Vodafone SMT led by the Chief Executive Officer (CEO), Haris Broumidis, rewarded loyal customers at some retail shops with hampers, phones devices, souvenirs, breakfast service and a citation.
Other activities for the week included a Customer Forum at Vodafone Ghana Headquarters, Field Engineers and Account Managers surprising customers with gifts, and Vodafone staff spending the day working with customers at their business areas.
Explaining the rationale behind the reward package, Mr Broumidis said:
"Vodafone as a global brand and leading network operator in Ghana's telecom industry appreciates customers for doing business with us and giving us feedback to render unmatched voice and data service for the past six years."
Clad in a red polo shirt with a cap to match, unlike his usual suit and tie outfit, Mr Broumidis made time to share interesting insights into customer issues at the A&C and Osu Retail Shops.
In an open letter addressed to Mr Broumidis, Madam Fredericka Nortey, a customer who received a framed citation under the very hand of Vodafone's CEO said, "I thoroughly value and cherish all the items forming the Special Appreciation Packages I received from Vodafone Ghana but I hasten to add that the pièce de résistance in the package is the framed written citation".
Vodafone is also rewarding over 180,000 loyal customers with exciting cash prizes and airtime daily, weekly and monthly' in its 70-day promotion, 'Yee Twi Kɔ'.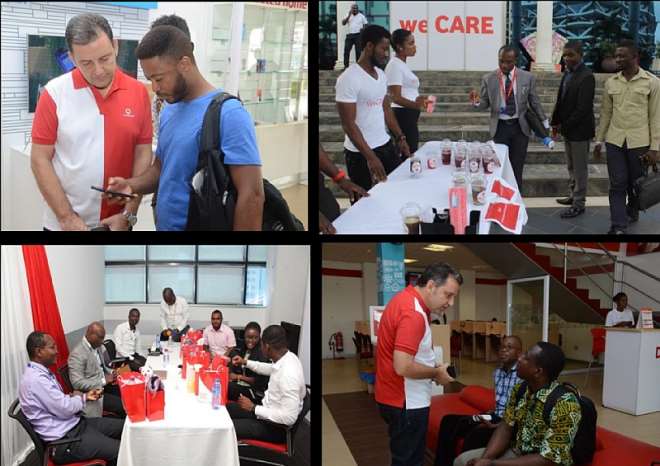 WE CARE 1