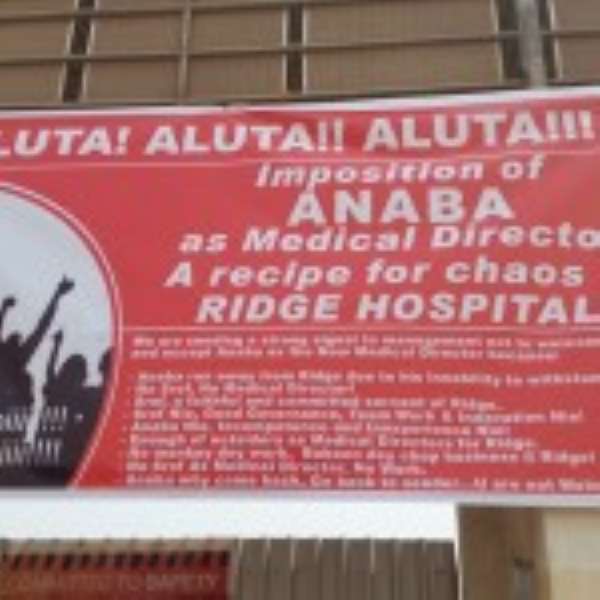 The Ministry of Health (MoH) has urged the staff of the Ridge Regional Hospital to exercise restraint in the matter of the appointment of the new medical director while it looks into the petitions brought against the new appointment.
Expressing concern about the situation in a release signed by Tony Goodman, head of the Public Relations Unit, MoH, "A petition has been brought to the ministry for redress by staff and workers of the hospital. A further petition has also been received from one of the applicants. The ministry is considering both petitions and we are adhering to due process."
The MoH has also advised that no one should make any public statement on the matter.
"We urge the public and other stakeholders to remain calm whilst the ministry carries out its supervisory role of ensuring stability in the regional hospital," it said.
The Ghana Health Service (GHS), the appointing authority in the health sector, on Tuesday hinted of a review of the procedure that led to the appointment of Dr Thomas Anaba as the new medical director of the Ridge Regional Hospital by its council after protest by staff of the hospital.
According to the workers, the management of the hospital should not be left in the hands of someone who has little experience in the operations peculiar to the health facility and rather want Dr Emmanuel Srofenyo, a consultant obstetrician/gynaecologist who is acting in the position to be the medical director.
Dr Ebenezer Appiah Denkyirah, who confirmed the receipt of the petition to DAILY GUIDE, said the decision has been forwarded to the GHS Council to investigate whether there was any violation in the appointment process.
"Once the council has received the letter, we will get a team to look into the concerns that has been raised," he said.
By Jamila Akweley Okertchiri