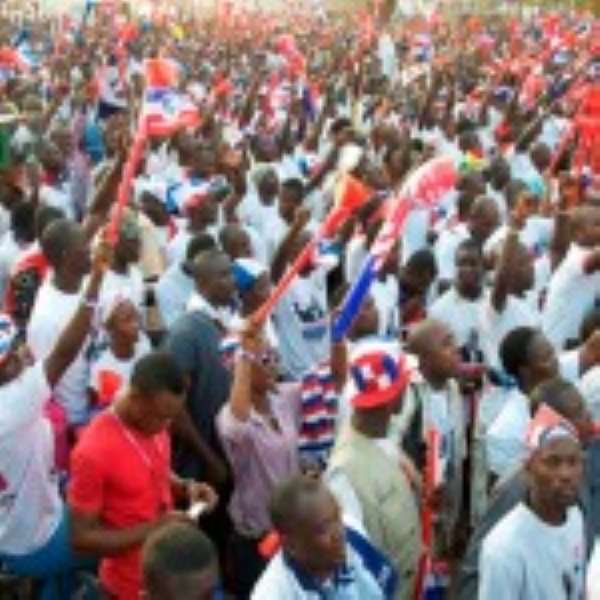 Leadership of the opposition New Patriotic Party (NPP) in the United States of America has expressed disappointment in the Electoral Commission (EC)'s resolve not to compile a new voters' register for the 2016 general elections.
In a statement issued on the night of December 31, 2015 and signed by its Acting Director of Public Affairs, Christian Owusu-Parry said "the Panel finds the arguments for a new register unconvincing and therefore does not recommend the replacement of the current voters' register."
That was after the panel of the five supposed independent persons submitted their findings to the EC.
They were tasked by the EC to look into the demands by the NPP to the effect that the current and existing voters' register was not only bloated but flawed and cannot be used for the next general elections.
The panel was however of the view that "the responsibility for having a clean and credible register is a shared responsibility of all citizens of Ghana" and that "the Electoral Commission will continue to engage stakeholders to ensure that a clean and credible voters' register is in place for the 2016 general elections through an inclusive and collaborative audit process."
But the USA branch of the NPP insists "the current register is hopelessly bloated with 56.9% of the national population, as against the African average of 42%."
In a statement issued by the Public Relations Committee of the branch, they noted that "with 45% of Ghana's population under the age of 18, and an additional 10% or so comprising immigrants and other ineligible voters, it is mathematically impossible to have 56.9% of the population registered to vote."
That is aside the fact that over 76,000 Togolese nationals are said to be on Ghana's voter roll coupled with the Supreme Court ruling to the effect that drivers' license and National Health Insurance Scheme (NHIS) cards that were used in registering voters for the 2012 elections were unconstitutional.
Given that the current register does not show who registered with what document, the branch stated "it is utterly impossible to just clean it up."
That they said was because "no technology exists today that can tell that voter A registered with a passport as against voter B who registered with an NHIS card."
They shot down the argument about the cost involved in compiling a new electoral roll in view of the fact that Ghana's donor partners have promised to fund the compilation of a new register considering the essence of a credible election.
For them, "the cost constraint argument has become invalid" since according to them "the country is at a crossroad and the independence with which Chairperson Osei manages the 2016 elections, including the compilation, display and audit of a new and credible voters' register, will determine the road that we take."
By Charles Takyi-Boadu