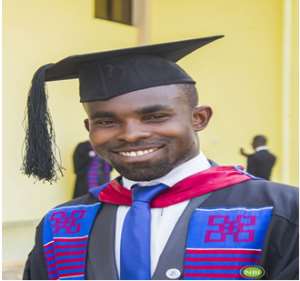 "It's one of the proudest moments in my life that will always stay with me and motivate me forever. God has indeed been good to me. I was ecstatic and felt honored when my name was mentioned amongst the first class students.
The distinguished professors and other dignitaries who were present rose up to congratulate and shake my hands as I climbed the podium to receive my award"
These were the words of Mr. John Essel, a Kumasi based Taxi driver who graduated with a first class degree in Bachelor of Arts in Communication (Public Relations) at the 39th Graduation ceremony of Christian Service University College.
He reiterated that with constant determination," you can achieve all your endeavors and ambitions. Thus, if there is aggregate 'A and B' that means every student can work hard to make the A. God has always been my strength without Him I would have failed," he said.
Elaborating on some challenges he confronted while pursuing the Degree programme, he said there were times when clients would call for his taxi service while lectures was in progress, preparing for examinations in the busy environs of the local taxi station, finding the least noisy place on the busy route (Santasi – Pakyi road) he plied daily to read his lecture notes, attending lectures late and over working to pay his school fees among others. All these have been challenging experiences.
It took the "unconventional" approach to enable me attain the academic achievements now bestowed on me.
Friends who recognized his zeal to excel would call him names like "the only taxi driver with a degree, sole proprietor and car owner". That he admitted motivated him the more to enable him achieve this academic laurel, a first class honours degree. He challenges everyone that "no matter your situation, with God on your side and hardwork you can succeed in life."