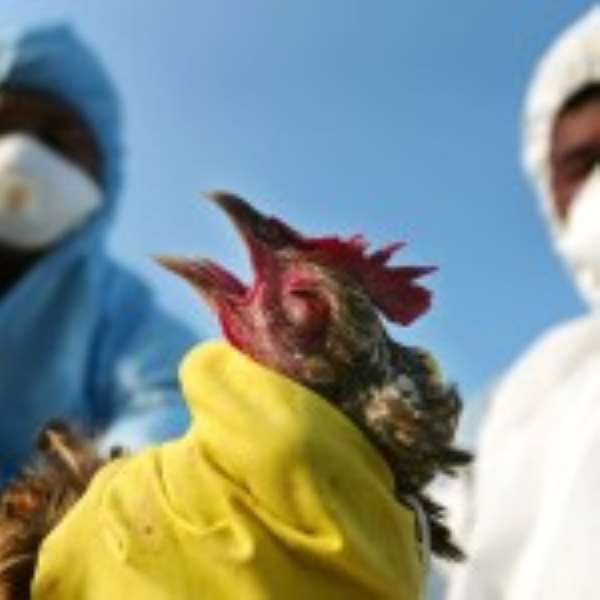 AT LEAST 35 poultry farms across the country have been hit by the avian influenza, commonly called bird flu, the Ghana Veterinary Service (GVS) and the Ministry of Food and Agriculture (MoFA) have disclosed.
Over 100,000 birds were said to have been destroyed by the animal management service since the outbreak occurred nationwide.
An amount of over GH¢1 million was used to compensate affected farmers whose farms were hit by the disease in the country, GVS disclosed.
Dr Kenneth Komla Gbeddy, Director General of GVS, made this known during a day's forum organised by the service.
The aim of the forum was to educate veterinary officers, poultry farmers feed millers, among others, on the need to ensure best practices on their farms to prevent bird flu.
The director general mentioned that strict measures have been put in place coupled with surveillance on every farm to protect the public, especially during the festive season.
He was worried about the sensational manner in which the media reported the influenza, saying, "This is negatively affecting farmers which must not be so."
Dr Gbeddy advised Ghanaians to continue patronising poultry products, pointing out that "you must rather consider poultry products on the market safe for consumption."
Educating farmers on the topic: 'Biosecurity For Prevention, Control & Containment of the Highly Pathogenic Influenza', Dr Gbeddy explained that when viruses are detected during inspections on farms, birds and eggs are immediately destroyed and buried to prevent further spread.
He cautioned farmers on the need to adopt best farm management practices, including regular health checks, checking source of feed and water as well as the prevention of unauthorised movement of people and vehicles on farms.
These measures, he indicated, are crucial since failure to do so "has the tendency of causing disease outbreak on farms."
He said although bio-security measures vary depending on the needs of a site, there are some basic measures common across settings, including wearing protective clothing, preventing domestic birds from mixing with wild ones, hygienic practices, among others.
Farmers, Dr Gbeddy, advised should adopt cleanliness and disinfection as critical components of bio-security which should be carried out after a poultry building has been depopulated before restocking to reduce the pathogens and the potential for disease outbreak.
He mentioned good animal husbandry, maintenance and cleanliness of farms, restricted entry and movement in farms as some bio-security practices to protect commercial farms from infection.
The Accra Veterinary Laboratory and the Noguchi Institute of Medical Research in May this year confirmed two cases of avian influenza caused by the H5N1 virus in Tema and New Achimota, all in the Greater Accra Region.
Unlike previous years when farmers had a boost in the sale of poultry birds during the Christmas, this year, there has been a drastic reduction in sales as a result of the outbreaks of the virus in Tema, Kpone, Ofankor, among other parts of the country.
From Vincent Kubi, Tema