Church Leaders- Prepare The Church Ark For Christ Returns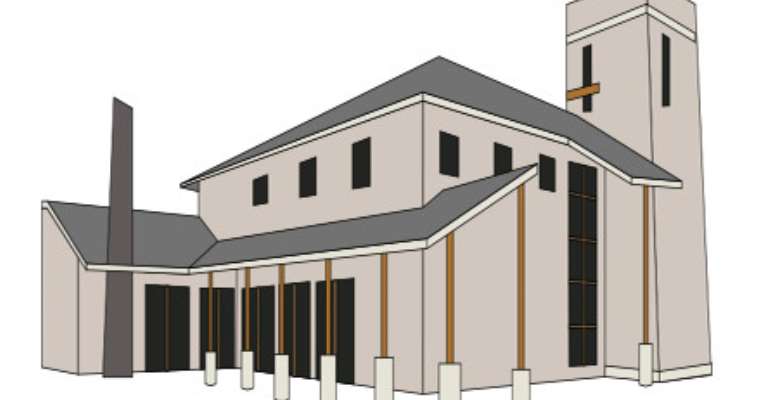 Hebrews 11:7 "By faith Noah, when warned about things not yet seen, in holy fear built an ark to save his family.
By his faith he condemned the world and became heir of the righteousness that is in keeping with faith." As we end this year, we must "relearn, learn and unlearn" so that we can affect and impact lives positively.
Ezekiel 34:2 "Son of man, prophesy against the shepherds of Israel; prophesy and say to them: '
This is what the Sovereign LORD says: Woe to you shepherds of Israel who only take care of yourselves! Should not shepherds take care of the flock?'"
We should never preach lies or compromise the truth we know as LEADERS just to gain platforms from those who are already deceived and are misleading their flocks (church members). Let's not forget as leaders that Jesus Christ went into the church to clear evil practices and all sort of vices that were being carried out in the name of church services during His time.
If we still hold the belief that Jesus Christ is the SAME YESTERDAY, TODAY, AND FOREVER, then we must also have the same belief that He can clear all the malpractices, buying and selling, manipulation and spiritual-fetish behaviours that are being carried out in the name of church activities; where members who leave are cursed or prayed against to fail in life. Some prayers are offered so that wombs should close for married women, accident and sudden death against their husbands who also leave to other places of worship to pursue purpose and destiny.
Some are subjected to all kinds of stigma and name-calling (ORANGUNTANS - monkey, DISLOYAL AND UNFAITHFULNESS) for speaking or standing against false teachings within the church. In Matthew 21:12, we read that, "Jesus entered the temple courts and drove out all who were buying and selling there. He overturned the tables of the money changers and the benches of those selling doves."
If landlords or landladies can evict or clear people from their houses, and if employers can remove or sack employees who go against the code of conduct or principles of engagement; undisciplined students being expelled from school or the classroom, what makes us leaders think that we cannot be removed by Jesus, the owner of the church? As leaders assigned by God over the flocks He is preparing for heaven, we are responsible to provide care and love to them in truth and abide by heavenly-designed principles or codes of conduct for the church and leadership.
Failing to adhere to these principles only makes us candidates to be replaced or removed by the LANDLORD OF THE CHURCH. God can replace any leader at any time as He wishes. He is clearing the churches of those with bad reputation. He is about to dethrone any leader who is not ready to change and speak the truth to set the members free from the dangers and damnations ahead.
He is coming shortly and sooner than we think. As leaders, how prepared are we to give an account to the LORD (JESUS CHRIST) on His return? How are we preparing the church ark to gather the lost souls for repentance? Are we allowing our selfish ego and power to deny the flock from gaining the truth we are meant and supposed to teach them? We are fully aware that hell and heaven are real but the question is, are we preaching to turn people from sin and evil, or our heads are buried in prosperity oil thus blurring our vision for the church?
The very way God commanded Noah to prepare the ark before He destroyed the earth; took Abraham and Lot out of Sodom and Gomorrah; He is doing the same again now. We know as leaders that God never does anything on the earth except He reveals to honest leaders who will not compromise with the truth but will say it as it is. God is looking for men and women who have a heart for the church and the flocks just to save souls for Christ on His return. God trusted Abraham to the point where He could swear by His Name about his being able to teach and command his children what He, God, had told him.
Can that be said of us these days as leader of our various churches?
Luke 15:4 "Suppose one of you has a hundred sheep and loses one of them. Doesn't he leave the ninety-nine in the open country and go after the lost sheep until he finds it?" We should never come to a point where we think we are equal to God as leaders.
It seems like people are turning away from the church if not many, just because of the character and attitude we display as leaders and egocentric and selfish leadership styles we lead or leading the flock with. God is not happy and His anger is on the leaders who He has placed over the churches; those who are denying and depriving the church members from knowing the truth.
He is shaking the foundation of the church and those wishy-washy leaders who are not firmly attached to Word of God and have REJECTED KNOWLEDGE, derailing destinies and destroying lives will all be exposed and removed from the church. My people are destroyed from lack of knowledge.
"Because you have rejected knowledge, I also reject you as my priests; because you have ignored the law of your God, I also will ignore your children."
Daniel 4:33 "Immediately what had been said about Nebuchadnezzar was fulfilled. He was driven away from people and ate grass like the ox. His body was drenched with the dew of heaven until his hair grew like the feathers of an eagle and his nails like the claws of a bird." He went out to look for that one soul (sheep) that was lost just to demonstrate to us that there is a possibility that we may lose 1 per cent of our members but we should go all out to look for them and bring them back into the Kingdom (church). He never went cursing, calling names, ganging the 99 per cent of the sheep against the lost one. He took it upon Himself to go and restore the lost members (sheep) into the flock.
What are some leaders doing instead? They are happy to lose 1 per cent if not more and turn the whole church against them. They encourage the remaining members to hate and do all kinds of unacceptable behaviours towards those who have left their church.
WHERE IS THE LOVE OF CHRIST FOR THE LOST SOUL?
They discourage the remaining members from associating with those who leave. They in turn preach hate messages and say all kinds of charismatic fetish prayers against these members which then create undue FEAR in church members who would have contacted or maintained CHRIST like relationships or friendship with fellow Christians who leave for different reasons.
Some leaders even have the boldness to stand in the pulpit to curse and openly declare death and misfortune on those who have left the church to another church. Jeremiah 23:1 "'Woe to the shepherds who are destroying and scattering the sheep of my pasture!' declares the LORD"
Brethren and fellow leaders; let us not become too holy to think that, we can declare curses on members. Let us not continue in these malpractices as leaders and we shouldn't eat and drink, marry and give in marriage at the expense of the souls that pass through our hands to hell. We need to go back to the origin of the church and prepare or restore it according to the Master's desire before the flood of wrath comes and sweeps us away.
Those of you leaders who have turned yourself into gods in the lives of God's children, making and suggesting any emerging and God-fearing leaders are disloyal or unfaithful just because they do not or may not agree with some of your false teaching should rethink and repent from your vices.
They same old prophets and leaders in Noah's days mocked him and turned the whole world against him when building the ark; some of you leaders are doing the same things to those young leaders who are being used by God to point out the truth to the church and the world. Some leaders have become like Saul in the life of David; preventing them from speaking the truth freely but in fear of death and your wicked prayers against them.
Many of us leaders are never happy to see our vices exposed; yet, we won't repent to seek God for forgiveness. When we see young leaders speaking the truth and striving to encourage others to do same, we get mad at them just like what Noah encountered when he was preparing the ark. O leaders! It is freedom to speak the truth and to see other lives transform and change for God's glory.
But, leaders, I believe that there are many that did not mock Noah. They encouraged him to build the ark. Yes! Some of us are there supporting other young leaders until they begin to expose the truth then we pray all kind of prayers against them. Wherever you stand as a leader, you are responsible in building the CHURCH ARK for the coming of Christ. Let us not be negative against the truth.
We must support and empower our emerging leaders to maintain and speak the truth without fear and intimidation. As we prepare for the New Year, 2016, we should be ready to relearn, unlearn and learn what the Holy Spirit is teaching the leadership of the church regarding the building of the church ark. Those who have the ear and heart to hear and learn let them do according to what the spirit has revealed.
Author| Transformational Speaker| Lifestyle Coach| Publication Consultant| Columnist| Public Health Professional.
Ferdinard Senyo Lawson is a Creativity Award (CA-AWARD, 2015) Best Life Coach & Best Public Speaker Winner, True African Heritage Awards (BEST AUTHOR, 2015) and Beffta. Founder & C.E.O of Ferdinard Lawson Empowerment & Inspirational Agency C.I.C ( FLEiA.CIC) in UK, Public Health Professional, Author, Lifestyle Coach, Transformational & Public Speaker and Publication Consultant. He is an international speaker