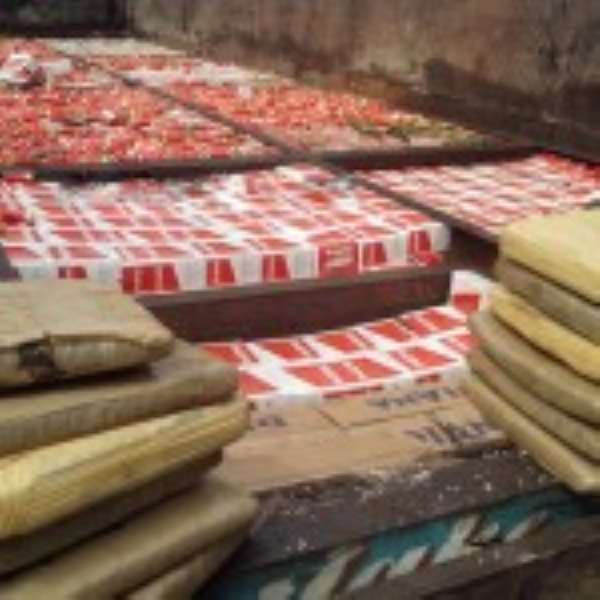 Ghana's Custom officers at Aflao in the Volta Region have impounded a truck carrying thousands of short cartridges (bullets) together with sealed packs of dried leaves believed to be Indian hemp.
Officials say a thorough search on the vehicle revealed that it had already entered the nation's border six times, but it is unclear whether on those occasions it carried ammunitions.
Citi News'  Volta Regional correspondent, King Norbert Akpabli  reported that the  items were concealed in compartments created beneath the floor of the truck.
According to him, Custom officers at Aflao said they "met the driver and two occupants of the truck and upon interrogation ordered for further inspection of the vehicle. It was revealed that under the floor of the vehicle there are compartments created there where these ammunitions were packed."
"The driver and the occupants bolted immediately and the officers were unable to arrest them. The vehicle has a Nigerian registration number KTU 444 XV. It implies that the truck was either coming from Nigeria or Togo into Ghana," King Norbert added.
Meanwhile, the Customs officials are yet to give further briefing on the issue.
The Police in the Ashanti Region earlier in December arrested a 72-year old Burkinabe , Moro Sata for illegally dealing in ammunition.
Some weapons including 11 AK47 assault rifles, 10 SG rifles used by the military, a machine gun, four firing pins, clocking handling and anti-aircraft ammunition were retrieved from Moro Sata.
According to the Police, Moro Sata had confessed that he gets his supplies from Ivory Coast, Burkina Faso and Niger and uses Ghana as a transit point to transport the ammunition to conflict areas across the sub-region.
-citifmonline