Role Model Africa Hosts Corporate Dialogue On Financing The African Business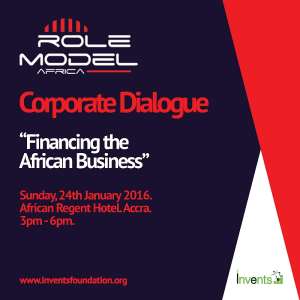 Role Model Africa is a mentoring platform hosted by INVENTS Foundation; a mentoring organization that focuses on raising young people as leaders and entrepreneurs before they turn 25. The goal of Role Model Africa is to provide a platform where role models in Africa can mentor younger ones by way of Role Models sharing their stories in open dialogue format.
The quarterly project which was launched in Ghana on Sunday 27th September 2015, seeks to engage African personalities whose influence spans beyond the continent. The 5 year project is rooted in the idea that Africans can serve as their own Role models by telling their stories and mentoring younger ones.
Role Model Africa interviews African Presidents, Business Owners, Founders of Churches and African global Companies, International African leaders, African Policy and decision Makers, Influential personalities in the arts, Business Magnates, Investors and you name them.
An interface is hosted on the website of INVENTS Foundation, the organizers of Role Model Africa. The platform is structured to facilitate a mentoring process. The online interface connects Role Models with individuals and organizations that are curious on developing themselves and their organization for the good of Africa.
A One-On-One mentoring session is available for Individuals wanting an exclusive mentoring opportunity from the Role Models. The Business Mentoring Class is designed for individuals with a common objective on learning or studying a particular business area while family and friends can enjoy themselves in more friendly way of learning by signing up to join 'The Magnate Community'. Students in Tertiary institutions are encouraged to join INVENTS Mentoring Hubs designed to mentor students in Leadership and Entrepreneurship, whiles providing internship and career opportunities for them.
The second edition of the Corporate Dialogue session is scheduled for Sunday 24th January 2016 at the African Regent Hotel, Accra-Ghana from 3pm to 6pm.
Honoring the Platform as guest to be interviewed is Mr. Caleb Ayiku, a former Managing Director of Engen Petroleum- a Petroleum company with affiliates in Ghana, Tanzania and Kenya. Over the past 18 years, Mr. Ayiku has developed his career in several sectors in various African countries. Caleb has rich experience as a Chemical Engineer working for over thirteen years in downstream petroleum industry in Africa. Mr. Ayiku also served as Country Manager for Oando Ghana Limited.
The author and Entrepreneur, has trained and consulted with several blue chips companies including Barclays Bank, Citi FM, Enterprise Insurance and FEDEX.
Mr. Caleb Ayiku the co-founder of Rex Oil Limited will be sharing perspectives on the theme 'Financing the African Business'. In his open dialogue format, Caleb will speak to issues of concern in finance and business that individuals, industries, Ghana and Africa at large will find relevant.
The Convener; Mr. Samuel Agyeman-Prempeh shares that the program is opened to the general public and will attract audience from various parts of Africa. Audiences are expected to be seated 30 minutes ahead of the program.
Event tickets can be purchased ahead of the program. The public can contact 0503183555 and 0503183699 to have tickets delivered to them at their convenience. Further details available on the website of INVENTS (www.inventsfoundation.org).
Role Model Africa is an initiative by INVENTS Foundation, a mentoring organization that focuses on raising young people as Leaders and Entrepreneurs before they turn 25.
Since October 2007, INVENTS has been consistent in using personal Leadership models and projects to reach out to millions of young people through its Mentorship Hubs on various tertiary campuses.
Our flagship programs and projects include: the She Magnate Project, Role Model Africa, and Ideas Pulpit.
Our events have attracted remarkable personalities such as Bishop N.A. Tackie-Yarboi ; Founder and Presiding Bishop of VBCI, Dr. Yaw Perbi ; Global C.E.O. of the HuD Group , Dr. Mrs. Ellen Hagan; Founder and C.E.O. of L'aine Services, and Mrs. Comfort Ocran; Co-Founder Legacy And Legacy.
The Premiere of Role Model Africa was honored by Dr. Samuel Onwona, as guest to be interviewed on the platform. Dr. Onwona is a former World Bank Official.