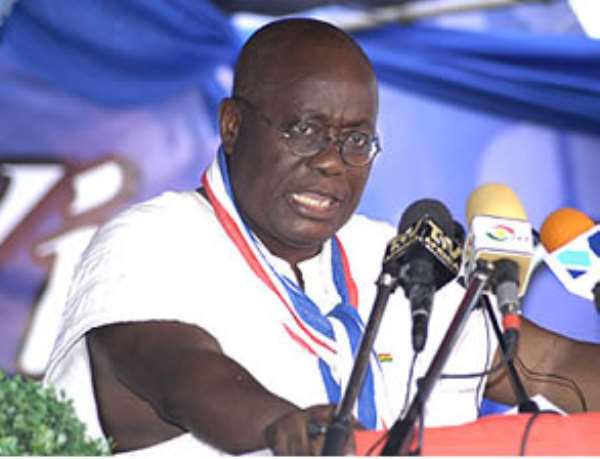 Sunyani, Dec. 19, GNA - Nana Addo Dankwa Akufo-Addo, the 2016 Presidential Candidate of the largest opposition New Patriotic Party (NPP), on Saturday said the suspension of some of the Executive Members of the Party has been a traumatic experience in his life time.
He said in the past 12 months he had participated tremendously in finding lasting solutions to the problems at the Party's headquarters, but he is worried that such efforts have not been fruitful.
Nana Akufo-Addo was speaking during an address of the Party's leadership, supporters and members of the day's emergency 15th extraordinary annual national Delegates Conference held in Sunyani on the theme: 'Arise for Change 2016.'
He stated his sadness that the Party had to resort to suspensions as a means to bring orderliness within its fold but added that he is also fortified because the rule of law is now prevailing within the NPP.
Nana Akufo-Addo called for concerted efforts in the electioneering and asked members not to allow any machinations to weaken the structures and strength of the Party.
He emphasised his readiness and eagerness to bring a positive change in the country and therefore appealed to Ghanaians and the NPP members, supporters and sympathisers in particular to join hands with him and the campaign Team to effect the change in the Election 2016.
The NPP 2016 Presidential Candidate emphasised that a decentralised electioneering, which actively engages members at the grassroots is required so that eligible voters at the grassroots would well understand the philosophies and ideologies of the Party.
Nana Akufo-Addo therefore said electioneering is the responsibility of every loyal and committed member of the Party. GNA