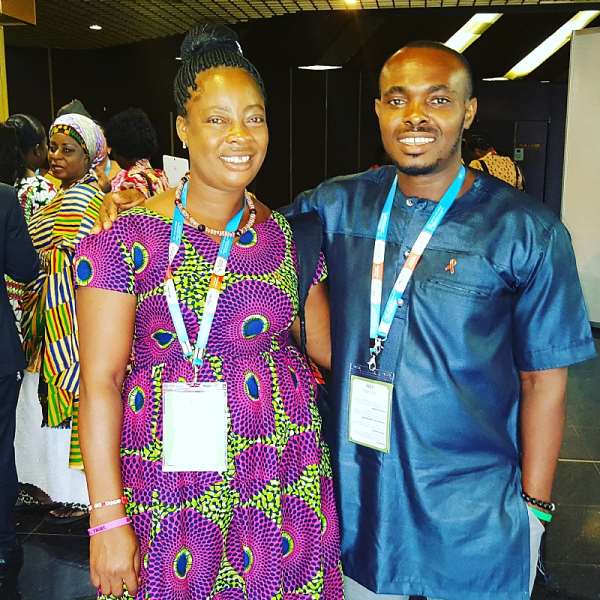 "HIV and AIDS related stigma and discrimination are denying some of my members access to jobs, health services, and also preventing them from coming out to join the national response'', Mr. Emmanuel Beluzebr Suurkure, the President of the Ghana Network of Persons Living with HIV / AIDS (NAP+), said in an interview in Harare, after a presentation on the country's PLHIV Stigma Index Survey.
''We can end the AIDS epidemic by the year 2030; we can have an HIV-free generation in Ghana, but that can only be realised if the continuous stigmatization and discrimination against Persons Living with HIV (PLHIV) are eliminated from our work places, homes, and on the streets," he continued.
In 2014, an estimated 250,232 people were living with HIV, a Ghana AIDS Response Progress Report indicates. According to Mr Beluzebr, despite intensive education and laudable zero- stigma initiatives, members of this group continue to face gross discernment from a section of the population. This situation, he said has the tendency to negatively affect Ghana's HIV and AIDS response targets.
What is HIV and AIDS related stigma and discrimination?
According to the World Health Organisation (WHO), and the Joint United Nations Programme on HIV and AIDS (UNAIDS), HIV related stigma refers to the negative beliefs, feelings and attitudes towards People Living with HIV, groups suspected of being infected with HIV or affected by HIV by association.
HIV related discrimination on the other hand is explained as the unfair and unjust treatment (act or omission) of an individual based on his or her real or perceived HIV status.
HIV and AIDS related stigma and discrimination in Ghana
In the words of the Director General of the Ghana AIDS Commission (GAC), Dr Angela El Adas, stigma and discrimination against People Living with HIV (PLHIV) remain major problems for Ghana's HIV and AIDS response. She cautions that if left unattended to, they will undermine efforts towards attaining national and international targets such as the fast track global 90-90-90 target which Ghana has signed on to.
The "global 90-90-90 targets" require that 90% of all people living with HIV will know their HIV status, 90% of all people diagnosed with HIV will receive sustained antiretroviral therapy and 90% of all people receiving antiretroviral therapy will have viral suppression by the year 2020. The targets also include reducing new HIV infections by 75% and achieving zero discrimination.
According to the Ghana PLHIV Stigma Index Survey (2014), the worst forms of stigma experienced by People Living with HIV are gossips, verbal insults or harassments. The survey noted that a great deal of self-inflicted stigma was experienced by majority of PLHIV, owing to fear and paranoia about being the target of public gossip.
The survey said discrimination in the context of housing, employment, education and healthcare exists. It pointed out that about a tenth of the respondents reported they had either been forced to change their place of residence or been unable to rent accommodation at least once in the last 12 months due to their HIV status.
Sixty nine (16.2%) respondents said they lost their jobs at least once in the last 12 months because of their HIV status. Per the report, respondents in most cases feared the consequences of disclosure and hence tended to conceal their status from people within their social circles.
Challenges posed by stigma and discrimination
Stigma and discrimination have been identified among the prime barriers to HIV prevention, treatment, care and support. UNAIDS argues that stigma and discrimination makes people reluctant to get tested, disclose their HIV status and take antiretroviral drugs. An unwillingness to take an HIV test means that more people are diagnosed late, when the virus may have already progressed to AIDS, making treatment less effective, and increasing the spread of the virus.
According to UK Charity AVERT, stigma and discrimination does not only undermine HIV prevention efforts by making people reluctant to seek HIV information and medical services, it leads to social ostracism, job and property loss, expulsion from school, denial of care and support.
Similarly, Mrs Gifty Torkornu Degbeh, an HIV positive mother who has openly come out to disabuse the minds of the populace from the initial fear associated with being HIV positive notes that: "Because of stigma and discrimination, mothers who are diagnosed positive do not go for Prevention of Mother To Child Transmission services," further stressing that ''this has implications for Prevention of Mother To Child Transmission for the country.''
Stigma and discrimination towards People Living with HIV again forces them to incur additional travel costs to treatment centres. At the Antiretroviral Therapy (ART) unit of the Ledzokuku- Krowor Municipal Assembly (LEKMA) Hospital, in Accra, Madam Aku (not her real name,) bemoans how she travels all the way from the Central Region of Ghana to Accra for care due to the fear of stigma in her home region.
''My children sponsor me to come to Accra every two weeks for medication, because I always feel uncomfortable each time I visit a certain health facility back home ; the reception was cold , so to ensure adherence, my children, who are outside the country , proposed I come to Accra every two weeks," she narrated.
Leaving the stigma behind
In his view on overcoming the stigma and discrimination, Mr. Clement Yeboah, the National Secretary to Persons Living with HIV/AIDS, said it is essential to effectively reach key population groups to prevent HIV transmission, and also stimulate adequate levels of support from healthcare and social services.
Addressing and ending HIV stigma rests on the shoulders of everyone, as the epidemic affects everyone, and must therefore be a priority to every Ghanaian.
Role of the media
Some PLHIV in Ghana attribute the stigma and discrimination menace to the level of ignorance within the general public. They believe that there is inadequate information to transform the effects of the initial negative publicity that engendered fear of being HIV positive. This when the media comes in.
Ghana has made a lot of progress in the AIDS response, and the role of the media can't be underestimated in anyway. The media has played a pivotal role in the AIDS response. Over the years, they have promoted awareness on the epidemic, and educated listeners and viewers on the facts of the epidemic and how to stop it.
Nonetheless some actions and inactions have fuelled the bus of stigma and discrimination against persons living with the virus. This ranges from the use of some terminologies, as well as angles which do not inure to the benefit of HIV positive individuals. Again, sensationalising news items and inappropriate language sometimes does more harm than good to PLHIV.
For example: it is wrong to refer to someone as 'AIDS carrier'. This term, according to the UNAIDS, is stigmatizing and offensive to many people living with HIV. Instead, the media can simply say a 'person living with HIV'. In the same vein, it is wrong to refer any child who has lost his/her parents through the HIV epidemic as an AIDS orphan. This term does not only stigmatize children, but it also labels them as HIV-positive, which may be untrue. Identifying a human being by his or her social condition alone shows a lack of respect for the individual, in the same way as identifying a human being by his or her medical condition.
Going forward, coverage on People Living with HIV should highlight accomplishments and achievements, including strength and survival stories. The public must continuously be reminded that halting stigma and discrimination are key to ending the global HIV epidemic.
It is our responsibility to let our audience and readers know that HIV is no longer the "death sentence" it was once thought to be, and as such, it is just like any illness that can be managed with proper care and medication. This is very important because today, PLHV are doing just great as any other person. In the case of Mr. Emmanuel Beluzebr, the President of the National Associations of Persons Living with HIV (NAP+), he is a Pharmacist Assistant at the Lawra District Hospital, and has also been serving as the Assemblyman of the Lawra Paramount Electoral Area for the past 5 years.
Role of state institutions
The UK charity organization, AVERT, suggests that the use of specific HIV, AIDS and sexual reproduction education programmes that emphasise the rights of people living with HIV is a well-documented way of eradicating stigma.
The Ghana AIDS Commission (GAC) and the Commission on Human Rights and Administrative Justice (CHRAJ), have launched a new web-based system for handling cases of HIV-related discrimination. With this, any person who believes he/she has experienced discrimination on the basis of his/her HIV status can report the incident through the CHRAJ stigma and discrimination reporting portal, or through text messages on the number 1406 on any network except Glo. This will trigger an investigation on behalf of the complainant with confidentiality assured.
In as much as this is laudable, the two bodies must ensure cases are pursued to their logical conclusions to deter others from replicating the acts of stigmatisation and discrimination. Also, Persons Living with HIV must be briefed on the existence of the system so that they can utilise it.
In a recent interview with Ghana's Gender and Social Protection Minister, Nana Oye Lithur, she said the government of Ghana understands and knows stigma exists in certain work places, hence is engaging various institutions and government agencies to integrate no stigma and no discrimination modules into their key values and principles. This should not end there, as non-formal employees also need to be educated to ensure PLHIV don't suffer loss of their jobs and sources of income on account of their HIV status.
Furthermore, as proposed by the Ghana PLHIV Stigma Index Survey (2014), healthcare workers need to be made aware of the negative effect that stigma can have on the quality of care patients receive.
Again, as the report recommends, members of PLHIV households should be targeted with anti-stigma related messages. The Ghana AIDS Commission will also need to continue and broaden the 'Heart-to-Heart' campaign which uses HIV positive volunteers as 'Ambassadors to deepen the knowledge of Ghanaians on HIV issues in order to increase acceptable attitudes towards Persons Living with HIV.
Lastly, PLHIV must be empowered and made aware of their rights, so that they can take actions if these rights are violated.
Attah-Effah Badu
The writer is a young media practitioner with great interest in HIV and AIDS related issues. He can be reached on 0248264353 or via : [email protected]