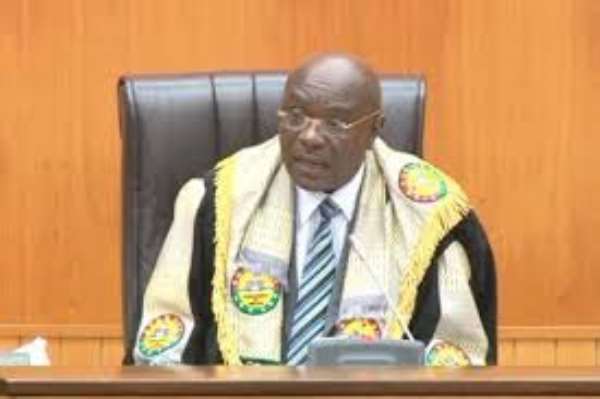 Accra, Dec. 15, GNA - Speaker of Parliament Edward Doe Adjaho on Tuesday reiterated the need for parties in elections to respect the people's sovereign will in electing a leader; the governance institutions and the electoral processes.
He said such a move was a sure way of deepening democracy and fostering a violent-free political environment for accelerated development of nations.
In a chat with Professor Attahiru Muhammadu Jega, immediate past Chairman of the Independent National Electoral Commission (INEC) of Nigeria, the Speaker said for him, the winners of the last Nigerian elections were the Nigerian people 'who accepted the results of the elections.'
He said it was the trust that the people held in the Electoral Commission to discharge its mandated duty without fear or favour to the satisfaction of all stakeholders that led to the smooth transfer of power from the former President Goodluck Jonathan to the present Nigerian Leader, General Mohammadu Buhari.
Professor Jega, who is in the country to participate in the 25th anniversary celebration of the Institute of Economic Affairs (IEA), was at the Speaker's office to pay a courtesy call on him and the leadership of Parliament.
Speaker Adjaho said the key points of elections are contenders respecting the electoral process and the losers conceding defeat.
He stressed on the commonalities between Accra and Abuja adding that there was the need for a renewal of the vision of the ECOWAS to share resources and experience for mutual benefits.
The Speaker, who commended Prof. Jega for the successful conduct of the last Nigerian elections, said Ghana would continue to tap into the knowledge and experience of her sister country in its democratic process.
Prof. Jega said Ghana and Nigeria had a lot in common and emphasised the need for the two nations to collaborate more in the areas of democracy, share knowledge and fine-tune electoral processes to make the voice of the people count.
'We need to consolidate our democracy to make governance truly democratic to satisfy the needs of the people,' he said, adding that he would be delighted to share his experience with Ghana.
Minority Leader Osei Kyei-Mensah-Bonsu said it was refreshing and encouraging that with a history of sub-standard elections, Prof. Jega's efforts of combining institutional renewal and technological innovations in the Nigerian electoral process, yielded positive dividends, with the people trusting the transparency of the process and the systems put in place by the INEC.
He said it was important that every electoral system and process engendered trust for contending parties to accept results of polls without any inhibition, adding, 'That is how we should go'.
Mr Alban Bagbin, the Majoerity Leader, on his part, said though Ghana had excelled in its democratic process, there was the need to learn from the experiences of other countries like Nigeria.
GNA