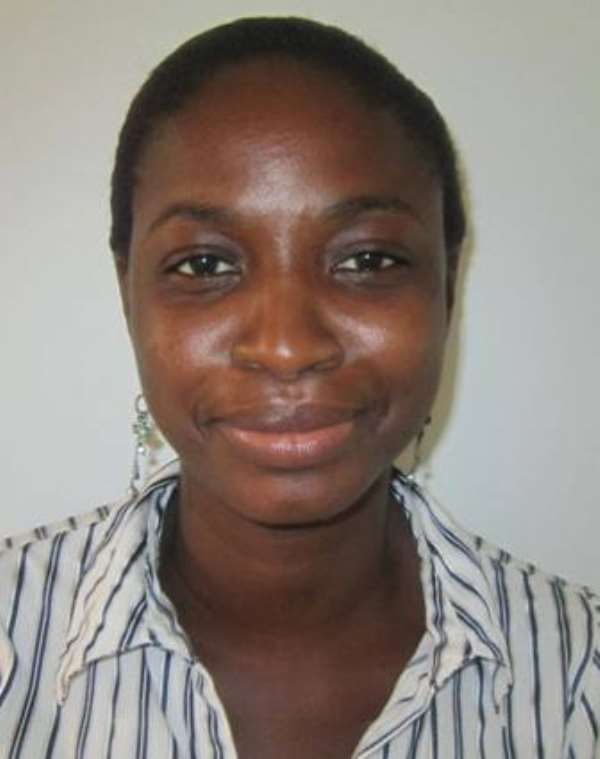 GNA feature by Hannah Awadzi
Accra, Dec. 15, GNA - Mrs Joyce Atta is the mother of a six-year-old girl with Cerebral Palsy, I met Joyce online via facebook on a platform called Cerebral Palsy family network, Joyce's daughter had been displayed as a hero of the day, the writings accompanying the girl's picture was what attracted me to engage in an online chat.
Joyce is a Ghanaian living in Kumasi, in the Ashanti region. She was asking on the network how to deal with certain issues relating to her daughter's condition. It said: 'My daughter is a six-year-old with cerebral palsy, she gives the warmest smile but she has convulsed several times, any suggestions on how I deal with that.'
There were several suggestions but many patrons of the network also asked whether she does physiotherapy and can access physiotherapy.
I exchanged contacts with Joyce and we started a chat. Joyce works with a government organization in Kumasi and lives almost at the outskirts of the city. She has three other children; her husband also works with an organization that demands that he travels a lot to other parts of the country to distribute his company's products.
In a conversation with Joyce, I got a feeling that she is tired of going for physiotherapy every week. 'I have to ask for permission one day every week to attend physiotherapy with my daughter. I have been doing this for years and haven't noticed any improvement in her.
'Besides, it is very stressful accessing the physiotherapy services, I have to carry my daughter on my back; we board about three vehicles to get to the hospital and by the time we get there, my daughter is already tired and does not cooperate with the physiotherapist at all.'
I suggested a home physiotherapy and her question was, 'but how?' I then began to explain that there are resources available on line where parents can learn basic physiotherapy and work with their Cerebral Palsy children to achieve some developmental milestones.
Even getting the children to sit for a while takes some effort, I suggested that even if she does not have the equipment, she could improvise. For example, lining a carton box with blanket and placing the child in a sitting position is physiotherapy and with time the child could be sitting on his/her own.
Joyce thanked me after sharing tit bits of basic physiotherapy and encouraging her to be trying it at home instead of just giving up on her daughter. I could feel a glimmer of hope in her voice as we ended the conversation.
Truth is, Ghana lacks adequate physiotherapy systems, and parents are pushed to become frustrated with the system to the extent where they give up. In fact, sometimes having a child with Cerebral Palsy literally means that you just ended your normal life.
Parents, especially mothers, are no longer able to work in the official setting any more. Many mothers out of frustration are forced to abandon their Cerebral Palsy children to their fate - as one mother said, 'it is just too difficult.'
That is why I laud the Community-based parents training for children with Cerebral Palsy initiative. Under the programme the Christian Blind Movement (CBM) through their implementing partners, the Presbyterian Church of Ghana, in collaboration with the International Centre for Evidence in Disability of the London School of Hygiene and Tropical Medicine and the University of Ghana (UG), has initiated a research to evaluate the impact of a community-based parent training programme for children with Cerebral Palsy in Ghana.
The project uses a manual titled: 'Getting to know Cerebral Palsy' promotes working with groups of parent/caregiver of children with cerebral palsy aims to increase knowledge and skills in caring for a child with cerebral palsy. It promotes a participatory learning approach with an emphasis on the empowerment of parents and caregivers.
Under the project, a group of physiotherapists, speech therapists, nutritionists and other health professionals organize a monthly meeting of one hour with communities and parents with children who have cerebral palsy.
At the meeting basic physiotherapy techniques are taught and parents are encouraged to ask questions. The community together with the parents sets goals of achieving the various developmental milestones for the children.
The Physiotherapist further does a home visit of 45 minutes to look up the children with cerebral palsy and work through their various therapies, encouraging parents to be doing it with the children all the time, even when the physiotherapist is not around.
Mrs Maria Zuurmond, a Research Fellow at the London School of Hygiene, who is part of the team implanting the project, shares how mothers get hearty knowing that even holding their children in the right position does a lot to improve the child's overall development.
Mrs Sandra Cassermer, a paediatric physiotherapist at the Korle Bu teaching hospital who is part of the team implementing this project, shares her experience of how parents express joy and happiness knowing that they can have physiotherapy at home with their children.
Mrs Hannah Awadzi, Initiator of the Special Mothers Project in Ghana, a project that seeks to encourage mothers of children with Cerebral Palsy while creating awareness on the condition, is advocating for a home physiotherapy service in Ghana.
Mrs Awadzi believes that parents need to be very much involved in physiotherapy and make it part of their lives. She says parents can learn the basic physiotherapy techniques and see the specialist once in a while to assess the progress on the child.
Home physiotherapy is possible!
GNA