KT Hammond Will Never Sink Alone!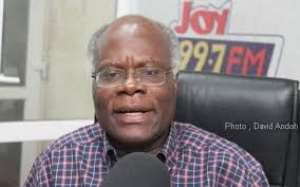 Since the embattled member of parliament for Adansi Asokwa and former deputy energy minister Hon. Kobina Tahiru Hammond was cited in the sale of the controversial GNPC drill ship resulting in the alleged missing of a balance of Ghc 3.5million.
The drill ship which was sold for $24m and $19.5m was used to set off the judgement debt owed the state.$1m was also used to pay the London solicitors who represented Ghana in the sale negotiations.
The balance of $3.5million which has since not been accounted for has become an albatross around his neck Hon KT who promised never to sink alone during the judgement debt commission sittings named Nana Akuffo Addo and former president kuffour and their various roles in the sale of the drill ship.
He also named his colleague,the former high commissioner to UK, Hon Chris Kpodo as the one whom he handed the cheque balance to.This disclosure by KT Hammond made the commission to invite Hon Chris Kpodo to also answer questions in his role in the sale of the drill ship.
And just a month ago when the gov't directed EOCO to investigate his(KT Hammond )role in the sale of the controversial drill ship,he has come out with another explosives,citing GNPC in the payment of fraudulent and illegal ex gratia to Tsatsu and co.
This explosive by Hon KT Hammond has taken over news headlines across the country and again made the committee on energy to haul the GNPC board to parliament to answer questions on those payments made to Tsatsu and co.
I plead with government to let go KT Hammond because he is on a suicide mission.
Yakubu Abdul
andyclas[email protected]
Bachelor of Businesses Administration-UEW