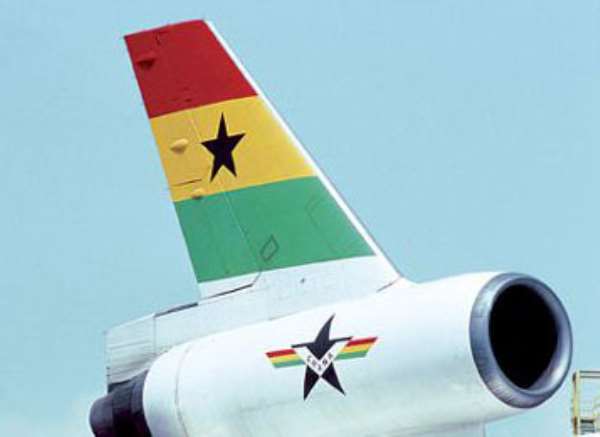 'They must be out of their minds' Alhaji Asuman Banda, a reputed Ghanaian businessman and a close pal of President Kufuor has said that government must be out of their mind in deciding to take over the entire $160 million debt portfolio of Ghana Airways at a time when our hospitals are falling apart and students have no dormitories.
"Even if Ghana government has $160 million, my advice to the government is don't pay. For government of Ghana to say they will pay the $160 million debt of Ghana Airways when our children do not have dormitories to go to school, when hospitals are falling apart, it must be out its mind and I know they don't even have it."
He noted that as one of the biggest tax payers in Ghana, he has an interest in how government spends tax money and advised government not to spend a dime of public cash on the beleaguered airline.
Alhaji Banda made these comments in an exclusive interview with The Chronicle, on the occasion of the first anniversary of Antrak Airline.
"Those who are driving the government are not telling them reality," he said, adding "we should always try and get businessmen into our administration and do the right thing. It is not a matter of certificate."
He continued that "I have seen letters from the ministry saying the Ghana government is liquidating GA. I think it is the best thing that can happen to Ghana Airways."
The president's pal said, since government has decided to liquidate the assets of Ghana Airways, it should appoint a receiver who will take over the affairs and assets of the airline and deal with the creditors.
When The Chronicle asked for comments on the new Ghana Airways partnership deal with Ghana International Airlines (GIA), he said as far as he was concerned, there was no deal and that the people responsible for the rescue of Ghana Airways were only engaging in verbal semantics.
"What deal are you talking about? There is no deal, people are just talking, you see in Africa we are very fond of using languages."
He said the government is just shifting the goal post, adding that "first of all, I think the government said he is having a partnership with a company called Ghana International Airways, and the press have investigated and found out that that company is yet to be formed, so now the government is changing its direction that it is liquidating Ghana Airways (GA). Ghana government has promised to pay the $160 million debt of Ghana Airways!"
He continued that "you and I know that the government has not got that kind of money.
With my experience in transport, no donor country, no UN or EU will ever give any government money to spend on transport, because they have come to realize that governments have no business running an airline or any form of transport."
Alhaji Banda who is the owner of Antrak Air, a regional airline noted that the entire Ghana Airways transaction lacked transparency, adding that "so I am smelling a rat with whatever they are doing there." ANTRAK AIR LOST $5 million "With all the frustrations, we managed to survive for one year, we have lost money, and my objective of bringing this airline is to make travel very easy for Ghanaians. I have lost almost $5million and I have been able to bring our own aircraft." He said Touching on the frustrations he has gone through with regards to his regional airline, Alhaji Banda said he sees his frustrations more like "giving something with the right hand and taking it back with the left."
Mr. Banda recalled that when he applied for the license to establish an airline, he indicated that he would only operate if he was given a regional and domestic license but to his surprise, even when the regional license was issued, he was stopped from operating regional flights and asked to operate domestic flights for six months.
"To my surprise, when I brought in the aircraft, I was then shown another guideline that I had to do six months domestic flights, already I had committed myself, based on the approval given to me," Alhaji added.
He said that the Sector Minister, Dr. Richard Anane said he didn't recognize the committee that gave him the license. "would you believe that the chairman of that committee is still working with the ministry and he is the one processing my documents, the man that the minister said he did something wrong; he has not been reduced in rank; he has not been removed from that seat, and he is still dealing with me directly, in the capacity as the deputy chief director of the Ministry of Transport. He is doing the atlas job, atlas that the minister does not recognize." he added.
Touching on how far he had gone in respect of the new regional license, Alhaji lamented that even though he has been given a letter for regional flights, since June this year, "the bureaucracy is delaying me up till now I couldn't move".
H said that he has been given a letter signed by the Minister of Transport that his airline has been designated to go to certain areas "but the procedure.
The bureaucracy is something that I don't understand". He noted that "I think the English speaking countries in West Africa are operating differently from the ones from francophone.
"In the Francophone countries, if one gets his license, he , he just starts operating the following day.
It's taken me six months I haven't been able to move yet."
According to him, during the initial attempts to secure a partner for Ghana Airways his company won a competitive bide to take over Ghana Airways under the Dr. Sam Jonah led board.
"At the end of it, the board made recommendations to government and since the government has not come back to say we agree or we don't agree"
This he said motivated him to set up Antrak Air.