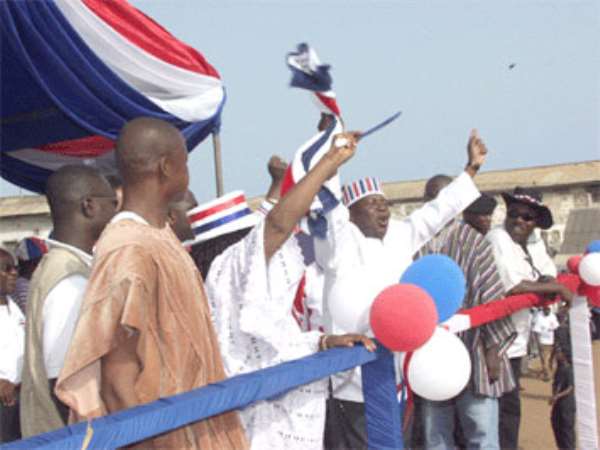 ...as NDC lightens up in the north ...it's a 50:50 chance The ruling New Patriotic Party (NPP) is in a big trouble, as its high rating in the run up to the December general election has plummeted dramatically to a "50-50" chance with main opponents, the National Democratic Congress (NDC) who have clawed back their sliding support from their strongholds in the north. Areas that were thought to have fallen into the net of the NPP have changed dramatically following the NDC flag bearer, Prof John Evans Atta Mills' campaign tour to the three northern regions.
Some of the areas he visited included Damongo, Mpaha, Kpandai, Saboba, Nakpanduri, Bolgatanga, Tongo, Nagodia and Zoilko. Others were UDS Navrango Campus, Chiana, Wa and Techiman in the Brong Ahafo Region.
Seeing the crowds that turned out to give him rousing welcome, Prof Mills had this to say: " We are going back to the Castle this year. Whoever said the NDC is dead is only deceiving himself, and not you. NDC is alive and strong."
At the Upper East Regional capital, Bolgatanga, the whole municipality was virtually turned upside down. Supporters of the party, some on bicycles and motorbikes and others on foot, had traveled from far and near to meet their Presidential Candidate.
The police and the security personal of the NDC flag bearer had a tough time controlling the crowd. personal personal personal personal Last Friday, Prof. Mills addressed a mammoth rally at the Bolgatanga town park and his arrival at 4:41 exactly, again saw the jubilant supporters rushing to catch a glimpse of, and shake hands with, him.
Personal A common refrain adopted by the people of the three Northern Regions is "Hai! Hai!!" to drive the elephant back into the bush.
Before the regional rally at Bolgatanga, the NDC Presidential candidate toured some constituencies and paid courtesy calls on the chiefs, seeking their prayers and support for peaceful elections and unfolding to them his plans for the nation.
At Zoilko, Prof Mills went to console the family of a party supporter, Madam Akumzia Sampane, who met her untimely death in June this year while traveling to Bolgatanga to attend a party rally when Prof Mills last visited the area.
He made a cash donation to the bereaved family and told them that the death of Madam Akumzia had brought together members of the NDC and the best tribute they could pay her was to vote for the NDC to come back to power.
According to him, the death of the late supporter symbolized a struggle for justice and service to the NDC and the country as a whole. He assured the family that the NDC would cater for the children of Madam Akumzia.
On his way to Wa, Prof Mills addressed students of the UDS at the Navrango campus.
He touched on issues bordering on education and the economy and President Kufuor's incompetence in handling the affairs of the nation.