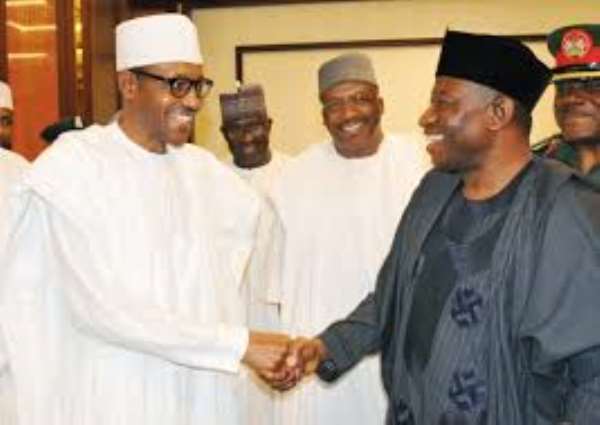 In many developing democratic countries, the role of government in nation building is always designed to be in continuity. A new government which is elected into power continues from where the previous government stopped. It reviews the policies and policy thrusts of the last government, makes amendments where necessary and continues with the work at hand before new measures or dimensions are introduced into the system as the hallmark or distinct identity of the incumbent government.
But this is definitely not the case in Nigeria.
The prevalent attitude is that whenever a new government comes in, be it at local council, state or federal level, it terminates practically all the on-going contracts and projects initiated by the previous government and starts afresh to take the people through a new vision and a totally new direction.
That is scarcely the way to get about building a nation. It is a complete waste of the tax payers' money. It is a waste of time. It is a distraction of government focus. But unfortunately, that appears to be the way Nigerian governments have taken, the longer and uncertain road to nationhood.
Recall that in 1970, soon after the Nigerian civil war, General Yakubu Gowon introduced his social revolution he called the '3Rs' – meaning Reintegration, Rehabilitation and Reconstruction. It was his vision of giving teeth to his National Development Plan [NDP], based on his "No Victor, no Vanquished" declaration at the end of the war.
It is 45 years since. Yet, most Igbo who were either born in Biafra or fought the cause of Biafra are yet to be reintegrated and fully rehabilitated into the Nigerian mainstream. Most of them come from the Igbo heartland. Others come from the riverside areas like the Niger Delta Region. Marginalization which was the fundamental cause of Nigeria's civil war is still very much the problem of the nation. As a result, fresh agitations are being drummed up every day. The system has bred ethnic militia of sorts all over the place, local champions of ethnic interests.
In the Deep South, the Movement for the Emancipation of the Niger Delta, MEND and similar militant groups have become the dominant voices of the people. Armed militia groups like the Oduah People's Congress, OPC, in the South-West; the Movement for the Realisation of the Sovereign State of Biafra, MASSOB and the Indigenous Peoples of Biafra, IPOB, in the South-East and Arewa People's Congress, APC, in the North have all sprung up supposedly in defence of ethnic interests.
Even as we speak, security in the land has become a matter of speculation. Boko Haram has continued to make the lives of Nigerians a nightmare in the North while in the South, the menace of armed robbers, rapists, kidnappers, cultists and ritualists has continued to make many Nigerians sleep at night with their eyes half open. You want to know why? It is because the short government of General Murtala Mohammed abandoned Gowon's vision of '3Rs' and took the country on a different ride through another road into another country-view.
Each succeeding government since then has failed to rehabilitate the majority of the people. You want to know why? It is because all these subsequent governments have only one idea of continuity in common. They share the tendency of advertently or inadvertently creating conditions of official corruption which have continued to make the country's rich families richer while the poor families are made poorer. They are marginalised from the enormous wealth the country boasts of from its vast oil fields and its innumerable solid mineral deposits.
Citizens moan daily because of lack of safe drinking water. The Water Boards in most cities in the country have disappeared. Urban dwellers are now expected to drill borehole in their houses in the city. The average urban resident who cannot afford to sink a borehole is forced by circumstances to resort to fetching water for domestic use from shallow wells or from far off streams which takes as much as a 2-hour walk.
Overcrowding in houses in Nigerian cities and its attendant socio-economic problems which include environmental degradation are also part of the Nigerian problem. Graduate unemployment has given rise to an ever increasing spate of sophisticated crimes. Youth restiveness, cultism in schools, an increasing wave of armed robbery, drug addiction and things like that have become the trend in our society today.
Lack of jobs is pushing an increasing number of Nigerian youth into the commercial tricycle transport business. A good number of them encounter road mishaps on daily basis.
Children are condemned to street hawking and street life. Exploitative child labour, unaffordable healthcare delivery, commercial sex and sexual exploitation, girl prostitution, juvenile abortion, teenage motherhood and child abandonment, youth drug addiction and delinquency culminating in crimes have all become the order of the day.
The danger is that children become hardened criminals. These and various harmful traditional practices against women, such as female genital mutilation remain indications to government of the level of underdevelopment and deepening poverty in Nigeria despite all the wealth.
In terms of reconstruction, the World Bank estimates that 50% of federal roads are deteriorated. These days, it costs more to send goods from Lagos to Kano than to send them to Europe. Due to the poor conditions of Nigerian roads, people frequently die in road accidents while many more people sustain various degrees of injuries every year. The power sector is perpetually epileptic and cannot even support small or medium size industrial development.
Gowon launched his Second National Development Plan. The plan had five primary objectives. It was to build a free and democratic society. It was to evolve a just and egalitarian society. It was to create a united, strong and self-reliant economy. It was to turn the country into a great and dynamic economy and a land full of bright opportunities for all citizens.
45 years after the Plan was launched, not one of these goals has been attained. Instead of a free and democratic society, Nigerian society has become para-militarized – with ethnic militia movements of sorts growing sporadically from all nooks and crannies of the country.
Instead of the just and an egalitarian society Gowon planned, we have an unjust and insecure society characterized by child abuse, ritual killings, extra-judicial murders, cultism, kidnapping, ethnic riots and religious rivalry. Impunity is creeping into the social norms, not from the back door but from the front door.
Instead of being united, strong and self-reliant, the nation continues to be divided along ethnic and religious lines. Nationalism is still a strange vocabulary in the lexicon of the average Nigerian.
In terms of resource control, "Federal Character [whatever that means] and what has come to be known as "The Nigerian Factor" continue to displace merit and right. Instead of bright opportunities for all citizens, Nigeria continues to be a country where the vast majority of citizens are failures. Corruption and unemployment continue to characterize the country's political leadership.
The result of this sort of situation is that the bright ones who should shape the future of Nigerian nationalism travel abroad to live and work for foreign countries. They travel out in search of "greener pastures". And Nigeria suffers brain drain.
When Chief Olusegun Obasanjo took the front seat after General Murtala was killed in a coup de tat, he too abandoned Gowon's "3R" vision and introduced his own "Operation Feed the Nation". Alhaji Shehu Shagari abandoned Obasanjo's Operation Feed the Nation and came up with the "Green Revolution". Buhari dumped that and came up with his War against Indiscipline. General Ibrahim Babangida left that and introduced "Better Life." Babangida had the longest list of development visions and programmes.
It included the National Directorate of Employment, the Directorate for Foods, Roads and Rural Infrastructure, the Better Life Programme, Peoples Bank, Community Bank and the National Economic Reconstruction Fund. General Sani Abacha abandoned all that and came up with his "Family Support" and Vision 2010.
When Obasanjo was democratically elected, he came up with the National Poverty Eradication Programme, National Economic Empowerment and Development Strategy (NEEDS), and mentioned the Vision 2020. Alhaji Musa Yar 'Adua dropped all that and came up with his 7-point agenda. It included power and energy, agriculture and food security, wealth creation and employment generation, qualitative and functional education, the Niger Delta, mass transportation and land reforms.
But within the first two years, the vision was whittled down or modified to electoral reform, rule of law, the Niger Delta, power and energy sector, rebuilding human capital, accelerating economic reforms and security.
The fact is that most of these policies were wonderful on their own, but they were ultimately abandoned by the incoming government and they failed.
Nigeria has brilliant, impeccable and well written policies. The problem with their implementation is that if a government is unable to conclude its plan before its tenure terminates, the in-coming government abandons the policy and the projects and starts the nation's development all over again, from the scratch. The logic is that government wants to justify its existence by impressing Nigerians with a new vision. but that logic does not hold water. It is only a waste of time and money.
Democracy and nation building involve time and consistency. Therefore, if Nigerians truly want to build up their nation, they should begin to do what other counties are doing. When a new government comes into power, it should first study what is on the ground in terms of the policies and projects the previous government initiated, make necessary amendments, complete the projects on the ground and then go on with new projects and new dimensions.
It is in this context that I want to recollect that weeks before he exited from Aso Rock, the former President, Goodluck Jonathan, urged his successor, General Muhammadu Buhari not to discard the report of the 2014 National Conference which he (Jonathan) had already initiated steps to implement, had he not lost out in the Presidential election.
Jonathan tasked Buhari to appreciate the genuine contributions made by eminent Nigerians who participated in the Conference. They came from every part of Nigeria. They came from all walks and persuasions of life. They included professionals and workers, the unemployed and labour unions, legislators and academicians, clergy and royalty, among others. They were all committed to nation-building irrespective of political party or creed.
Jonathan expressed the hope that the Buhari Administration would take time to appreciate the contributions made by these Nigerians from every part of the country in an effort to build a greater Nigerian nation. He enjoined Nigerians to see the need to strengthen the weak cleavages which abound in the country and not to exploit them for negative reasons. Everyone must be ready to make sacrifices.
"We had our challenges", the ex-President said. "We invoked a national conference. The idea of the conference was to look at the weak cleavages we have in this country. We finished that conference and we were thinking about how to implement the recommendations of the conference so that Nigeria will become a stronger and more united nation. I'm quite pleased with what has happened. I cannot be a party to the disintegration of the country. We have a country.
Our country will be more united. I believe and do pray that the Buhari government appreciates the contributions of everybody and find how to run Nigeria as a country that belongs to everybody, a country for all citizens irrespective of political persuasion or creed."
Many well meaning Nigerians would do well to support Dr Jonathan in this appeal to the Buhari Administration. In the first place, much money was spent on that project by the government of the day. That money should not be regarded as having run down the drain. There are many ways to save money for Nigeria, not only by retrieving money stolen from the national coffers by thieving politicians, civil servants and rogue businessmen. The Administration will be saving money if it utilises some of the facts and figures, the contributions of participants at the 2014 National Conference and some of their recommendations to enable it deliver better dividends of democracy to Nigerians who believe they have been starved of those dividends in a long while.
Where others failed, for whatever reason, the Buhari Administration should succeed by implementing part of that change for which APC was voted into power. This, it can do by studying the recommendations of the National Conference and assessing what areas will enhance the quality of his administration.Nigerians will be wiser about building their nation that way. Nation building implies continuity.