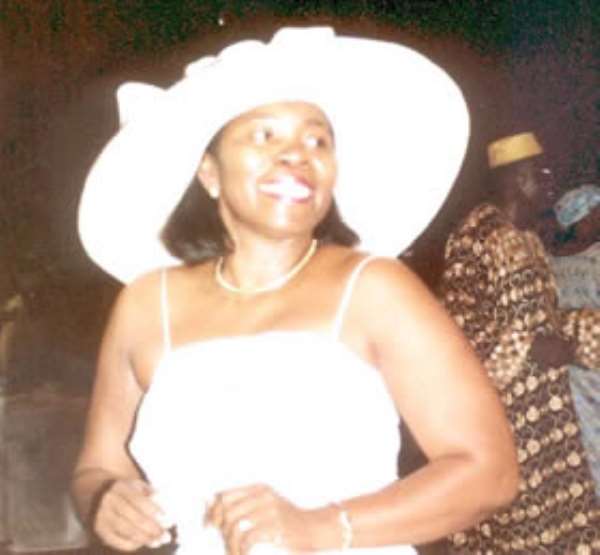 Interviewed by The Chronicle over reports of religious persecution, the Director-General of Ghana Broadcasting Corporation (GBC), Ms. Eva Lokko, last week summoned her driver to come and testify before The Chronicle investigators, but the 50 plus year-old man, broke down in tears, denied being the source of Chronicle's information and wailed in terror over the possible loss of his job. "I am afraid, my life is in danger!! My life is in danger!! I am now even afraid, please madam, my job security is being threatened," he bemoaned.
The Chronicle had gathered that Lokko who claims to be a Christian but dabbles in the Bahai Faith Mission, recently sacked her official driver, Ben Aryee, because the driver had spurned her instruction to never cut his hair if he wanted to maintain his job as her official driver. Chronicle learnt that the driver kept the 'covenant' for some time but later decided to trim his hair.
When he eventually regained his composure, Aryee told Lokko before the reporters that "You did not give me any reason why you sacked me from driving you, madam I am afraid, all that I realized was that you had engaged the services of another driver but I was afraid so I could not ask you why."
The driver finally mustered courage and said after that, apparently referring to after he was spotted shaved, he was sitting in their office when a certain Harry walked to him and asked him to hand over the car keys. "When asked for an explanation, he only told me that you had instructed him to take the keys away from me," he said.
The paper was also cross-verifying reports of abuse of financial regulations governing the management of GBC funds.
Treasury Bills
Chronicle has learnt that Ms Lokko, in April 2003, directed Kofi Kye to write a memo to the Head of Treasury, Ms Alice Gadegbeku, at GBC to issue a cheque of ¢459 million in favour of the Prudential Bank for the purchase of 91days treasury bills from the revolving fund.
The Chronicle learnt that Kofi Kye directed that the amount be withdrawn from the corporation's car loan revolving fund account number 01256-600280-06 "Could you please issue a cheque of ¢459,000,000 (Four Hundred and Fifty Nine Million cedis only) in favour of Prudential Bank for the purchase of (91) 91 day Treasury Bills for the Ghana Broadcasting Corporation out of GBC–car loan Revolving Fund account No.01256-600280-06?, " Kofi Kye wrote on April 16, 2003.
This act was contrary to a financial regulation that debars institutions that survive on subvention from state to never use resources at its disposal for the purchase of treasury bills.
In a reaction, Lokko told The Chronicle that her administration had never used any GBC funds for the purchase of the treasury bills.
"There was a discussion about how we could increase the internally generated fund and the revolving fund, so somebody suggested during a management meeting that we could use it to buy treasury bills," she said.
She noted that some people were assigned to find out whether that move was acceptable but they came back to inform management that it was not.
"So no money was ever paid, the internal generated fund was not even allowed, nobody also wrote any letter to that effect and when we later heard that our money was used for treasury bills, we went to the Bank of Ghana to find out if it was true.
But we were told that it was never true that somebody had written to them to release our funds for the purchase of the treasury bills," she said.
Lokko who said she was not aware, pleaded with The Chronicle reporters to help her with any information if the paper had indeed sighted any letter to that effect.