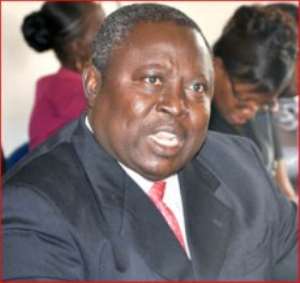 I laughed out loudly on the train when the caption for this article finally landed in my head. However, the laughter lasted for 40 seconds only. On my way laughing to the minute, I remembered that my submission here might be labelled illegal for the fact that my last name is Iddrisu, which has nothing to do with the word "limited". I shall thread carefully in my writing so I do not end up in the court of the only citizen vigilante of Ghana. So help me God!
I have followed the give and take between the former honorable Martin Amidu and the noble and publicly accepted Anas Armeyaw Anas for some time now: and I see nothing but the cry for fame, jealousy and hatred for a person who has won global acceptance and massive domestic love. Honestly if everybody is surprise, trust me I am not. The only surprise to me is how long it took for one of us to come out in full force and a truck full of legal books to pull him down. I know how "we" are; and so shall we be until our hearts are delivered of this disease.
Martin Amidu's voyage reminded me of two articles I read from Manasseh Azure Awuni. The first article was published by MordernGhana.com on June 17th 2012 entitled "Graduating with a Second Class upper;" and the second one, he wrote and published at myjoyonline.com on September 3rd 2014, entitled "My last word on the GJA award" after Mabel Aku Banaseh was pronounced the GJA journalist of the year 2013.
These two articles will tell you how some people feel pompous and so deserving than any other Ghanaian. They have their own scale of judging legal, moral and successful performance. If it is not from them and for them, forget it – they are either cheated or some evil dwarfs followed them from home. "We" hate to see someone else achieve a better status than us, and even below us; we hate to see someone else receive the praises we received and or are receiving and shall fight him physically and in spirit – Anas should intensify his prayers or……..hmmmmmcha!
The ex-honorable Martin Amidu is going everywhere explaining that he is not jealous of Anas and the goodwill he is receiving. My friend (sorry big bro) we are not kids, trust me your brothers are grown now: we know the difference between overall and all over. We know your first born is older than Anas; and we also know that Anas is just 3 years older than your last born; but that is irrelevant to the issue here and whether you are jealous of him or not. The truth is, you are! Jealousy has nothing to do with age difference, it is a human trait and we all have some of it. However, yours is at a dangerous level that, you cannot hide it anymore.
Now let us go to the issues and look at them in relation to their importance to the country as a whole, and not an individual who believes he is the only one who deserves praises for fighting corruption. However, before I do, let me make some things clear. Martin Amidu is our father, big brother and until now, was a mentor. I am not in any way against him and or his fight for the right thing to be done. Indeed, I was one of those who loudly sang him praises for his victory in the Wayome thievery. Kaasa! That was huge money ooooo!
In fact, I wrote a post on Facebook urging people in Ghana and abroad like me to start helping him to do more; and even suggested that he forms an anti-corruption institute to train his likes. However, with what I am reading right now, while I will still want him to train anti-corruption activists, I will pray he does not train his trainees' hearts to be like his – because a heart filled with jealousy will always never win no matter the efforts.
Now back to the issues. To begin with, Martin Amidu is claiming that government commissioned the investigation that uncovered the massive rot within the Ghanaian judiciary system – where those who were to deliver justice sold justice for cash and or kind – with the medium of exchange being goats, yam, plantain, and the almighty Zongo delicacy (waakye). Bro, I am not bothered about the validity of this claim or otherwise, that is irrelevant to us as Ghanaians who lack the requisite resources to buy justice. I just have two questions for you: Mr. Amidu yeiiiiii, the government commissioned the investigation;
So what? And what do you expect Anas to do? We as Ghanaians care about the outcome and how it impacts us. The truth is, corrupt judges were exposed; and even if they are not punished, fear would be instilled in the hearts of other judges as they cannot tell when the next Anas will be accompanied by a goat and plantain to their offices. Indeed if the government commissioned the investigation, it will be a good sign that our leaders are now waking up to the fact that the system is a rotten one that needs to be rescued from the money-chasing-social-vampires. So why bother us with the theory of government did it – if not for your selfish jealous reasons which I will make clear when I deal with the next question.
Now papa Amidu, let us all agree that you are right, what do you expect Anas to do here? Clearly you are telling him that he should not take credit for the work right? Because it eats you up to see someone else glorified for exposing corruption I suggest. Or perhaps that will erase the appellations you received for the great work done in the Wayome case. Of all the 26million+ Ghanaians, you are the only person who merits such praises bee wula? What exactly do you want in this claim of yours brother? Hmmmm, ahhh, yeeeee Ghana! So with all that this guy (Anas) and his colleagues risked their lives to do, you cannot see any good in it than writing to tell Ghanaians who helped him to do it? Come on, you are above this bro!
As a matter of fact, if I am asked to choose someone who is a true anti-corruption activist, I will choose Anas if Martin Amidu is his competitor. Do not judge me until you read my reasons. I can boldly say that if Amidu had not fallen out with the NDC party and government, he would never have been fighting corruption. His passion for Ghana and anti-corruption blood only started boiling when he was forced out of power. He was very quiet when he was among them. Big bro this is just a question oooo, don't disown me; will you have been fighting corruption as you are doing now if you were still in power?
How can we be sure of your answer if it is the affirmative? Since you never really did when you were there! I am still gathering my pink sheets on this claim I am making – which is that your anti-corruption activism is not really for the love of Ghana, but a revenge against those you believe betrayed you. Note, you are innocent until proven guilty. But my point is, whether you are revenging or not, we do not care as long as the end brings some good things to the masses. So is Anas' case – who commissioned him is not our business, we are bothered about the judges who sold justice for a bowl of waakye.
The second issue Martin Amidu is going round pronouncing bothers on the legality of the company that Anas works for. He describes Tiger Eye PI as fraudulent and unlawful company which has been doing its criminal jobs even during his days in power. Wait a minute…..if the company was incorporated in 2009, and if Anas and the dummy/illegal company have been acting as "criminals" as my brother claims, what did he do when he was Attorney General and minister of Justice? I am asking this question because the self-claiming noble man mentioned that:
"The only reason that the scam has survived all these years is because it is an undercover paid Government of Ghana agent doing the covert operations the police, security and intelligence agencies cannot do under the law, particular surveillance without a warrant from a High Court – See Sections 29, 30 and 31 of the Security and Intelligence Agencies Act, 1992 (Act 526)."
With this statement alone, Martin Amidu should be arrested for colluding with criminals and an illegal company to defraud Ghanaians in his capacity as an attorney general and minister of justice from 2011 – 2012. Since he was part of the government, he equally entertained an illegal company and as such, we are qualified to call him a criminal. May the gods of the north pardon me!
Ahaa, I just remembered, what at all is this "limited" brouhaha? Well the law says it should be part of the company's name, you are right, but do we have proof that they signed contracts without limited in their name or we are saying any news item that identifies the company must carry the word limited to be relevant or legal? Who cares about the name written in front of an entity's entrance if that firm is doing the right thing? I did not do law, and I am so scared of it because of their big books and the nikanika-like words that lawyers use – but big bro, please keep your law in the courtroom and let us catch our thieves.
I wonder how many Ghanaians will care about "Limited" being part of the company's name more than the rot they exposed. I am 100% certain, with a 0.00001% margin of error that if we are to go round Accra in search of companies that should have limited as part of their names, but do not, we will have to convert all government buildings to prisons to accommodate the criminals.
The part of my big brother's pronouncements that nearly drove me to tears and shamed the entire legal entity as well as the NDC party/government is his constant pronouncement of Anas as a criminal. I thought the law gurus say that the accused is innocent until proven guilty. Now brother Amidu, as a legal brain and someone who held the top post of attorney general and minister of justice, is it not shameful and a bazaar of jealousy that you keep labeling someone a criminal when he has not even been invited by a court of law to prove his innocence? How can you fight for principles by breaking principles?
This is a shame to the legal arm because he is a lawyer, and a gargantuan shame to NDC because they appointed someone who declares people criminals before judgement to see to it that justice was served. I wonder if my brother did not jealously label innocent Ghanaians as criminals just as he is freely distributing it to Anas now. Anas must investigate this.
Now what again am I hearing?? That Martin Amidu said a northerner cannot be Ghana's president again? Which of his gods or jealous producing dwarfs told him this? I understand where his pain comes from – trust me, I would have been pained like he is if I were him. Just imagine, he was the running mate of Mills in 2000 and because of his dwarfs, they lost the elections. Now you see where I am going right? If he was maintained as the running mate for the late president Mills, by now he would have been the president after the unfortunate incident that visited Ghana's presidency on July 24th 2012. So do you think he will like the current president and or see anything good from him? But for the selection of John Mahama, Ghana's president would have been Martin Amidu. Thank God Amidu is not God, northerners will be presidents and perhaps your son will be one.
Hmmmm, I just realized that my leftover fufu is no more. I better prepare some or go hungry this afternoon. However, before I end this, I need to make this appeal to "us" and I mean northerners: we need to change this our pull-him-down attitude or we will remain followers who worship the glory of others all the time. If anything at all, I expected one of our northern journalists to publish a beautiful article to celebrate a brother from the region where others see nothing good coming from, but violence and poverty. If we are not doing this, please let us not expose him to unwarranted envy.
I end with a disclaimer that I am not doing private investigation, not registered with the word Limited required in my names and free to express my views. By doing so, I am not taking away the glory from anybody, so I expect to enjoy the freedom of airing my views as a Ghanaian without the Martin Amidu missiles.
Until we are cured of the Martin Amidu meningitis, we will be where we are today, tomorrow and forever. God bless Ghana, God bless and keep Anas Armeyaw Anas safe.
Abubakari Sadiq Iddrisu Assurance/Audit Staff, Ernst and Young LLP, NY.
Certified Public Accountant, NY. Member, American Institute of Certified Public Accountants.
MBA Public Accounting, Iona College, NY. B.A. Economics, Lehman College, NY. [email protected] https://twitter.com/Naatia2 https://www.facebook.com/prince.n.sadiq