Scancom is Ghana's best company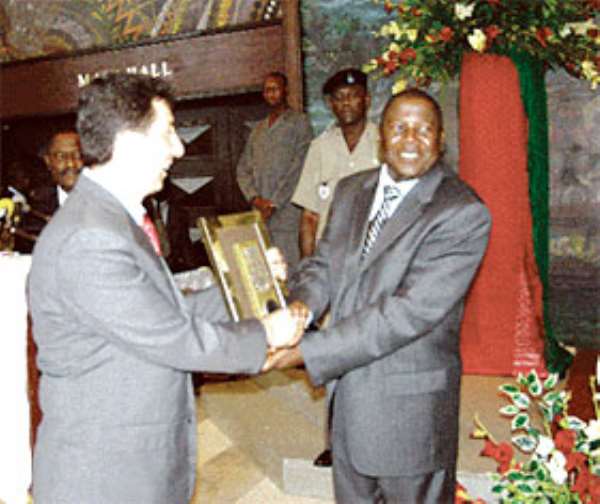 ..Only 3 of top 10 - PBC, GGL and PZ - listed on the GSE Accra, Oct. 25, GNA - Scancom Limited, operators of Spacefon cellular phone network, topped Ghana's top 100 companies in 2002 and 2003 and received plaque awards, with other distinguished companies, from Vice President Aliu Mahama at a luncheon in Accra on Monday. The company, which made a net profit of about 23 million dollars last year, was also adjudged leader in the Information Communications Technology sector and the third most profitable and the third fastest growing local company. Produce Buying Co Ltd (PBC, a licensed cocoa and other raw agric products purchaser, listed on the GSE), came second in 2003 followed by Nestle Ghana Ltd(a processed food producer, makers of Milo, Cerelac and Ideal Milk); Toyota Ghana Ltd (car distribution and local agents for Toyota cars), ; Guinness Ghana Ltd (GGL-brewers of Guinness Stout and Malta Guinness and Gordon's Spark); Prudential Bank Ltd; Shell Ghana Ltd; Barclays Bank Ltd; PZ Ghana Ltd (manufacturers of house hold consumables such as Cussons Imperial Leather and Duck Bar soaps) and Coca Cola Bottling Company in succession. In 2002, Nestle Ghana was second, followed by Guinness Ghana; British American Tobacco Ltd; KGMP Ltd; Ghana Commercial Bank; Prudential Bank; Taysec Construction; PZ Ghana and Unilever. The limited companies, ranked tops in line with their levels of profitability, size, net assets, and growth, each received a plaque embossed with the map of Ghana and the logo of the Ghana Investment Promotion Centre, organizer of Ghana top 100 (GC 100) event. Ministers of States and other dignitaries presented the ninety other awards for 2002 and 2003 to the winning companies. Congratulating the recipients of the prestigious business prize, Vice President Mahama Mahama assured them of the Government's commitment to continuously execute strategies in consultation with the private sector to make businesses flourish as the catalyst for economic growth. He mentioned the new Financial Administration Act, the Public Procurement Act and the Internal Audit Agency Act, aimed at ensuring judicious use of State resources and instilling transparency in transactions within the public sector, as examples. "Of significance is the special tax and tariff incentives given in the 2004 National Budget which, were in response to private sector views and recommendations," he noted.
"The Trade Policy Framework, which is being revised in consultation with private sector stakeholders is yet another important strategy. The objective is to facilitate and integrate trade within the sub-regional, regional and other multilateral blocs." He challenged the companies to improve on their achievements and abide by good corporate governance values, especially in the areas of transparency, integrity, openness and satisfy customer needs. They should also undertake social responsibility programmes and invest in technology and the training of their employees to improve their quality and output. He advised them to use alternative dispute resolution mechanisms such as mediation, arbitration and conciliation to settle their disputes. "The issue of negotiations and agreements, which capture the transactions between you and your business collaborators should be of concern to you...Good agreements that are well negotiated save you from expensive and wasteful litigation," he said. Vice President Mahama encouraged the private sector to take advantage of the President's Special Initiatives and invest in the rural areas to create jobs and reduce poverty in areas where natural resources for industries abound. In an interview, Mr Ahmad Faroukh, Managing Director of Scancom told the media that he was pleased with the significant success of his company, which was ranked 65 in 1996, its first year of operations. He said Ghana had attractive opportunities for business investments and encouraged entrepreneurs to take advantage of them. Mr Faroukh recommended to the Committee on the award to add investments in social responsibility as a criterion to make companies give back to the communities they operate in. Scancom with over 800 subscribers, operates in all the regions with a staff of about 600. The criteria for selection of the top 100 companies was reviewed in 2002 to make only companies, which are limited liability companies eligible. Where the Government owns shares in a company, it must not exceed 50 per cent. In addition, the companies must have made positive cumulative profits for the past three years, must have made returns on equity for the relevant year and have a compound growth rate for the past three years and net assets. From 1996, when the award was instituted, only turnover was considered, making it possible for large state-owned companies on the verge of collapse to qualify. Of the top ten companies, only three - PBC, GGL and PZ, are listed on the GSE. However, most interestingly, the top 100 included a number of rural banks who are usually not mentioned amongst the crème de la crème of Ghanaian corporates.