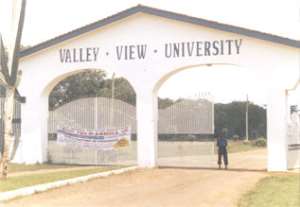 The saying "All work and no play makes Jack a dull boy" appears not to exist in the diction of the nation's first private university, Valley View at Oyibi in the Greater Accra Region.
At Valley View University, students are not allowed to hug, hold hands, listen and dance to secular music, and a host of others on campus.These were revealed to Showbiz by two students of the university. One of them, a third year female student of the university said that students can only hug in church on Saturdays."During church service there is a time to hug. If you are caught hugging after the stipulated period you will face a disciplinary committee."
"We the ladies are not allowed to wear trousers and sleeveless tops to lectures because, according to the authorities, it will distract our male counterparts. We, however, wear trousers to prep in the evenings and I wonder if the men do not lose concentration this time around," she added.
The students said just like in secondary school, they have to take exeats to go out of campus especially if one wants to stay overnight. Exeats are issued once a month for single students and twice a month for married ones. According to a first year male student, life on campus is boring. "Social life is virtually nil at Valley View. All we do is watch TV and attend church services.
We attend church service every other evening except on Saturday evenings."Even hall week activities are subjected to so much scrutiny that it becomes boring. Lecturers even have to accompany us on floats and every outing." He said students go to prep from 7pm to10pm. "Prep is not compulsory but since there is nothing to do, one is compelled to attend. By10pm security comes round and the lights go off and come on again at 5am."
Another student said the school is run like a church and not a school. "All students on campus are forced to eat vegetarian diet which is the only kind of food served by the school. Drinks like Coke is not sold on campus because it is said to contain caffeine. We are not allowed to go to the beach or invite performing artistes on campus even during hall weeks celebrations.
"We cannot go to the male halls and vice versa. We are allowed to do so only once a semester. The period dubbed Open House allows visitations from 6pm to 9pm. This I think is very absurd but one has to try to cope." Another female student cannot understand why they have to attend church services every time. "There are church services at 6.30am and 6.30pm each day. Although it is not compulsory, one is supposed to attend at least seven out of the 14 times.
However, there are other students who do not see anything wrong with life on Valley View campus.
"We are here to study and that is what the authorities are making sure comes to pass. I do not see the problems of my colleagues. They knew about all these before they enrolled so what is their problem?" one student asked.
Talking to Mr William Asare, Public Relations Officer of the university, he said the institution believes in equipping students holistically and academically. "We believe in training students to be responsible and they can only do this when they are disciplined."
He said we are in an era where students are learning very fast and are easily influenced by their peers. "Instead of achieving the purpose of studying, they can go overboard so it is our responsibility to guide our students," he added.
He said the social control that exist in the various secondary schools, do not exist in the various universities and so students tend to go haywire when they enter the universities."We have very young students because of the SSS system. They feel they are 'mature' but they are not and need guidance."
On the dress code, he admitted that the female students are not allowed to wear trousers and sleeveless tops because improper dressing seems to be on the increase these days. "We want our students to look decent for lectures. They, however, can wear trousers to prep in the evening to protect them from mosquito bites. They can also wear trousers when they go hiking."
He debunked the notion that the school is being ran like a church. "There is nothing like forcing students to abide by SDA rules. It is not true. This is purely an academic institution. We do not force SDA principles on students. Some Christian students are even allowed to attend church services outside on Sundays. We also do not also compel them to attend church but rather we encourage them to."
Mr Asare said he was surprised the students said they were not allowed to go to the beach during their hall week celebrations."They went to the Ada beach last year. They went on floats and excursions under supervision of members of staff. Like other universities, we sit together to plan their hall week celebrations."
According to him, the students are not forced to go to bed at exactly10pm like it is done in secondary schools. "We believe students should be in bed and in their rooms by10pm. We expect them to rest after a hard day's work. As you can see we are surrounded by bushes so their safety is important too. We also want to conserve energy so we put out the lights at 10pm."
Mr Asare said although only vegetarian dishes are served on campus, students are not forced to eat. "I am an Adventist but I am not a vegetarian and I drink Coke so what are the students saying about not being allowed to drink Coke because it contains caffeine?"
He also said it was not true that students were not allowed to visit each other in their halls. "For instance, a female student can visit a male student in his hall but she will have to report to the porter's lodge and the person will be called outside. She cannot enter his room." In regard to the exeats, Mr Asare said the university does not go strictly to what the students said.
"In fact it is not an exeat but something to show that you have left campus. It is true single students go on 'exeat' once a month and twice for married ones but it is quite flexible."There are contingencies in life so if a student gives enough tangible reason, he or she could be allowed more than the stipulated 'exeat' days.