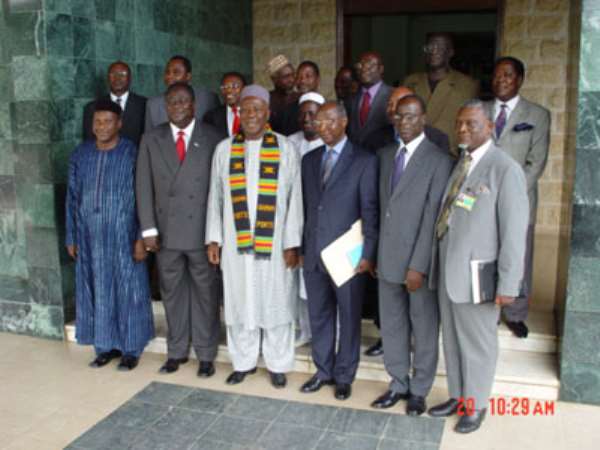 The Ghana Ports and Harbours Authority(GPHA) and the Sierra Leone Port Authority(SLPA) signed an agreement of cooperation at a ceremony in Freetown last Thursday, October 21, 2004.
The signing of the agreement climaxed a week long working visit by a five member delegation led by the Director General of GPHA, Mr. Ben Owusu Mensah to Sierra Leone.
Under the agreement the two port authorities will exchange personnel, participate in joint training programmes and share experiences and information on all maritime transport issues.
Speaking at the ceremony. Mr. Ben Mensah said that the coming together of the two ports is a practical manifestation of south-south co-operation.
He said that Ghana was prepared to share its success in the private participation programme of its ports with Sierra Leone in the spirit of ECOWAS co-operation.
Captain A. Macaulay, a Maritme Expert who once worked with Ghana's Black Star Line and today serves as the Chairman of the Board of SLPA decribed the event as a historic one which will bring benefits to the two countries.
The Acting General Manager of SLPA Aljai Dainkeh who together with Mr. Owusu Mensah initialled the agreement of cooperation welcomed the prospect of cooperation between the two port authorities.
Ghana's High Commisioner to Sierra Leone, His Excellency Kabral Blay-Amihere who witnessed the ceremony hoped that cooperation between the two port authorities would further boost relations between Ghana and Sierra Leone, particularly trading relations. He said Ghana and Sierra Leone have witnessed greast strides in cooperation under President John Kufuor and President Alhaji Dr. Ahmad Tejan Kabbah.
The visit of the delegation of GPHA to Sierra Leone was faciltated by the Ghana High Commission in Freetown and the Sierra Leone High Commission in Ghana. The delegation whilst in Sierra Leone paid a courtesy call on President Kabbah and held discussions with a number of institutions including the SLPA, the National Commission for Privitisation and the National Revenue Authority.
Caption of Photograph-President Kabbah with delegation of GPHA and the two High Commissioners who facilitated the visit.