Pink For Africa Deepens Breast Cancer Awareness In Ghana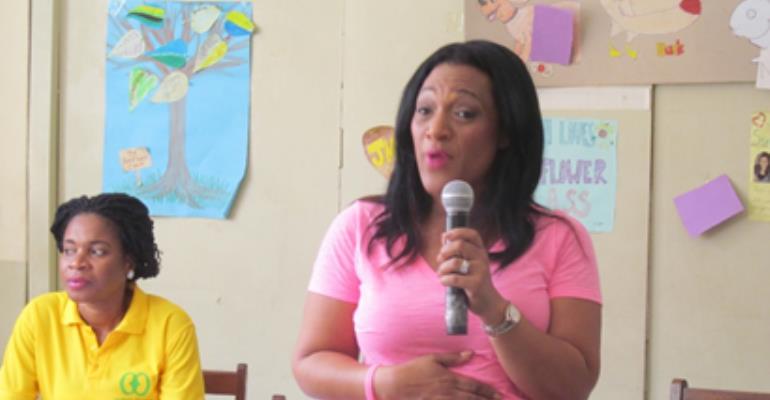 The ongoing awareness creation in the country about how deadly breast cancer could be has been deepened by Pink for Africa, a Breast Cancer Foundation.
Studies have shown that a disproportionate number of women who develop breast cancer in Africa fail to report to their doctor due to economic, cultural and social mores, or do not even know how to conduct a monthly self-breast examination.
It is in this light that Juliette Mills-Lutterodt, President and Founder of Pink for Africa has touched the shores of Ghana to educate women age 12 to 99 across Africa about the importance and early detection and awareness of breast cancer.
Diagnosed 8 years ago of breast cancer, Mrs. Mills-Lutterodt said she felt the importance as a Ghanaian woman to return home and impart onto the women a very important knowledge about early detection, the risks involved and how to examine breast a week after menstruation.
She was speaking to Teachers and Parents of New Horizon Special School in Accra last Saturday on the sidelines of a school garden donation by Alexis Miranda Foundation (AMF).
"I lost my mother last year of breast cancer and I know this hits home and if its hits home for me, it should do same for a lot of women across Africa", she sadly recalled.
She made it clear that breast cancer was an adversity in her life but was able to meet the challenge and rise above it, allowing her to see the value in womanhood, in educating and supporting other women. She describe the disease as the best thing that has ever happened to her.
"Because when you are spared or favoured or rise up to a challenge, he need to let people know your story because it is an inspirational thing, it allows people to also push through their adversity and it doesn't necessarily have to be breast cancer but any other thing", the founder touted.
Aware that stigmatization was a major cause of not allowing people share a distasteful news about themselves, Mrs. Mills- Lutterodt encouraged the women to see beyond the stigma, saying talking about negativity meant finding solutions to it.
She believes there are lots of things Ghanaians need to fix culturally to get rid of the stigmatization and thus it was one of the reasons why Pink for Africa is working hard on the ground.
This is breast cancer month and I am usually here for the whole month (October) and I push hard because of those stigmas and we really need to encourage the women to see beyond the stigmas and culturally there are a lot of things we need to fix.
She wherefore counseled women to be healthy, make better choices and drummed home the need for them to preserve what were created for them as well as be each other's support system.
She urged society stop being selfish and love each other more, since it was a way of encouraging people to share their stories and seeking solutions, whiles motivating others to do same.
Mrs. Juliette Mills Lutterodt is in Ghana for the whole month of October solely to bring awareness, education and support to the women of Africa about breast cancer.
For three years running, she has been coming to Ghana during breast cancer month (October) to deepen the awareness. She is currently moving from one school to the other in the Eastern Region with the campaign.
The Founder loves the great impact she has received from her mission so far.