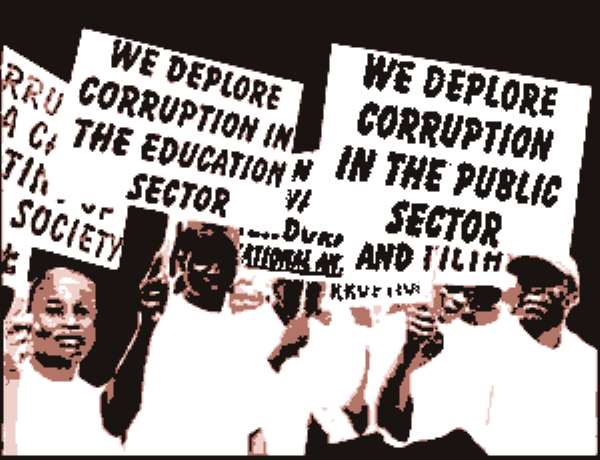 Accra, Oct. 20, GNA - Ghana has improved slightly on this year's corruption perception list by scoring 3.6 as against 3.3 recorded last year, making it the 7th least corrupt among 36 African countries included in the survey. Botswana leads the region with a score of 6.0. The 2004 index on Ghana is based on data collected from seven surveys conducted between 2002 and 2004. The Corruption Perception Index assessed the extent of corruption among public officials and politicians. It however, did not distinguish between administrative and political corruption or between petty and grand corruption. Launching Transparency International' s 2004 Corruption Perception Index (CPI) report in Accra on Wednesday, Mr Daniel Batidam, Executive Secretary, Ghana Integrity Initiative (GII), a local chapter of Transparency International said Ghana's score indicated that the country was far from winning the fight against corruption.
He noted that juxtaposing this year's score with those recorded from the last couple of years, it became evident that very little had changed on the anti-corruption front.
"It indicates that we have been stagnating at the bottom third position of the CPI which uses a scale on which zero represents the poorest rating of 'highly corrupt' and ten represents the best rating of 'very clean'".
Mr. Batidam said Ghana's less impressive position underscored the continuing need for long-term institutional reforms and system solutions to prevent and punish corrupt officials.
The report noted that, in a country such as Ghana, it was in its own interest to see the implementation of the newly passed public procurement legislation.
"We congratulate government for passing the public procurement act, we wait to see the integrity with which the new procurement board oversees the public procurement process from now on."
Mr Batidam observed that the abuse of political power for private gain had been the bane of failed political leadership in Ghana and many other developing countries over the years.
"Successive governments failed to demonstrate the political will to fight corruption among their own appointees and other high-ranking public servants, thereby undermining their ability to effectively address the canker of corruption".
Mr Peter Eigen, Chairman of Transparency International estimated that 400 billion dollars was lost due to bribery in government procurement procedures per year, worldwide.
He stressed, "If we hope to reach the Millennium Development Goal of halving the number of people living in extreme poverty by 2015, governments need to seriously tackle corruption in public contracting." Mr Eigen urged Western governments to oblige their oil companies to publish what they paid as fees, royalties and other payments to host governments.
"Access to this vital information will minimize opportunities for hiding the payments of kick-backs to secure oil tenders, a practice that has blighted the oil industry in transition and post-war economies." On the general rating, Ghana ranked 64th on the list of 146 countries in this year.
A total of 106 out of 146 countries scored less than 5 against a clean score of 10, according to the new index; 60 countries out of the 106 scored less than 3 out of the 10, indicating rampant corruption in those countries.
In the Africa region, 36 countries participated of which Ghana ranked 7th from the top, coming after Botswana, Tunisia, South Africa, Seychelles, Mauritius and Namibia.
Corruption is perceived to be most acute in Bangledesh, Haiti, Nigeria, Chad, Myyamar, Azerbajan and Paraguay, all of which have a score of less than 2 in the index.
Oil-rich countries like Angola, Azerbajan, Chad, Ecuador, Indonesia, Iran, Iraq, Kazakhstan, Libya, Nigeria, Russia, Sudan all had extremely low scores.