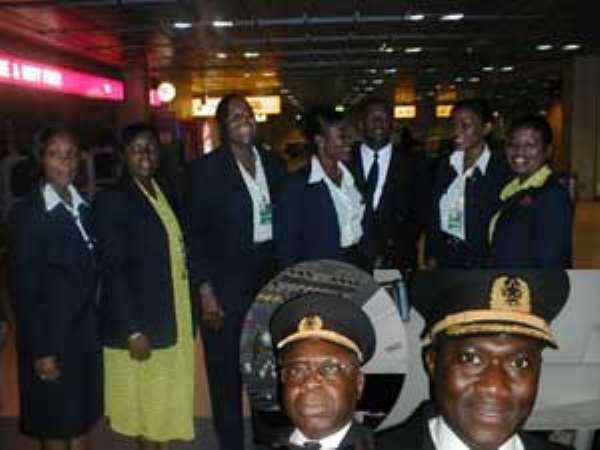 Workers of Ghana Airways have called on the government to reconsider its decision to wind up the operations of the Airline.They said that if the workers were allowed to operate the airline, given a free hand tax target and dividend to paid the government, they would be able to turn the fortunes of the airline around.
They blamed the grounding of the airline's operations on the directive by the government to suspend the sale of tickets.Speaking at a news conference in Accra, the chairman of the Senior Staff Association of Ghana Airways, Mr Roland Mosore,said for the past two months the salaries of workers of the airline had also not been paid.
He noted that the government's decision to sell the assets of Ghana Airways and convert it into equity for its strategic partner, Ghana International Airline (GIA) to operate the airline would have a debilitating effect on the workers.He said that apart from this, the timing was not appropriate because it would result in the redeployment of the staff of the airline, most of whom were bread winners of their families.
Mr Mosore said the staff of the airline were made to believe by the government that GIA was a strategic partner to Ghana Airways but to their surprise the situation had changed with GIA applying for its own certificate to operate.He said that if the deal was concluded, Ghana Airways would have its name changed while GIA would decide on the fate of the staff.
Mr Mosore said that the GIA was a recently formed consortium formed and was now soliciting for financial assistance and aircraft from some corporate organisations to enable them take over Ghana Airways.Mr Mosore attributed the debt the airline accumulated over the year to shere display of political power.
Mr Mosore also blamed the lack of commitment on the part of the government, the sole shareholder to make the airline a profitable organisation right from its inception to date for the situation it found itself today. He said there was no urge to inject capital into the airline as other countries did while most of the Ghana Airways top positions appointees had no expert knowledge of the airline industry nor were they even disposed to learn quickly on the job.