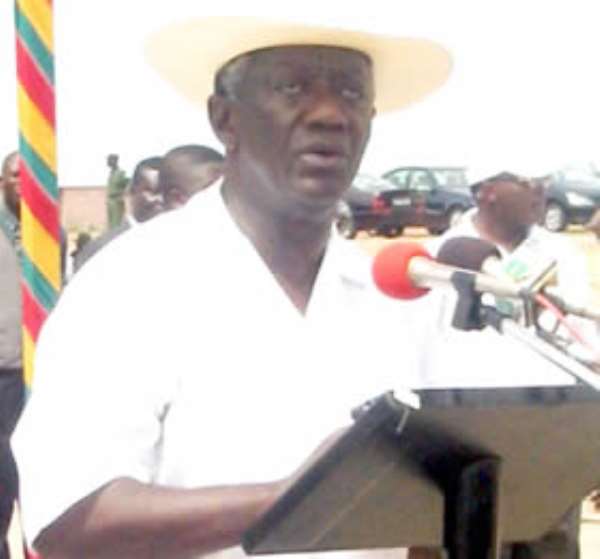 Lawra (UWR), Oct. 18, GNA - The government on Sunday pledged 200 million cedis to the Lawra District Education Fund.
President John Agyekum Kufuor announced this when he addressed this year's annual Kobine Festival of the Chiefs and people of Lawra Traditional Area at Lawra, in the Upper West Region.
President Kufuor who is on a three-day official tour of the region said the government had focused on quality education for all children not only because it was their human right, but also because it was thee key to accelerate the country's development.
President Kufuor said to promote agriculture in the area, damming of the Kamba river would be pursued by the government.
On the elections, President Kufuor called on all politicians to conduct their campaigns free of insults and intimidation.
He asked Ghanaians to work hard to ensure peaceful and incident free elections.
"Our democracy is going through yet another test and the entire world is looking at us."
"We are going to be judged by the conduct of the elections. I call on all of you to work hard to ensure peace throughout the elections and after", he added.
President Kufuor assured the people that the Lawra-Jirapa-Hamile road would be rehabilitated when the government was returned to power during the elections.
Na Abeifaa Karbo II, Paramount Chief of the Lawra Traditional Area commended the government for upgrading the Lawra Secondary School into a model one, which he said on completion could admit more students than before.
He appealed to the government to consider constructing a bridge over the Black Volta at Dikpe near Lawra to facilitate trade between Ghana. Burkina-Faso and the Sahelian countries.
Naa Karbo announced that the people of his traditional area were working around the clock to establish a rural bank.
Oseadeeyo Akumfi Ameyaw IV, Chief of Techiman who graced and chaired the function called on the youth to engage in marketable skills instead of migrating to the southern parts of the country and other African countries for non-existent jobs.
Kobine Festival is celebrated annually by the chiefs and people of the Lawra traditional area to give thanks and praises to God for a bumper harvest in the year and to pray for more good harvests in subsequent years.