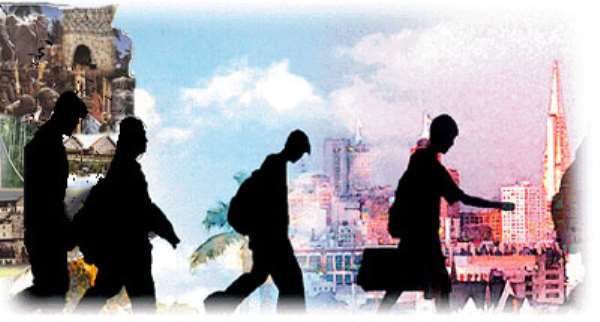 DAKAR, Senegal — African immigrant Ibrahima Gueye has it all: a top executive job with a future. A two-story, four-bath deluxe home. Servants to cook his food, clean his house and wash his clothes. A live-in nanny for his children. But not in Europe or the United States — in Africa.
Like a large number of African expatriate returnees, the 38-year-old financial analyst has given up his lucrative job in Europe, deciding the quality of life is better at home than in the West.
"People just don't realize that though you make a lot of money living in the West, you don't even enjoy all that cash," said Gueye, recalling how he spent most of his free time in France — where he lived for 14 years — working around the house and grocery shopping.
As head of the finance department of an oil and gas refinery company in Senegal's capital, Dakar, Gueye makes a salary equivalent to what he made in Paris as a senior accountant.
"Basically, I have my life back," said Gueye, dressed in an immaculate suit, barking orders over the phone in his air-conditioned office.
"Now, I can spend the weekend at the beach with my family," he said. "Cooking is definitely a thing of the past."
A worldwide "brain drain" has seen trained workers flee poor countries for wealthier ones, leaving home countries with deficits of doctors, lawyers and other professionals.
An estimated 250,000 African professionals — including 30,000 with doctorates — work in Europe and North America alone.
Statistics on the number of educated Africans heading back to Africa are hard to come by, though.
In Senegal, no organization keeps track, but hundreds have returned in recent years, said Pape Madike Diop, who heads a job-recruitment agency.
African nations have tried to woo expatriate nationals with patriotic calls to help rebuild shattered economies, but it remains a hard sell.
Around 300 million of Africa's 880 million people live in extreme poverty, surviving on less than a dollar a day and without access to clean water, adequate sanitation, health care or a decent education.
Even in Senegal, a relatively prosperous and peaceful country in war-ravaged West Africa, the unemployment rate is about 48 percent.
The Britain-based nonprofit organization AfricaRecruit, founded in 1999 by a group of expatriates from Nigeria, Zimbabwe, and Ghana, has helped more than 200 African professionals relocate to the continent, the organization's chief executive Lola Banjoko said from London.
On AfricaRecruit's Web site, skilled Africans abroad can register on a database, search for jobs and consult a list of potential employers in Africa.
Doudou Ka, a Senegalese who once worked in France as a consultant for a business-consulting giant, said "it was never a question of 'if,' but finding the right time to return."
Ka was among 25 foreigners, along with 150 French students, who graduated from France's Ecole Nationale des Ponts et Chaussees.
Competing with Senegalese on his home turf instead would give him the advantage, Ka says.
Believing he had a disadvantage competing against French graduates in France, he returned home last year and got a job as a financial engineer at a Dakar bank, a senior management post with an internationally competitive salary.
An added benefit was more living space. Ka lives in a three-bedroom apartment in Dakar that costs the same as his one-bedroom apartment in Paris.
After long days in the office, he and his wife now walk into an apartment tidied by a maid who washes, irons and folds their clothes.
Not all returnees have success stories, however.
Ndiaye, a Senegalese who graduated from a university in southern France, returned two years ago hoping for a good job. She got one working at a telecommunications company, but the pay was less than desirable.
"I thought it was a joke when I saw my paycheck," said Ndiaye, who declined to give her last name because she didn't want her remarks to get back to her employer. "I even wondered if they had forgotten a zero."
Ndiaye says there are simply not enough opportunities for people in her field in Senegal. She hopes to return to France, where "they appreciate and value my skills and degree."
By contrast, Ka said he would never work outside the continent again.
It is "out of the question," he said. "The future is here in Africa."