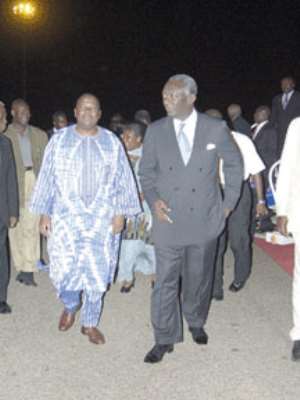 President J.A. Kufuor has explained that he re-nominated the Vice President Alhaji Aliu Mahama as his running mate for the December elections not just because of his background as a Muslim and somebody from the north but, more important, because of his competence. He said although he and the Vice President were not perfect human beings, he had found in Alhaji Aliu a very good partner to contest the December, 2004 elections.
Receiving a delegation of Muslim leaders and Zongo chiefs at the Castle, Osu on Tuesday, President Kufuor said so far, he and Alhaji Aliu had been working together harmoniously. The President said Alhaji Aliu possessed the qualities that would enable him to translate into fruition, his vision of a united and a developed country.
President Kufuor recalled how Alhaji Aliu became his running mate in the December 2000 election. He said Alhaji Aliu, who was not in the mainstream of politics, was not initially among the people he was considering to become his running mate in the December 2000 elections.
Rather, he said, Alhaji Aliu was in the process of helping him to woo another person to become his running mate. Unfortunately, he said the person, whose name he did not mention, declined to partner him in the December 2000 elections.
President Kufuor said one day, Alhaji Aliu passed by to bid him farewell when he was travelling abroad. After praying to God for his help, President Kufuor said he decided to select Alhaji Aliu as his running mate in the December 2000 elections.
He said he had no regrets for selecting Alhaji Aliu as his running mate in the 2000 election because he had proved to be a very competent person in his position as the Vice President of the country."l don't regret it," he stated adding that"we are working together."The spokesman of the delegation, Chief Baba Issah, expressed appreciation to the President for the trust and confidence reposed in Alhaji Aliu by re-nominating him as his running mate in the December 2004 elections.