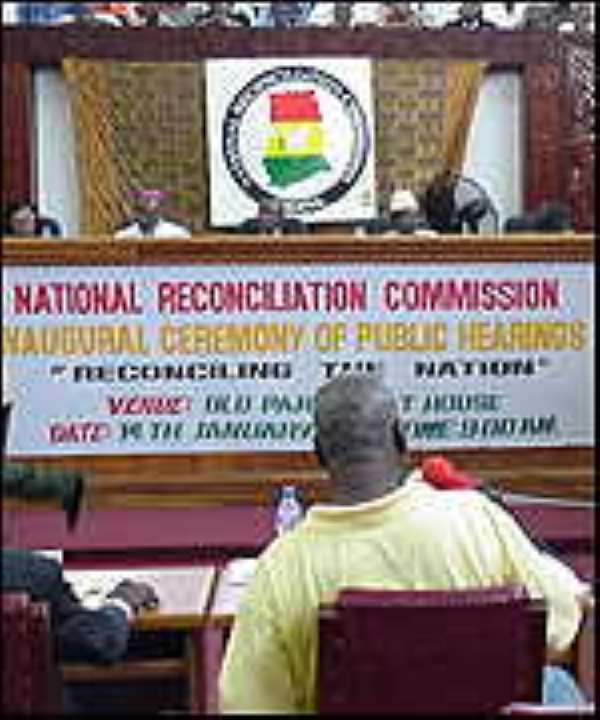 Accra, Oct. 13, BBC -- Ghana's opposition has said the timing of a human rights report, submitted to the president on Tuesday, has been manipulated with the election in mind.
They fear if the report's details are made public before December's polls - it could create ill will towards their party.
The reconciliation commission investigating human rights atrocities completed its hearings in July.
The report was submitted a day ahead of its final deadline. 'Regrettable past' "The commission, in spite of all its problems, has done very well and submitted its report on time," President John Kufuor told reporters when he received the five-volume report.
The commission proposes reparations for some 3,000 victims and recommends reforms to institutions including the security agencies.
Further details of the proposals were not made public, but President Kufuor said the government would study the report before announcing what measures it would implement.
After sitting for 18 months, the commission heard about 4,000 petitions dating from independence in 1957 until multi-party elections in 1992.
According to the BBC's Kwaku Sakyi-Addo in Accra, many of the victims allege abuses were carried out in the 1980s under the rule of then-president Jerry Rawlings, the founder of the opposition National Democratic Congress (NDC).
Mr Rawlings' former vice president, John Atta Mills, is standing as a NDC candidate against President Kufuor of the governing New Patriotic Party (NPP) on 7 December 2004.
Parliamentary elections will also be held then.
Mr Kufuor said the human rights investigation would help draw a line under "our rather regrettable past with the teething problems of a young nation".
Meanwhile, all political activity has been banned in the northern city of Tamale after the shooting of a 14-year-old boy.
Police say it was a politically motivated killing as he was shot by a NPP activist, although no arrests have been made.
This follows a ban last week in Yendi, also in northern Ghana, after NPP and NDC members were involved in violent clashes.