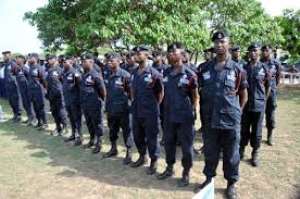 It is very sad to hear the indisciplined act by the Ghana police service during the demonstration by Let my Vote Count Alliance and Movement for Change in support of the New Patriotic Party(NPP) on the 16th September, 2015 to petition the Electoral Commission of Ghana for a new credible voters register in other not to put tension on election 2016.
First of all, it's the duty of the police to provide security for anybody who embark on a lawful demonstration, since it's a constitutional right but not to assault them even if the demonstrators fail to abide by the approved routes agreed upon in their earlier discussion, the police have absolutely no right to misconduct themselves in the manner they did by applying such brutish force hence bringing the entire Ghana Police Service and Ghana as a whole this shame.
The lawful way to the breach of an injunction order is not by assault but rather, is to gather evidence of the violations and to cite the alleged violators for contempt in court for the court to rule on the violators. If indeed the demonstrators broke the law, the rule is to use a reasonable force or minimum force to stop them and not to assault and to fire tear gas in their faces.
What happened on the 16th September, 2015 indeed shows that most of our police personnel are not professional as the police failed to respect some members of the legislature which is one arm of the government by arresting Hon. Kofi Brako, member of parliament for Tema Central without committing any crime neither was he holding any offensive weapon.
I was ashamed of myself as a Ghanaian when I heard Hon. Henry Kottey on radio saying a top officer of Ghana Police Service told him "There is no protection for you, leave here, go and join them(Demonstrators)" all because he went to the police to seek for protection from them.
To conclude, it's very sad that the police who are paid from our taxes and suppose to provide security and protect lives are the very ones that turned to unleash violence on the demonstrators forgetting that attacking the demonstrators is a very serious attack on our democracy.
With what happened on the 16th September, 2015 clearly shows that we all are not safe as citizens of Ghana and the police has also proven how necessary it is not to request for their protection if one want to embark on demonstration.
God save mother Ghana.
ISAAC ESSUMAN
(YOUTH ACTIVIST AND CENTRAL REGIONAL SECRETARY, YOUNG PATRIOTIC CRUSADERS (YPC)
0209393536
0240347636