Managing Editor of the Insight Newspaper, Kwesi Pratt Jnr. has described as 'needless', the demonstration organized by pressure group Let My Vote Count Alliance (LMVCA) to press for a new voter register.
According to Mr. Pratt, the purpose for which they embarked on the protest has already been taken into consideration by the Electoral Commission and therefore there was no need to demonstrate over the same thing.
The Alliance for Accountable Governance (AFAG), Let My Vote Count Alliance (LMVCA) and some political parties rallied thousands of protestors in Accra on Wednesday to demand the compilation of a new voters' register.
The groups had wanted to present their petition at the office of the Electoral Commission but the police, through a court order and physical attacks involving the use of teargas, canes, batons and horsewhips, prevented the presentation.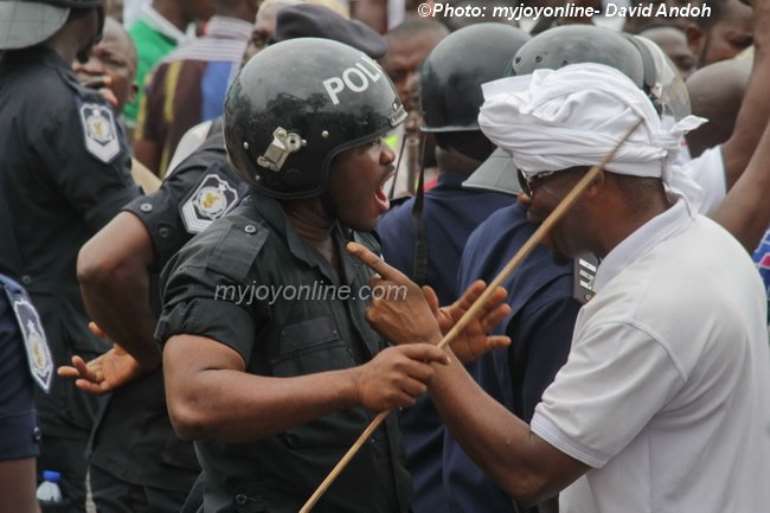 The protest started peacefully in the presence of heavy police personnel but later turned bloody when some demonstrators were reportedly lured off the approved route, a situation which compelled the police to fire tear gas to bring the situation under control.
But Mr. Pratt, who describes himself as a veteran of demonstrations, pointed out that in as much as it is a constitutional right for every citizen to embark on demonstration to protest their grievances, it was also important to carefully weigh the need for a demonstration.
"Each and everyone in the country has every right to demonstrate on what they seem as unfair to them but these demonstrators could have exercise restraint.
"Some political parties have already petitioned the EC and the EC has urged them to be patient as they scrutinize the issue and so if you hit the street demanding that the same problem be fixed, then what is the need for that demo, if the petition had already been sent to EC.
"I think it was needless," he stated on Adom FM's morning 'Dwaso Nsem' on Thursday September 17, 2015.