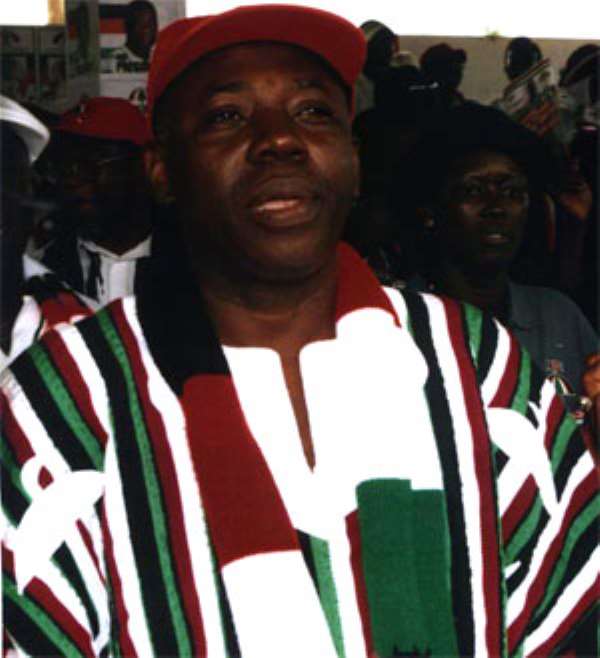 Accra, Oct. 7, GNA - The ticket of the National Democratic Congress (NDC) on Thursday turned down the offer by the Minister of the Interior, Mr Hackman Owusu-Agyemang of Police protection for them.
Professor John Evans Atta Mills, Flag Bearer NDC and his Running Mate, Alhaji Muhammad Mumuni said they could not take up the offer made in letters to Party Flag Bearers and their Running Mates following an accident involving Alhaji Mumuni on September 28.
A letter to the Minister signed by Mr Rojo Mettle-Nunoo, Director of Communications of the Mills Campaign Centre, said Prof. Mills had taken note of the offer, but he is of the considered view that a decision to accord Police protection to Flag Bearers and their Running Mates should have been reached in consultation with them or representatives of the political parties.
"Regrettably, your Ministry put out the announcement presumably in response to the motor accident of Tuesday, 28th September 2004, involving Alhaji Muhammad Mumuni without consultations or prior agreement.
"It is our view that if you are privy to any specific security threats to the specified individuals or if there are any general concerns relating to their security, these should first be discussed with them or their representatives."
The letter noted that at a meeting with the IGP a few months ago, Prof. Mills indicated his satisfaction with existing security arrangements and said he would contact the IGP for assistance should the need arise. "That remains the position," it said.