Nzema Youth Association Officially Launched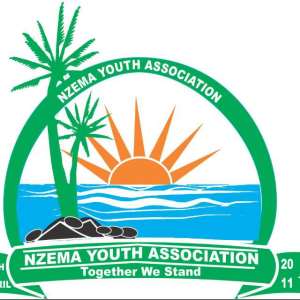 The Nzema Youth Aassociation has officially been launched at Aziema in the Ellembele District of the Western Region.The Association which has been in existence since the late 1970's was never active.It was officially registered at the the Registral General's Department by a group of young men and women who had the interest of the youth of Nzema at heart in 2012.
Delivering the inaugural speech,the Chief of Azulenloanu Nana Nrenda urged to takew advantage of education and get employment in the gas and oil industries in the region.he admonished them to make sure that the association stand and propagate the concerns and needs of the youth of Nzema.
In a speech read on His behalf,the minister of Petroleum and MP for the Ellembele Constituency Hon. Emmanuel Armah Kofi Buah congratulated the founders of the Association and urged the leaders to steer the affairs of the Association devoid of any political and religious interfeerance.Mr Kofi Buah assured the Association of His total support towards the realization of its objectives.
The NPP Parliamentary candidate for the Jomoro District Paul Essien encouraged the leadership of the association tp follow the example of other associations that have chalked success in the country as they bring the youth of Nzema together.He urged them to unite as a group with the development of Nzema as their main objective.
The President of the Association Matthew Eduku Danyi assureto the general public that the association will support any institution or individual in the development of the area.He called on the political leadership and the Traditional Authorities to empower the youth to take active role in the development of Nzema.