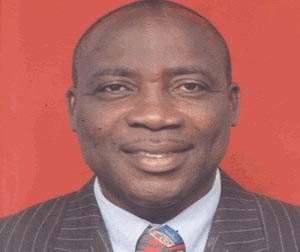 Tony Nyame
There was sadness at Nhyira FM, a local radio station in Kumasi where a top National Democratic Congress (NDC) member, Tony Nyame, who is also the ex-District Chief Executive (DCE) for Atwima Kwanwoma, openly wept uncontrollably over his neglect by the NDC on Wednesday morning.
The NDC top official recounted painfully how the Ashanti Regional NDC, including his own friends in the ruling political party in Kumasi, turned their backs on him when he was receiving treatment at the hospital for seven months at the hospital.
Tony Nyame disclosed that some known New Patriotic Party (NPP) members in Kumasi, especially Ayisi Boateng offered to help him on his sick bed, noting that he was saddened by the treatment meted out to him by NDC members.
'I was sick for seven months receiving treatment at the hospital but nobody in the NDC in the Ashanti region even cared to visit me on my sick bed,' he disclosed amid intermittent wailing, adding that Alhaji Alhassan Tapsoba was the only NDC member who helped him.
According to him, he had served the NDC faithfully for decades with his expertise and resources.
He expressed surprise about the party's decision to abandon him during difficult times.
Tony Nyame, who was unhappy with the total neglect of his party members, could not control his emotions as he wept uncontrollably during the interview, compelling the host of the show, Kofi Asante to end the interview abruptly.
Earlier Tony Nyame accused his predecessor, Kwabena Nkrumah, who is the sitting DCE for Atwima Kwawonma, of masterminding his removal from office by President Mahama.
'He peddled falsehood about me leading to my sack from office.'
He indicated that Kwabena Nkrumah allegedly paid money to some people in the party, who concocted negative stories about him, saying now that he (Tony Nyame) had fully recovered from his sickness, he was combat ready to retaliate.
'I will face Kwabena Nkrumah squarely this time around.'
Tony Nyame said he had realized that Kwabena Nkrumah had picked nomination forms to contest in the NDC parliamentary primary at Atwima Kwanwoma.
'Therefore I have also picked forms to contest and defeat him in the party's polls to retaliate since he made me suffer.'
Kwabena Nkrumah, when contacted to comment on the wild allegations leveled against him, stated that he was not ready to engage in verbal war with Tony Nyame, adding that he is not bothered about the development.
From I.F. Joe Awuah Jnr., Kumasi