Zabzugu District Assembly holds tax forum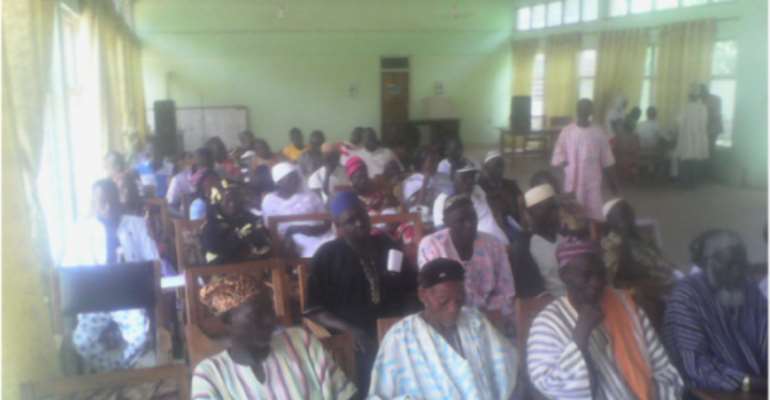 Zabzugu (N/R), Sept. 11, GNA - Zabzugu District Assembly, on Thursday organised a stakeholders forum on rates to be charged for 2016 in line with the Local Government Act 462 (1993).
The forum attracted a number of people including chiefs, opinion leaders, religious and traditional rulers, members of the security services, representatives of the political parties and traders association, market women, revenue collectors, and heads of department in the district.
Mr Issifu Alidu Laa-Bandow, the District Chief Executive said it is about time the assembly employs strategies to help improve upon local revenue generation to minimise the over dependence on the District Assemblies Common Fund (DACF).
He said the DACF now has strict guidelines for utilisation, which requires that just 10 per cent of any amount released for the quarter is to be spent on recurrent expenditure and the rest for developmental projects.
'It is now mandatory for every district assembly to construct two CHPS compounds and two schools out of its share of the DACF for every year,' he said.
Mr Laa-Bandow said in 2014 the assembly out of its share of the DACF awarded on contract two CHPS compounds to be constructed at Ojoja and Gor-Kuani and a three-unit classroom blocks and office ancillary at Mangoase and Rajia.
He expressed the hope that these projects would be completed in a month's time while the procurement processes are on-going to award contracts for development projects for 2015.
Mr Laa-Bandow pleaded with stakeholders to pay their taxes and dispel the notion that revenues paid are mismanaged by the assembly.
'When much is generated locally, it increases the district's share of the DACF and hence many projects could be undertaken.'
Mr Daniel Kanyage, the District Co-ordinating Director, said it is important for the assembly to generate more revenue locally and pleaded with the citizenry to pay their taxes.
Mr Baba Daney, the District Finance Officer, indicated that it would be unfair for the assembly to impose rates on the citizenry without consulting them.
He pleaded with the participants to agree on the amount to be charged for each revenue item.
The chiefs and tradition rulers lauded the assembly for always involving them in rates issues and promised to educate their people on the need to pay tax.
After heated arguments and disagreements on the proposed rates by the District Budget Committee, an agreement was reached and the necessary adjustments were effected.
GNA