NHIS Review Process Begins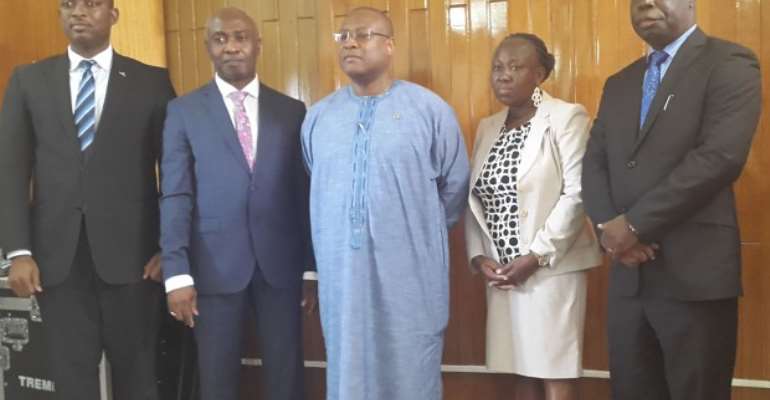 The technical committee members in a group photograph with Alex Segbefia (middle)  
The review process of the National Health Insurance Scheme (NHIS) which will eventually lead to reforms in the scheme has commenced with the inauguration of a seven-member technical committee.
The committee has the responsibility of the review process that would enable the NHIS to deliver on its vision of becoming a sustainable, progressive and equitable social health insurance scheme in Africa.
It has also been tasked with the mandate to provide the requisite structure for improved healthcare delivery across the scheme which is currently facing financial challenges.
The committee members include Dr Chris Atim, Africa Health Economics & Policy Association; Dr Victor Bampoe, Deputy Minister of Health; Dr Obeng Apori, Chief Executive Officer, Ridge Hospital; Peter Yeboah, Executive Director, Christian Health Association Ghana  (CHAG); Prof Irene Agyepong, School of Public Health, University of Ghana; Dr Huihui Wang, Economist, World Bank and Mr Nathaniel Otto, Ag Chief Executive, NHIA.
Minister of Health Alex Segbefia, giving his inaugural address, said though the NHIS has come to revolutionise the financing of healthcare in the country, it has faced its fair share of challenges.
He said the recent high and increasing cost of healthcare had placed the NHIS under severe financial pressure which had contributed to the scheme's inability to pay claims in time to healthcare providers for services rendered to NHIS subscribers.
'Indeed since 2005, the cost of providing healthcare to NHIS subscribers has increased much faster than the financial resources allocated to the scheme,' he said.
Mr Segbefia said it is the common interest of government that the country has a healthy population as that has a direct co-relation to economic productivity.
'His Excellency the president has approved a process of reviewing the NHIS with a view to proposing options for reform,' he said.
The sector minister added that the reform process would, therefore, look at the status of the scheme, factors that have contributed to the current status quo, what needs to be done and who would be responsible for its implementation.
He said the technical team after their work which is expected to be completed within five months, will present their report to an advisory committee to be constituted to review the report by the technical committee and make recommendations as appropriate.
'His Excellency the president expects a blueprint for the NHIS that is national in character and would transcend political transitions,' he added.
Dr Chris Atim, chairman of the committee, thanked the president for his selection and pledged to work with the members of his team to achieve the goal set for them.
By Jamila Akweley Okertchiri