Tullow Ghana sponsors 41 students for training abroad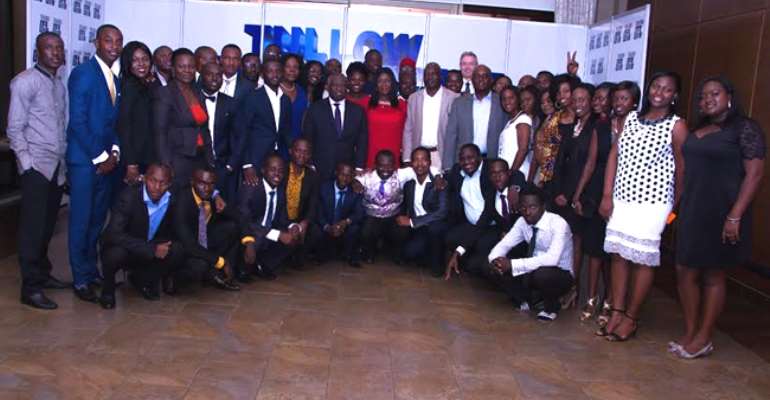 Forty one Ghanaians out of 74 students across Africa are beneficiaries of the 2015/2016 Tullow Group Scholarship Scheme.
The beneficiaries were selected from both public and private sectors to pursue further studies abroad having successfully gone through a rigorous application and interview processes at the British Council.
The annual Scholarship Scheme provides an opportunity for Ghanaians to pursue post graduate studies at leading universities in the United Kingdom, Ireland and France.
The courses of study include Water and Environment Engineering, Marine Spatial Planning, Bio-technology and Business Enterprise, Journalism, Law and Corporate Social Responsibility.
As part of its social responsibility, Tullow allocates 2.7 million dollars annually to support the implementation of the scheme in Ghana.
Speaking at a farewell dinner for the students in Accra, General Manager of Tullow Ghana, Charles Darko said the introduction of the scheme is to address both the industry skill gaps and host country's capacity development requirements.
"I would like to reiterate the fact that our aim of bringing long lasting sustainable growth to the oil and gas sector and the Ghanaians economy as a whole remains unchanged," he stressed.
The Tullow Ghana boss noted that while supporting the public through the scholarship scheme, there is also an internal training policy to ensure continuous development of employees.
"International on-the-job training for our technical team is ongoing in spite of the declining global crude oil prices," he stated.
In a speech read on his behalf, the Minister for Petroleum, Emmanuel Armah Kofi Buah commended Tullow for broadening the scope of the scheme to include programs at the pre-tertiary level by awarding ten scholarships to indigenes of the Western region to the Jubilee Technical Training Centre (JTTC).
"This will indeed ensure the development of intermediary skills which is the immediate need of industry," he added.
Kofi Buah also urged beneficiaries to return home after their studies and help with national development.
Story by Ghana| myjoyonline.com| Adwoa Gyasiwaa | [email protected]