Alhaji Dori Submits Nomination Forms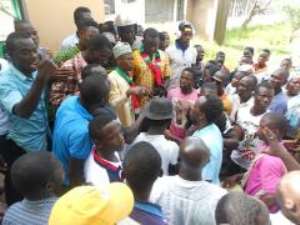 Alhaji Ibrahim Dori has officially submitted his nomination forms to the Bawku Central Constituency headquarters of the NDC yesterday in readiness for other processes towards the party's parliamentary primaries at the constituency come November 7.
Speaking after the submission of his forms, the contractor said his decision to contest the primaries was in direct response to the call of the people of Bawku Central for him to represent them in parliament in 2016.
"I have responded to the call of the people of Bawku Central to be their representative in parliament in 2016," he said to a resounding applause from his supporters who were clad in their party's attires.
His promise to the constituents was tangible development for Bawku Central, given that he was elected as their parliamentary candidate in the primaries and subsequently the Member of Parliament for the area in 2016.
The Contractor who was met on arrival by the Bawku Central Constituency Chairman and other constituency executives, pointed out that his developmental agenda would be geared towards the promotion of education, creation of jobs, particularly for the youth, among others.
Eric Joe Ayivi
News Editor