Supporters impress on Ofosu Amofo to contest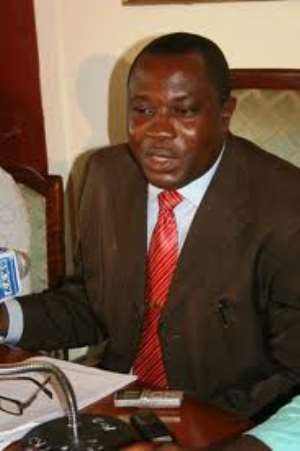 Tema, Sept 10, GNA - Supporters of Mr Samuel Ofosu Ampofo, First Vice National Chairman, National Democratic Congress (NDC), stormed his house on Thursday morning to compel him to file his nomination to contest the party's Tema West Constituency primaries.
Mr Ampofo, who is the Director of Elections for the NDC and the Board Chairman of the Ghana Ports and Harbour Authority (GPHA), was the NDC parliamentary candidate for the constituency in the 2012 elections.
He polled 39,005 votes as against 39,950 votes the New Patriotic Party's (NPP) candidate, Irene Naa Torshie Addo got to maintain the seat.
Sources indicate that the First Vice Chairman, who picked a form to contest the primaries with Bill Boglo-Hedo and Lawyer James Enu, decided later not to contest again.
The decision not to contest has angered some supporters of the party, who stormed and locked the Party's office at Tema Community Two on Tuesday, to protest against his decision.
On Thursday, which was the last day to file nominations, the supporters numbering about 100 on board about five mini buses stormed the residence of Mr Ampofo demanding that he filed his document to contest.
Their action made it difficult for him to come out of his residence.
Mr David Aggrey, a former Constituency Youth Organizer of the party told the Ghana News Agency that Mr Ampofo was the only candidate who could snatch the seat from the NPP in the 2016 elections.
Mr Aggrey said even though Mr Carlos Ahinkorah, the NPP candidate, was strong on the ground, Mr Ampofo has marketed himself well and therefore the best person to contest him.
He urged him to listen to the cry of the supporters to contest, even though Mr Ampofo had told them that he was consulting with the party hierarchy.
Meanwhile, his supporters, who did not succeed in getting him to the party office, have vowed that they would not allow candidates access to the party office to file their nomination.
According to them, he has done so much for the youth and members of the party as well as communities in the constituency and would therefore not allow 'small boys' to run their affairs in the coming election as they chanted, 'No Ampofo, no vote'.
The GNA gathered that party executives in the constituency were talking with the aggrieved supporters to allow the process to continue whiles considering referring the two other contestants to file their nominations at the Greater Accra Regional Office.
GNA