NPP would restore nurses and teacher trainee allowance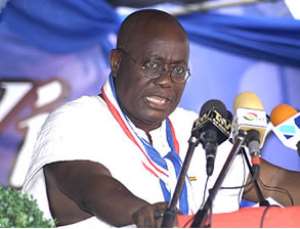 Nkawkaw (E/R), Sept. 10, GNA - The New Patriotic Party (NPP) would restore nurses and teacher trainee allowances and train more nurses and teachers for the health and educational sectors if the party wins the 2016 general elections
This the party believes, will relieve parents of paying over GH¢30,000.00 before their wards gain admission to the nursing training colleges and the colleges of education.
The Flag Bearer of NPP for the 2016 elections, Nana Addo Dankwah Akufo Addo said this when he addressed students of the Nkawkaw Holy Family Nursing Training College at Nkawkaw, as part of his meetings with party supporters in the Eastern Region.
He said the party would also ensure prompt posting and payment of the salaries of nurses and teachers after completion of their national services.
Nana Akuffo Addo said, he does not understand why Ghana, with all the natural resources, had a greater percentage of the population living in abject poverty.
He urged all Ghanaians to support the party's appeal to the Electoral Commission to undertake a new registration exercise for the forthcoming general election even if the election would be delayed for some months.
Addressing supporters of the party later, after a closed door meeting with constituency executives of the party, sitting members of Parliament and candidates, who lost the party's parliamentary primaries and regional executives of the party, he advised them to conduct their campaign decently to win the support of the people to enable the party to capture power from the National Democratic Congress in the forthcoming elections.
The running mate of Nana Akufo Addo, Dr Mamud Bawumia said, all Ghanaians are suffering due to the government's bad economic policy, adding that, taxes had gone up five times since the government came into power and higher than it had been under all past governments in the country.
Dr Bawumia said the country's debt had gone up from GH¢9.5 billion to GH¢ 90 billion since the past eight years and yet the government could not pay the National Health Insurance refund to hospitals and health care givers, capitation grants, common funds and salaries and allowances of teachers and nurses.
Dr Bawumiah urged Ghanaians to examine the economic situation in the country and vote against the NDC in the 2016 general elections.
Nana Akufo Addo was accompanied by Mr Osafo Marfo, former Finance Minister, Mr Hackman Owusu Agyemang, Former Minister for Works and Housing, Mr John Boadu, National Organizer of the Party, Ms Afisa Otiko Djaba, Women Organizer and the Eastern Regional Chairman of the party, Mr Okumi Kissi.
GNA